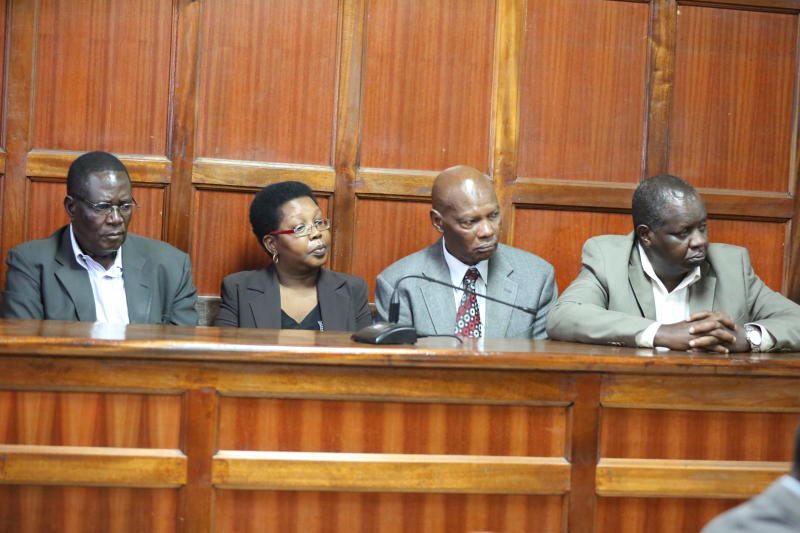 Kenya
EACC says the tender was flawed while out of Sh283 million released, only Sh110 million reached the land owner.
On October 6, 2009 City Mortuary's senior funeral superintendent David Wanjohi was summoned by a committee tasked to assess whether his clients, the dead, would be happy with a parcel of land in Mavoko. The backstory to this meeting might have been macabre, but for the few privy to the goings on in Nairobi's seat of power, the resolutions to this meeting would be life changing, and form the basis of an investigation that would eventually lead to the imprisonment of senior officials over their role in what morphed into one of the biggest scandals to hit Kenya's capital city. On that Tuesday morning though, they had no idea this would form the first of many clouds over their heads. A cloud that would eventually lead to a storm in their lives that would turn them into "guests of the state" at a Kenyan prison. Some two kilometres from City Hall, the Lang'ata Cemetery was bursting at the seams. Caretakers talked of encountering loitering dogs with body pieces unearthed from shallow graves. The cemetery was full. Those who lost family and friends could hardly go deeper than 3 feet to inter their loved ones.
SEE ALSO: Sonko accuses Kinyua of 'creating confusion' in City Hall
Opportunity presents itself at times of crisis, and this lack of burial space presented one that was too good to pass up, and central to this was a 438 acre piece of land to be acquired by the City Council as the new resting ground for the dead. Mr Wanjohi, together with nine others were dispatched to ascertain the veracity of this new resting place. As is customary, mock graves were dug. For inspection what was the type of soil; would the edges hold? Was the soil porous enough to hasten decomposition? Was the ground good enough for a cemetery? The decision he made would make the difference on whether a Sh283 million payout would be made or not. But the Mavoko land was not right. It was mostly composed of black cotton soil. "From practice and experience an appropriate burial site should consist of red soil as it is soft and allows faster decomposition of bodies," Wanjohi says in his statement. Months later, he was in shock when he was called to appear as a witness in the laying of beacons on the land that he had rejected. Before the cemetery tender was awarded, twelve bids had been floated, some for land as far off as Kajiado. The nearest was in Langata.
SEE ALSO: Uhuru's bloodless coup at City Hall leaves Sonko idle
Impals Development Limited was willing to part with 52.5 acres of land in Limuru for Sh262.5 million while Acres and Homes Limited offered 291.9 acres in Kangundo for Sh329.5 million. Kalove Advocates on the other hand floated a Sh22.8 million bid for 100 acres of land in Kangundo while Zinge enterprises had 200 acres for 75 million. Busan Holdings had 45 acres land in Nairobi to sell at Sh136.9 million and Mason Rock had 120 acres for Sh283 million in Athi River. Three steps Investment floated 149 acres of land situated along Kamiti Road at Sh1.8 billion while Mary Njeri was willing to part with her 100 acres in Kajiado for Sh10 million. Amusement Gardens offered 40 acres of land and another 15 acres in Langata at Sh203 million and 75 million respectively. There was another bid for two Thika lands, 100 and 87 acres, by Stanly Enterprises at Sh280 million and 243 million. Nach Rech Limited put in a bid for Sh283 million for a 120 acre piece of land in Kajiado. Lost among all the other bids too was one from Gitonga Wambugu, 240 acres in Kajiado at Sh90 million.
SEE ALSO: Nairobi fumigated as fight against Covid-19 intensified- Photos
The bidders were required to give the location of the land, soil profile, accessibility, and services available around the area and on whether people around the area would comfortably live with the new but silent neighbours. None of the 12 bids met the criteria set by the council's tendering committee. "At no time did the technical evaluation committee during my attendance recommend any of the twelve bidders for the award of the tender," Tom Odongo, the then council deputy director of city planning, said in his statement.
Defective bid document
Unknown to him, according the court documents in our possession, Naen Rech Limited lurked in the shadows, and at the time that it was least expected, this mysterious player emerged from the darkness to walk away with the much coveted bid, with a technical final score of 86.5 per cent.
SEE ALSO: Sonko and team okay Sh28b rail city project
"I do not understand how financial evaluation was carried out. There was no criteria to be scored against," he told investigators on May 6, 2009. Odongo went further to disassociate himself with a report prepared in favour of the firm saying it was the opposite of what they had found at the site. "On November 11, 2006, I wrote a memo to the chairman of the technical evaluation committee reiterating that notwithstanding the defective bid document was applied to evaluate the bidders but none of them passed," he said. Wanjohi in his statement filed before the Civil Court in a suit which the Ethics and Anti-Corruption Commission (EACC) is seeking to recover the stolen money said that all the sellers were required to dig trial holes but the land which Naen Rech Limited had floated had none. The team would later return and assessed three holes, measuring around two and a half feet wide and length and three feet deep. "We returned to the Naen Rech site and found that they had dug four trial holes three of which measured 2.5 black cotton soil and 2.5 murram and one measured three feet cotton soil; and two murram. I therefore formed the opinion that because of the above observation, the site was not suitable for burial," Wanjohi says.
SEE ALSO: County transfer of some functions will not cure city's myriad problems
It is with this backdrop that he was summoned to witness the laying of beacons on the land. But as soon as the first beacon was laid, the stage was set for an 8 yearlong case that began with the intention to steal from the dead that eventually ended in the jailing of six, some of the first senior government officials to be convicted of corruption. "Naen Rech Limited was not eligible to tender as it had no land to sell to the CityCouncil of Nairobi," the EACC says. "The tendering process was flawed to the extent that no bidder qualified yet the tender was irregularly awarded." It also emerged that a valuation report, submitted by Naen Rech to the council as part of its bid documents was a forgery that was later disowned by the purported author Anthony Mathenge Itui, the Deputy Commissioner of Lands.
Public property
By turning key players within the council into prosecution witnesses, the EACC investigations revealed that out of the Sh283 million released by the council, only Sh110 million reached the owner of the land. "The plaintiff contends that the money paid to various persons without consideration belonged to the City Council of Nairobi and is therefore public property which recipients were not entitled to," EACC argues. It has targeted among them a lawyer Paul Chapia who drafted sale agreement between the county and the company as he was paid Sh9 million as legal fees. The lawyer, in protest replied, saying that he had done nothing wrong as the monies he received from the firm were for his professional services. Former Local Government Permanent Secretary Sammy Kirui and former Nairobi City Council clerk John Gakuo were jailed for their role in the cemetery land scandal. Mr Kirui and Mr Gakuo were sentenced to three years in jail and each fined Sh1 million for abuse of office and failure to comply with procurement rules in purchasing the land. They were convicted for their role in the multi-million shilling scandal that rocked CityHall between 2008 and 2009. Mary Ngethe, who at the time was the citycouncil's legal director and chairperson of the tender evaluation committee, was also sentenced to three years in jail and fined Sh52 million while the committee's secretary, Alexander Musee, got three years and a Sh32 million fine. "I find that the prosecution has proved the case beyond any reasonable doubt. It is the accused persons who know why they acted the way they did, leading to loss of public funds. I find them guilty of each of the offences they are charged with and convict them accordingly," Anti-Corruption Court Chief Magistrate Douglas Ogoti ruled. Former Local Government Ministry procurement officer Boniface Okerosi Misera and land surveyor Cephas Kamande Mwaura were slapped with a two-year jail term plus fines. Chief Magistrate Felix Kombo fined Misera Sh40 million for fraudulently pocketing Sh10 million. Mwaura was slapped with a Sh37.2 million fine for also getting Sh9.3 million.