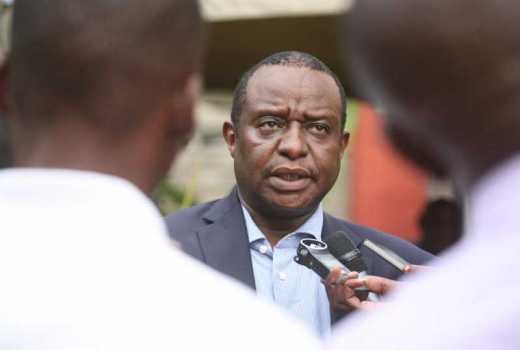 Kenya
County governments are struggling to meet their financial obligations due to...
County governments in Mt Kenya regions are struggling to meet their financial obligations due to delays by the National Treasury to disburse funds to the devolved units. In Meru, the county government claims the best contractors are shunning projects because of fears the payments could be delayed. The cash crunch has also seen workers' salaries delayed and suppliers go unpaid for months as the county government continues to scrutinise a Sh1.6 billion debt inherited from the former government. Sources revealed that workers were paid their January salaries on February 19 and February pay on March 5 after the county government acquired a credit line from a commercial bank.
SEE ALSO: State puts county bloc plans on ice
Deputy Governor and County Finance Executive Titus Ntuchiu said the best contractors were unwilling to work for the county government because of its reputation for delayed payments and pending bills. "We also are feeling guilty that we are killing enterprise because contractors ultimately work on credit and need to be paid quickly so they can liquidate the debts and pick up more tenders elsewhere," Mr Ntuchiu said. He said the fact that they had been forced to rely on commercial banks to finance staff salaries underlined the gravity of the problem facing county governments. "Commercial bank loans are actually not approved by the Controller of Budget but are a last resort for us to keep up staff motivation," he said. National Treasury Cabinet Secretary Henry Rotich early this month announced austerity measures in the face of revenue shortfalls and asked senators to cut county budgets by up to Sh18 billion as he prepares a second supplementary budget, targeting national budget cuts of up to Sh60 billion.
SEE ALSO: Institute wants Sh50b revolving fund for housing recovery
Ntuchiu believes the problem can be solved if the counties are paid monthly.
Year's allocation
"All they need to do is break down the year's allocation for each county into months then instruct the Central Bank to remit the monthly standing order by a certain date so we do not have to worry about such basic issues as staff pay." This is not a problem unique to Meru County. Laikipia Governor Ndiritu Muriithi said his government had been unable to fund stalled development projects. Although his county has received part of the disbursement, Mr Muriithi said they were considering getting funds through other means.
"We are trying to manage the money that has been released as we seek more from domestic revenue collection," he said.
SEE ALSO: Murkomen rejects new Senate post, tells Jubilee to keep it
"We don't have adequate funds but our expectation is that the cash flow circumstances will improve in both the national and county governments." In Nyeri, hundreds of patients were stranded at Nyeri Referral Hospital due to a go-slow by staff over delayed salaries. Matters were aggravated by a power outage at the hospital. The standby generator was of no help as there was no fuel. County Health Executive Rachel Kamau admitted the generators were not functioning but declined to comment on the go-slow. Tharaka Nithi County has received only 33 per cent of its total allocation so far. Finance Chief Officer Zephaniah Mbaka said they had been forced to develop a "keep waiting" attitude due to the delay.
SEE ALSO: Coronavirus has found Mandera better armed
Two months
"We are confident that Treasury will release the money but our worry is how it will be used in the next two months," he said. He said the county might not complete all the projects planned for the next two months, when the national government's financial year ends. "It's like being told to use 70 per cent of the allocation in the next two months," he said. He however added that the county had not faced problems paying workers' salaries.
SEE ALSO: Floods havoc: 237 killed as rains expected to continue
Murang'a County is also struggling to meet its financial obligations specifically with regard to some of its flagship projects. Some of the projects affected include the Murang'a County Creameries plant in Maragua and the disbursement of student bursaries. Addressing education stakeholders at Murang'a Teachers Training College last week, Education Executive Gerrison Nyagia regretted that the bursary disbursements had been delayed. The County Government of Kisumu is also struggling to foot its bills and implement projects currently running behind schedule. So dire is the situation that the county assembly has been unable to pay rent for MCAs' offices for more than four months now. Key projects in the county have also stalled as the county government grapples with a financial crisis that could see taxpayers lose millions of shillings should it fail to complete projects started by the former administration. Deputy Governor Mathew Owili said the county had been unable to pay pending bills and implement projects. Currently, the county has only implemented road projects funded by the Kenya Roads Board and others funded by donors. "The cash crisis in the county is a big problem because there are many things we are struggling to do, including offsetting bills," said Dr Owili. "There are also suppliers who need to be paid but the cash crunch is making it difficult for us." Across the county, projects such as construction of dispensaries, markets, colleges, toilets, resource centres and even roads have also stalled because there is no money. Residents claim some of the abandoned buildings have become hideouts for criminals. Among the stalled projects are the Sh18.6 million Kombewa market, the Sh18.2 Pap Onditi market and the Sh18.2 million Korowe market.
Resource centres
About 15 resource centres that were allocated millions of shillings have been abandoned despite being listed in county government reports as "still in progress". In West Kisumu ward, the Gombe Kokula resource centre, which had a budget of Sh6 million in the 2015-2016 financial year, remains incomplete. "The problem is serious but we are hoping it will be resolved soon to allow activities to take off," said Deputy County Assembly Speaker Erick Otieno. In the last financial year, more than 100 projects across the 35 wards listed in the budget were not implemented after politics took centre-stage. They have all stalled due to lack of funds. Assembly Clerk Ben Opiyo and Leader of Majority Kenneth Onyango said lack of funds had adversely affected activities in the assembly. "The biggest headache we have is that MCAs think there is money that we are just sitting on, but we are hopeful that the money will be released," said Mr Opiyo. In Siaya County, several flagship projects risk stalling should the National Treasury fail to remit more than Sh2 billion. Since the beginning of the 2017-2018 financial year, the county has received only Sh1.7 billion of the expected Sh3.9 billion for salaries, operations, maintenance and development projects. Governor Cornel Rasanga during separate functions claimed they had only managed to pay salaries. "Most of the projects are getting frustrated. It has not been an easy journey. It is also frustrating when you cannot complete projects already initiated due to lack of funds," he said. Finance Executive Joseph Warega said with the few funds they were receiving, no projects could kick off. Mr Warega noted that out of Sh480 million meant to be sent for the months of August, September and October each, they received Sh386 million, Sh497 million and Sh523 million respectively. "From the trend of cash flow, you can clearly see that we have shortfalls. The county did not receive any funds in the first month of the new financial year. We did not have funds in the beginning of the first four months of the new financial year," he said.
Flagship projects
Warega said flagship projects like the Siaya ultra-modern stadium prioritised in the current budget could not take off. Nine irrigation projects started last year are also caught up in the financial turbulence. And in Kisii County, Finance and Economic Planning Executive John Momanyi, said the government received the last allocation last November. The county is demanding Sh2.1 billion from the national government. "The delay has affected development plans across all development sectors in the county, including the operationalisation of several health centres," said Mr Momanyi. Homa Bay Governor Cyprian Awiti said the cash crunch had hit his county hard. "Our workers have not received their February salaries," he said.
[Harold Odhiambo, Olivia Odhiambo, Eric Abuga and James Omoro, Wainaina Ndung'u, Boniface Gikandi, Jacinta Mutura, Dickson Mwiti, Allan Mungai and Munene Kamau]