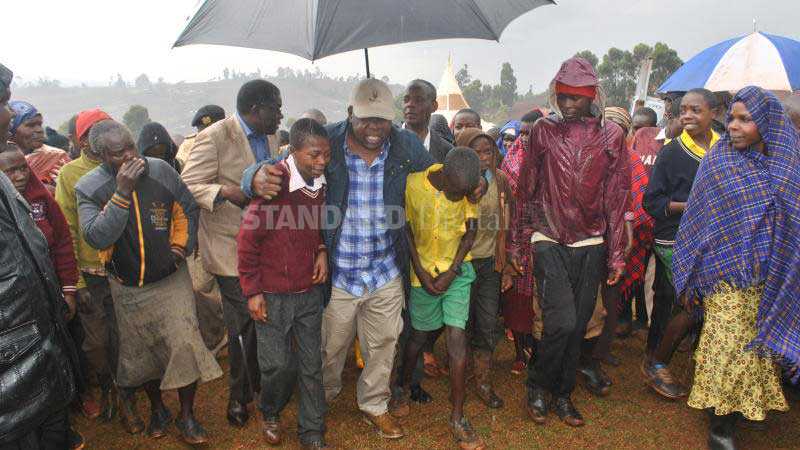 Leaders have cautiously welcomed a dusk-to-dawn curfew in Mt Elgon ordered by Interior Cabinet Secretary Fred Matiang'i. Dr Matiang'i ordered the 90-day curfew on Tuesday following rising cases of insecurity that have left at least 30 people dead in the last three months. Governor Wycliffe Wangamati welcomed the curfew yesterday, but warned security personnel against mistreating residents. Mr Wangamati said previous security operations in the area were overshadowed by claims of police brutality and extortion.
SEE ALSO: How Covid-19 pandemic could induce crime
"We have heard tales of police brutality while handling previous curfews and that should not be the case in Mt Elgon," he said. "Others have been extorted by police and we hope this time it will be different." The governor said the curfew should not affect the residents' daily lives. "This (curfew) should be done in such a way that it does not affect people trying to earn a living, especially those who take farm produce to the market before dawn," he said. However, a human rights official in the area said the curfew was uncalled for. Western Kenya Human Rights Watch Executive Director Job Bwonya said Matiang'i was misled into believing that the current wave of insecurity was caused by a militia outfit. "Police know the people behind the gang and should target them directly instead of imposing a curfew. This is not like the Sabaot Land Defence Force (SLDF) militia that was all over the place," he said.
Swept through
The SLDF militia swept through the region in 2006 before the Kenya Defence Forces was deployed to the area in response in 2008. Mt Elgon MP Fred Kapondi dismissed fears that the attacks were related to land, saying they were carried out by known criminals. "Our people only hear the names of the gang leaders, but for them to put a face to the name, they (gang leaders) should be displayed in the newspapers," he said. Even as the curfew comes to effect, residents blamed marginalisation of the Sabaot community for the conflict in the region. They told members of the Senate Devolution Committee collecting public views on the County Boundaries Bill (2016) that the wrangles would end only if the community was given a county. "The Sabaot are a minority group but they have been split into two. The community is in both Bungoma and Trans Nzoia counties - this has marginalised them," said Martin Ndiwa, a resident. Senator Falhada Iman (nominated), who chaired the session, said the residents raised valid concerns.