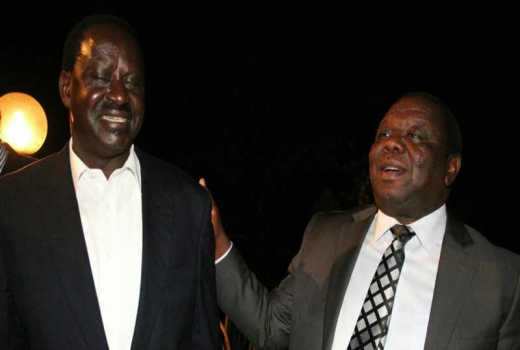 Kenya
The two opposition leaders have been close friends.
National Super Alliance (NASA) leader Raila Odinga has this afternoon left for Zimbabwe to attend the burial of his long-time friend Morgan Tsvangirai. Morgan Tsvangirai who was Zimbabwe's main opposition leader died last week aged 65 at a South African hospital after a protracted battle with colon cancer. Odinga's spokesman Dennis Onyango sent a statement to newsroom saying he will travel to Buhera, some 300 kilometres from Harare where the burial will be held tomorrow. Tsvangirai whose career has been marked by a long political struggle against former President Robert Mugabe is reported to have met Odinga at a training in Zimbabwe for multi-party elections.
SEE ALSO: Only Raila can save Ruto from being flung into political dustbin
On January 2015 Morgan Tsvangirai attended the burial of Raila Odinga's first born son Fidel Odinga in Bondo. Last week, Raila Odinga eulogised the Opposition leader as a democrat and freedom fighter "Morgan dared to dream of democracy, freedom and justice for his country and his people despite the firm hands of dictatorship that held sway," he said in a tweet. Adding, "His death leaves a gap in a country that still needs strong forces of change to return to the path of democracy". Yesterday, Zimbabwe held Tsvangirai's memorial service in a packed church in the capital Harare where President Emerson Mnangagwa called on the everyone to unite in mourning the opposition leader. Local media have reported that President Emerson Mnangagwa promised to keep all the promises he made to Tsvangirai.