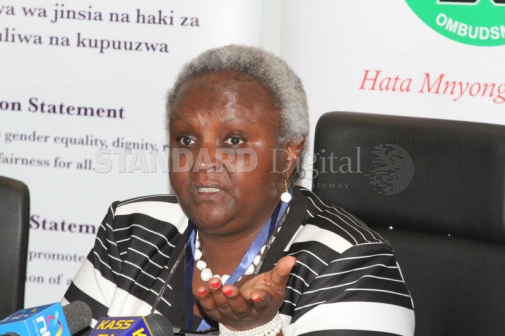 The Kenya National Commission on Human Rights will, in a week's time, release a report on transgressions during the prolonged electioneering period in the country. KNHCR chair Kagwiria Mbogori said that over 60 deaths which occurred in the poll-related violence would be spotlighted in the report. "We have carried out probably the most comprehensive monitoring of the period starting with the period immediately preceding the party primaries then to August elections and on until the November 26 presidential repeat polls," added Ms Mbogori. Two earlier reports had been released but the final report will cover the period up to the November 26 elections according to the KNHCR chair who spoke at the International Human Rights Day 2017 fete in Meru town.
SEE ALSO: Central, Eastern may suffer most Covid-19 deaths – Kemri
She said the period had been characterised by numerous cases of police brutality while there had been rise in the cases of extreme provocation of law enforcers as well as excessive destruction of private property. But we continue to insist that as law enforcers, the police should not be the first to break the law," said Ms Kagwiria. "In that report we shall see the numbers and violations in the past on year," said Mbogori. "Our immediate task is to seek accountability for violations of the right to life and ensure perpetrators are brought to book," said Ms Mbogori. She however regretted that despite devolution entering second phase, people have not adequately participating in allocation of resources and alerting independent agencies of county government practices that were retrogressive to human rights.
SEE ALSO: Botswana investigating mystery deaths of 275 elephants
Meru governor Kiraitu Murungi said his county government would offer Health insurance for all these over 75 from next year. "Societies celebrate newborns but hide the aged behind the house," said the governor. It had also proposed to use Sh80 million to provide lunches and milk for school children and Sh 10 million for raising women political visibility. Kiraitu however regretted that web activism threatens to erode the gains of the individual rights in the country. "People are being hurt by abusive peddlers of lies, propaganda and malicious misinterpretation of facts," said Kiraitu.
SEE ALSO: Gathering roots for policies in women, children, adolescents' health
He claimed there was excessive focus on the presidential election while devolution provided an opportunity to foster grassroots human rights activism.
[email protected]