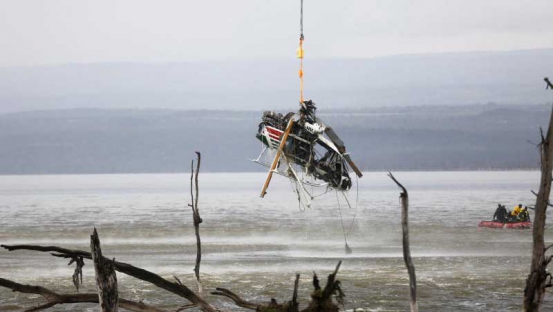 The wreckage of the helicopter that crashed into Lake Nakuru a month ago has been retrieved from the water. It was a challenging task getting the wreckage to the surface on Sunday evening, as Kenya Air Force and Kenya Police personnel combined efforts to recover the aircraft. Colonel (rtd) Charles Owino, the director of National Disaster Operation Centre (NDOC) said the team had never been involved in salvaging a helicopter from a lake. Divers discovered the wreckage sitting in about 5.3 feet of water, 2.4km from the lake shores.
SEE ALSO: VAR denies Mourinho late goal in dreary draw with Spurs
Before lifting the wreckage, a diver had to attach cables from a crane by feeling his way around. " It was pitch-black; you couldn't even see your hand in front of your mask," one of the divers told The Standard at the scene yesterday. As the police helicopter began lifting the wreckage from the water, the broken rotor blade, the dome and the pitch were the first to emerge. The police chopper towed the mangled wreck to an open field within Lake Nakuru National Park, where air crash investigators and scene of crime officers began their probe.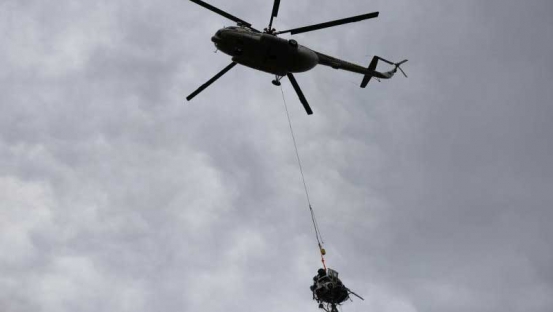 The helicopter, registered with Flex Air Charters as 5Y NMJ, crashed south of the lake with five people on board on October 21. All five died.
SEE ALSO: Graves dug for coronavirus victims spook South Africans
Kenya Navy divers, with the help of the Sonko Rescue Team from Nairobi County, have managed to recover three bodies. The passengers and pilot were identified as Apollo Malowa (pilot), Veronicah Muthoni, Sam Gitau, John Mapozi and Anthony Kipyegon. The bodies of the pilot and Mr Kipyegon were recovered in the first week of the search as family members camped on the lake shores.