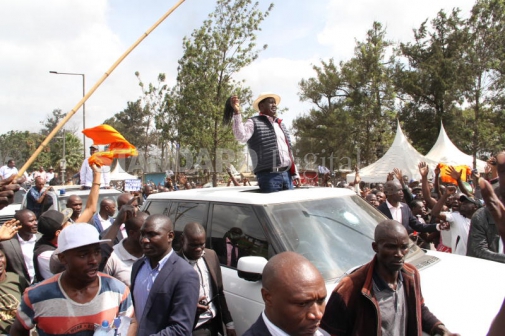 Nairobi
Leaders opt for Upper Hill where they addressed their supporters and journalists, condemning the attack
National Super Alliance (NASA) leaders led by Raila Odinga made a daring attempt to drive into Uhuru Park grounds, Nairobi, but fell short despite braving brutal force at many stops from the Jomo Kenyatta International Airport through Jogoo Road into the city centre. They were stopped near Railway Club along Haile Sellasie Avenue as police unleashed teargas and water cannon sprays on the crowd while others used stones to repulse the politicians and their supporters. Some NASA supporters who made their way into Uhuru Park grounds were smoked out. Gun shots were heard as chaos reigned, when NASA supporters engaged the police in stone-throwing. The law enforcement officers returned a volley of the same missiles, damaging vehicles.
SEE ALSO: Ford Kenya wrangles ignite ugly spat between ODM and ANC
One motorist driving a car with Tanzanian registration plates abandoned his car near the Haile Sellasie - Uhuru Highway roundabout and fled for his dear life together with his passengers. At one point, it appeared the NASA supporters had overpowered the police but they regrouped and pushed the group back as some police officer in fatigues threw a hail of stones at vehicles carrying Raila, Musalia Mudavadi, Moses Wetangula, James Orengo, Bonny Khalwale, Gladys Wanga, Esther Pasaris among others. The NASA leaders sped towards Upper Hill where they addressed journalists and condemned the attack. The aftermath of the Uhuru Park battle left large pools of water, spent cartridges from bullets fired in the air by the police and a heavy chocking air that left many people with chocked lungs. Hundreds of police officers started manning the historic grounds early in the morning with instructions to seal it. Journalists were stopped from accessing the grounds and those who had already arrived at Uhuru Park were quickly asked to leave or face arrest.
Milling around
SEE ALSO: Raila hails country's fight against Covid-19 in Madaraka Day speech
"Uhuru Park is not a protected area but they have used heavy barriers to stop vehicles from accessing it, with only one lorry full of heavily armed police moving around this place," said photo journalist Elvis Ogina who had also been turned away. A contingent of officers drawn from the Regular Police, Administration Police and the General Service Unit (GSU) was deployed at the venue to block anyone from entering. There was visibly no activity at the usually busy grounds. There was a standoff that lasted nearly 30 minutes along Haile Selassie Avenue when Raila's convoy entered the Central Business District. The team charged and the officers repulsed them. At some point, the officers retreated when they were overwhelmed by NASA supporters who also returned some of the tear gas canisters and took cover when the police officers fired in the air.
SEE ALSO: Raila's message to Kenyans on Madaraka day
Drama ensued at Parliament, the Cathedral and Processional Way as the officers and the opposition supporters engaged in fierce exchanges.
On course
Unbowed, the security team hang on the vehicles of the leaders who stayed on course despite the officers' resilience. Raila's chase car and his official vehicle led the team all the way to Upper Hill where the leaders addressed their supporters and the media. The protesters were armed with jerricans, buckets, sufurias and other containers with water to wash their faces each time the police lobbed tear gas at them. "Why are they attacking us?" shouted the supporters as they took cover.
SEE ALSO: US astronauts enter space station in milestone mission
Others lay on the ground while some retreated and waited for the officers to run out of tear gas to charge forward. At some point, everything was at a standstill. It turned into a cat and mouse game at Uhuru Park as protesters attempted to use various entry points to get in under a thick cloud of the tear gas. Before they reached town, police lobbed tear gas at any group of persons passing near GPO, on Uhuru Highway and around Serena area.
Additional reporting by Roselyne Obala
SEE ALSO: Why Uhuru is cracking whip amid coronavirus
[email protected]