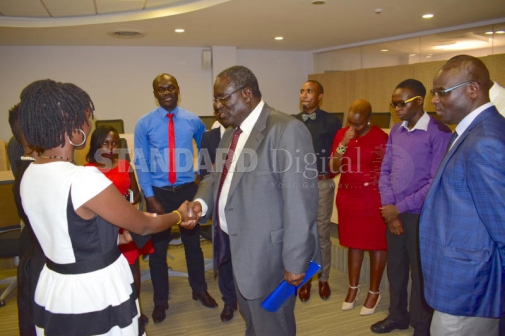 Twelve trainees graduated on Thursday after a nine-month journalism training programme sponsored by the Standard Media Group. The young journalists will be absorbed in the media company to work under various platforms. During the course, the newly inducted journalists, under the Standard Academy programme, went through rigorous training conducted by The Aga Khan University Graduate School of Media and Communications.
Current challenges
SEE ALSO: Standard Group CEO calls for professionalism during layoffs
The training entailed a projection of new and current challenges facing journalists, especially with the emergence of the digital era. It also put emphasis on election coverage and relevant laws, considering the myriad legal challenges surrounding this election period. This is the second batch of trainees recruited by The Standard Group after the previous graduated in 2015. Back then, it was referred to as The Scribes programme.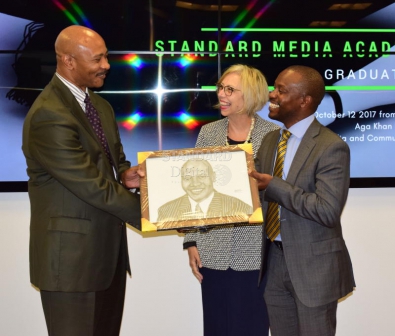 The 12 were recruited under a tight process where hundreds of people had applied. The successful candidates have a background in various fields.
SEE ALSO: Journalists' woes are a serious blot on media sector
"As newsrooms become thinner, we bring in a wealth of multimedia journalism and indepth reporting that scratches beyond the obvious," said Hillary Orinde, one of the graduates. Standard Group's Acting Chief Executive Officer Orlando Lyomu said there were plans to recruit another set of trainees in a bid to revitalise the newsroom to boost convergence. "You need to stay hungry, stay humble, stay young. You may feel you have reached the top of your career but when you go back to the newsroom it will be a new start," Mr Lyomu told the graduates.
Main purpose
The group's editorial director, Joseph Odindo, said the main purpose of the training was to produce all-round journalists who can survive in the tough newsroom environment.
SEE ALSO: Fury as Mediamax fires journalists in night SMS
This, he said, stems from the ever-changing consumer patterns where the public has put a lot of trust in the media and expects not just to be informed, but to get an explanation what the content means.
Restore glory
He added that this will shift audiences' dependence on fake news and restore glory to the media profession, which is under threat. "For you to survive in this field, one needs to be a subject specialist, have exemplary writing capabilities, and values that you can impact," said Mr Odindo.
[email protected]