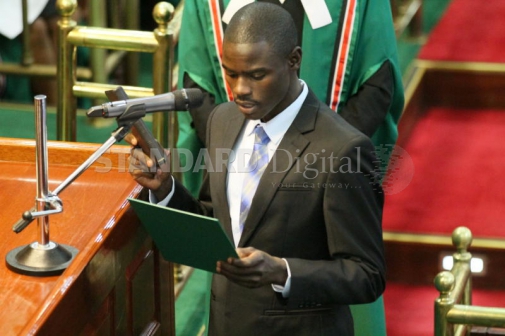 Politics
The swearing in of new MPs was not short of drama and light moments.
The swearing in of new MPs was not short of drama and light moments. The members started trooping into the House as early as 8am, some accompanied by their spouses, loved ones and hordes of supporters, many who did not make it past the heavy security at the gates into the main chambers. Immaculately dressed, the legislators, majority of who are new members in the House, had to produce their letter of invitation to the swearing-in ceremony, given to them on orientation day as the security personnel struggled to separate them from the many strangers, who also wanted to enter the House. And when National Assembly Clerk Michael Sialai started the proceedings with a word of prayer, the House was full to capacity.
SEE ALSO: DJ Evolve's message to fans after discharge from hospital
First to take the oath of office was Makueni Woman Rep Rose Museo at 9.22am, followed by other disabled members who were given preference in the long process.
Oxygen tank
A group of MPs who have been in the House the longest followed, led by Kitutu Chache North MP Jimmy Angwenyi, Samuel Moroto (Kapenguria) and Maina Kamanda (nominated). They are all serving their fifth terms. Nominated Senator David ole Sankok, dressed in his trademark green suit that looked similar to the uniform of the House clerks, caused excitement after he insisted on being sworn in next to the speaker's seat. The clerk had to interject to stop some legislators who wanted to be cheeky and introduce their own words into the oath of office, notably
Embakasi East MP Babu Owino
, whose vow included a section vowing also to defend his
ODM party leader Raila Odinga
.
SEE ALSO: Meet politician who got 243,000 votes in country of less than 15,000 registered voters!
But Sialai cautioned him that unless he abided by the oath as prescribed, he would end up not being sworn in. Similar caution was thrown at Cherengany MP Joshua Kutuny, who took the oath of office in Kiswahili, after he decided to pay allegiance to Kenyans "and the great people of Cherengany". John Ludepe of Turkana Central did not wish to leave people guessing about his political affiliation. He turned up dressed in an Orange suit, complete with a tie of marching colour. There was also a moment of concern as Kitui West MP and the immediate former Leader of Minority Francis Nyenze walked into the chambers with an oxygen tank aided by a member of the sergeant-at-arms. He was taken straight to be sworn in before leaving the chambers immediately.
SEE ALSO: Embakasi East MP Babu Owino sees the light?
Nyenze said later that although he had suffered a lung infection that made him to constantly rely on the oxygen mask, he had since dropped the aid. "I only carried it so that in case there is a queue, then I would be given preference to take the oath of office and if I had to line up, then I would not be at a risk," Nyenze said. A number of MPs had difficulties reading the word "conscientiously". Among them was Mathira MP Rigathi Gachagua, who after several trials gave up, mumbled some word, leaving members in stitches.
[email protected]