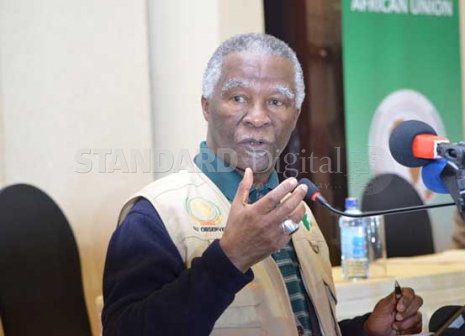 By Nasibo Kabale and Luke Anami
International observers on Thursday praised the handling of Kenya's presidential election with the African Union Mission saying it had seen no sign of manipulation despite the Opposition's complaints.
Former South Africa President Thabo Mbeki, who was representing the African Union Observer Group spoke about Raila Odinga's hacking claim.
Mr Mbeki said in the view of the group, the Opposition should follow due process, adding that the election was in accordance with laws governing the Independent Electoral and Boundaries Commission (IEBC).
Speaking during a press briefing at a Nairobi hotel, Mbeki said the Opposition team had met the observers and presented their grievances.
"We are concerned by claims by Opposition leader that the IEBC systems were hacked. We note the process of tallying was still going on and I urge all to follow the available legal channels to resolve the matter," he said.
He said during the meeting, the Opposition team expressed their reservations about the accuracy of Forms 34A and that there was not much they could do.
"We are an AU election observer union not an AU investigation union," he said.
The issue
Former Ghana President John Mahama urged the stakeholders to give IEBC time to conclude the process.
"NASA met different observer teams and put their claims on the table. IEBC said the server was not hacked so the team left the matter to the technical team," said Mr Mahama.
He, however, advised the stakeholders to seek legal means to resolve the issues.
International Conference of the Great Lakes Region (ICGLR) led by Makumbi Kamya said the observation by NASA had put them in a 'tricky position'.
"This had nothing to do with our job, which was to observe whether the elections were free and fair and we are satisfied with the conduct of the elections," he said.
African Union and Commonwealth observation missions also expressed concern at the high number of spoiled votes.
Mbeki and the former Ghanaian president said lack of civic and voter education was to blame for the high number of spoiled votes.