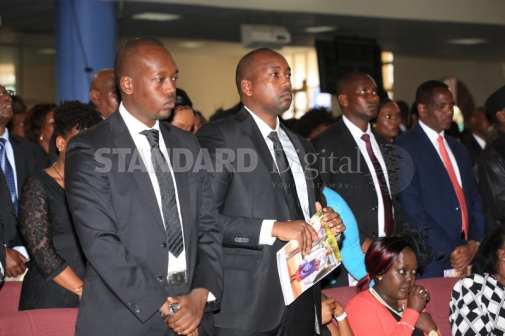 Kenya
The President and his deputy say Kenyans owe General Nkaissery an election devoid of violence.
Peace and political tolerance were the dominant theme in speeches at Interior Cabinet Secretary Joseph Nkaissery's funeral service. Speaker after speaker praised Mr Nkaissery, whose cardinal push, many said was to have a peaceful Kenya, devoid of violence in the run-up to the general election and after, despite the outcome. "Despite our different ideas, the only singular thing we can do for the late CS is to ensure the country remains peaceful now, on election day and after election. His love and passion was for Kenya to make a difference," said President President Uhuru Kenyatta. He continued: "Whoever wins, no matter the outcome of the August 8 polls, we should not condone violence... We will continue where the general has left, to make significant change and make Kenya great." The Head of State urged all Kenyans to join him in preaching peace. Deputy President William Ruto reiterated the need for Kenyans to remain united, saying: "Nkaissery did everything possible for us to have a peaceful election." "His wish and passion was to see this coming true. He has left us but let's give it to him and have a peaceful election," he added.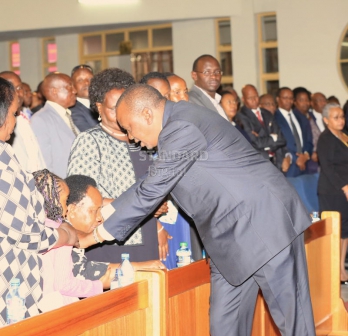 True friend
The President described Nkaissery as a committed, loyal and dignified man. "He was totally dedicated to Kenya. The clean-up in the Interior ministry and reorganisation, is one thing I personally owe to him. He was a stickler for discipline and order but had a soft spot for those who cared for him. I will miss a true friend," Uhuru said. He disclosed that the one thing he missed in his Government was Nkaissery's services. "In 2013, there was political re-alignment. The DP and I formed the government and Nkaissery remained in CORD. He was one person I truly felt I missed and this was during the turbulent times when there were a lot of issues bedevilling the security docket and it required a complete overhaul," said the Head of State. "I remembered our resolve way back in the 1990s and 2000 to form Government together. I called Nkaissery despite the political barrier between us to rekindle our political relations and sort out the problem. To my surprise, it didn't take him more than five minutes to respond. He never hesitated, he disclosed that he was waiting for me to call him so that we could get to work." Uhuru said he was introduced to Nkaissery by his cousin Kung'u Muigai and later former President Daniel Moi. "He was in project Uhuru in the 1990s and 2000 just like the late Bonaya Godana... He was very keen that I should get to know him well and work with him," the President said. Uhuru revealed he thought Nkaissery was going to be his Chief of Defence Forces if he formed Government in 2003, but the general quit the military to join politics. "He said he would play a greater role in politics than in the forces," the President said. Nkaissery's widow Hellen was overwhelmed and unable to eulogise her departed husband. Instead, she wrote a moving tribute read on her behalf by Rosemary Keen. "It is very painful to accept the loss because we had many dreams for our family. I had the best man ever. He was a role model to the children. He dined with the rich and the poor and was never cowed," she said. "We shared the joyous last minute together. If I bought land and registered it in his name, he would get mad. He collapsed and died when we were together and will cherish those last moments. As I remain, I know my love is up there with God and looks down on us." Emotions flowed freely among his four children who also lionised him for his prowess and leadership that earned them a niche among their peers. "He taught us to be responsive. He told us about his young days in the military and why we should never compromise on anything. His legacy lives on as he offered solutions to all problems. His death has robbed us of our pillar. So be it, we accept," said his son, Andrew Nkaissery. The former CS died on Saturday of heart attack, according to a preliminary autopsy report. His daughters and son were full of praise for what their father did. There were also light moments when former friends and colleagues shared their memories of the departed General. His best friend and best man, retired Captain Kung'u Muigai, caused laughter when he recounted their troubles with the nation's founding president Mzee Jomo Kenyatta, for being in breach of the military procedure while training in India. "We had to cut short our training in India after former Ugandan dictator Iddi Amin chased Indians from his country. Tanzania, Gambia and Zambia withdrew their cadets. Things got worse in India and despite sending a distress call to our commanders, nothing happened," said Mr Muigai.
Hard on us
He continued: "We decided to skip college and seek the support of the then Kenyan Ambassador to India. Still, there was no response from the commanders, the Ministry of Defence and that of Foreign Affairs in 1972. We called the President, then Mzee Kenyatta and returned after three weeks, vowing to quit the military." Kung'u disclosed that things turned murky for them and Kenyatta was very hard on them. He said there was no quitting and if they dared to, they should be sent to Kamiti Maximum Prison. "We were sent to Lanet Training College where we trained and on passing out, the President lauded us and gave us Sh1,000. Nkaissery loved keeping cows and bought two, while I drank my cash. He never took more than three beers and was a disciplined spender," he added. House Speaker Justin Muturi, CDF Samuel Mwathethe, PS Karanja Kibicho, acting Interior CS Fred Matiang'i and Najib Balala (Tourism) admitted it was almost impossible to replace Nkaissery in Cabinet. Mr Kibicho recalled the Cabinet secretary's impromptu attendance of departmental meetings.
[email protected]