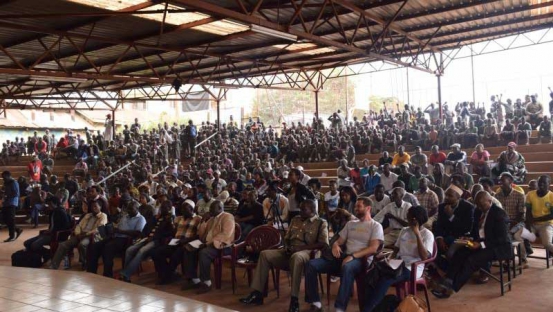 At Shauri Moyo's Young Men's Christian Association hall, Lilian Achieng's cry for justice reverberated across the hollow auditorium arresting the attention of all and sundry.
Delirious and sorely hurting, she hurled out her grief in staccato sentences that aroused more heat than light in the hall. Years later, the grief of losing her 16-year-old son to a ruthless cop knows no composure, is boundless and is piercing.... inachoma! (hurts)
"At 16 years, jamaneni! (honestly) At 16 and eleven bullets as I watched, yawa! Why couldn't he arrest the boy and lock up him even for 100 years?" Achieng, popularly known as Mama Jaluo bleated before human rights activists, police representatives, Shauri Moyo community and international observers.
Achieng had been warned to take her son away from the estate but she had nowhere to go. "I am a widow and an orphan. I sell vegetables for survival. Where was I supposed to take him? When I took him to the police station and asked them to keep him for 29 years until he reformed, they wouldn't give a hoot," she narrated.
Like all mothers, mama Jaluo testified, she wanted her child to turn out well.
"Seeing my child die in so cruel a manner, felled by a person I knew and with so much potential to change hurt me big. I think I grew white hair on that fateful day, stress!"
Surrendered
Mama Jaluo's tale is no different from the tales of tens of other mothers who jammed seven "dialogue sessions" conducted by a network of seventeen civil society groups led by International Justice Mission (IJM) in Nairobi slums.
The month-long sessions culminated on Friday with a commemoration of one year since the brutal murder of IJM lawyer Willy Kimani, his client Josephat Mwenda and taxi driver Joseph Muiruri by suspected police officers.
In Mukuru, Stella Nthenya remembers last year's Easter holiday eerily. Police burst out on a group of eight youth, her son included, and ordered them to surrender.
She claimed her son surrendered but the officer, at one fell swoop, downed them.
"He's still free, the cop, and harassing me..."
Ms Nthenya is better off. Esther Wambui's son was arrested by police in 2014 and disappeared for good, without a trace. She's been to every morgue, since she's double sure he was killed, but still hasn't found the body.
"All I want is his body to bury it. I will never find respite, until I bury him," she told the Mukuru session, oozing raw motherly pain.
Evelyn Ilusa's son was killed in the field while playing. She claimed her son was not a thief. Esther Wangui's brother was killed in Eastleigh by police. Her mother was shocked on receiving the news that she collapsed and died.
For Munira Mohammed, grief struck in doubles. Her two children- Dave and Chuku- went missing in 2010 after being threatened by a well-known ruthless cop in the area. She said the cops and her family keep threatening and harassing her.
Mary Mbole depended on his son who was lying in a cold mortuary floor as she spoke at the Kawangware forum. He was fished out of the house by cops, led by his friend, taken to another friend's house and executed in cold blood.
In a faint, dying voice, she pleaded with the people who attended the forum: "Please pray for me."
Nelly Luchesi witnessed police accidentally shoot a pregnant woman in Highrise while pursuing thugs. She died on the spot and left behind three children. She testified that in Kibera, three to five young men, felled by police, are buried every other week.
Business rivalry
For Julia Afwere Nambole, the agony she has gone through seeking justice for her 3 year old grand-child and his father, killed by police, is unbearable. She has written statements in police stations, complaints to Independent Police Oversight Authority, she has been threatened.
Naima Ibrahim witnessed her nephew being killed in a field in Makina. She told the sessions that she stumbled on the confrontation and found one boy lying in a pool of blood after being shot moments after surrendering.
In Dandora, Beth Mukami told the session of her pain of looking for her husband for eight years after he was taken away by the police.
In all the sessions, police were roundly accused of planting guns on their innocent victims, working in cahoots with criminals, luring young men into crimes and then killing them, killing for promotions.
In other instances, residents blamed the widespread crime on lack of jobs, recreational facilities for the youth and grabbing of public utilities.
In other areas, residents attributed the killings to local business rivalry perpetuated by conceited police informers. Parents complained that approved schools for deviant juveniles no longer work and tended to strengthen youngsters resolve in crime.
Police who attended the session, braved the claims and vowed to change. In Kawangware, SSP Masisi Kiilu, a change champion and police's reforms directorate, said there is genuine desire in the force to improve service delivery.
At the Shauri Moyo forum, George Okang of the National Police Service's Internal Affairs Unit said the Police Service will not entertain mediocrity but demand high degree of professionalism from officers.
Chris Marshall, a former cop seconded by the American embassy to the internal affairs unit of the Kenyan Police Service assured residents of Shauri Moyo that cases brought forth against police officers would be investigated "to their logical conclusion."
"Hundreds, maybe thousands, of young men in Kenya have been murdered by the police. These are not one or two "rogue officers." There is a significant group within the police who believe the law does not apply to them," Claire Wilkinson, IJM's Vice President for Africa said on Fridayu at the memorial of Willy and his colleagues.
She said if Kenyans want to end police brutality, extra judicial killings and corruption, they must act. She said forces world over have reformed over time and with support and action of the people.