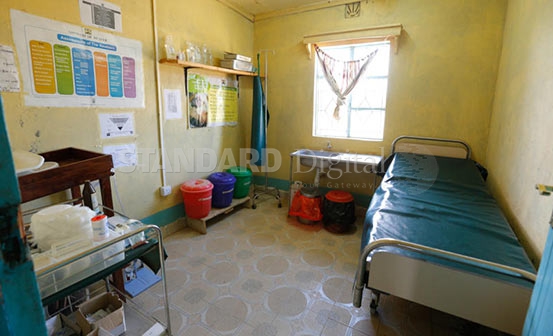 A drive in the vast lands of Samburu County presents a community too close to their traditions. But not too close to let pregnant women continue dying at home.
Stella Ekai knows better. She has braved scorching sun and vast distances to attend to expectant mothers. She is among the 70 community health volunteers who traverse various villages as far as 16 kilometres apart to educate mothers on need for antenatal and post-natal care.
"I have been a volunteer since 2008, even before the programme began. My community was suffering and I thought that with my knowledge in heath, I could make a difference. The programme was a game changer," says Ekai.
She says that sometimes she has to use a bicycle to reach more mothers and other patients who have no knowledge of hospital health. But not without challenges. "In some parts, new born babies cannot start suckling until the father puts a snake skeleton on their head. We call it Lukumae". I am glad with health education, the culture is fast dying," she adds. In some parts, mothers would stop breastfeeding just after six months and start feeding the baby on ng'orno, Samburu term for butter. For others, family panning was considered evil.
To change this trend, the county partnered with M-Pesa Foundation, PharmAcccess Foundation and Amref Health Africa. Suguta Mar Mar and Barsaloi health facilities were selected for piloting. And just three years after the project begun, the community has had to beat its own culture and ensure mothers deliver from hospitals.
An e-learning centre was also set up at Maralal Referral Hospital to coordinate learning. The two health facilities were renovated and equipped with new health tools. About 40 health workers were also trained on emergency obstetric care. The County Government hired more health workers. With enormous strides being achieved, the County Government has given a green light for the project to enter the second phase.
Speaking during the commissioning of the second phase of the Maternal Health Project, which will now be called Uzazi Salama, Samburu Governor Moses Lenolkulal, said that all 56 health facilities in the county will be given a facelift.
"We have allocated Sh800 million for healthcare in this financial year. This is about a third of our budget. The pilot project was a success and we want to do even more in all the health facilities," he said. So far, the County Government has put up eight new dispensaries and is now working on putting up an ambulance command centre to boost coordination.
According to M-Pesa Foundation Executive Director Les Baillie, the strength of the project has been in community volunteers. "Improving infrastructure alone is not the solution.
Without machinery and awareness from volunteers, the project would have failed," he said. This was echoed by PharmAccess Foundation Director Pieter Wahlof, who said that positive attitude from volunteers needs to be sustained for the project to deliver.
During the pilot phase, the three stakeholders noted that antenatal visits had increased by 90 per cent. They said that child mortality rates for mothers who made visits to the two upgraded facilities had dropped by 79 per cent. Amref Health Africa Programme Manager Josephine Lesiamon challenged the County Government to do more.
She said that the county, whose population of women within child bearing age is estimated at 60,000, requires more health practitioners.
The second phase is targeting to set up 10 community health units and train 500 community health volunteers to make it a success. In addition, 316 health workers will also be trained.
This phase is expected to cost Sh500 million and its achievements will be monitored over time and released in three years' time.