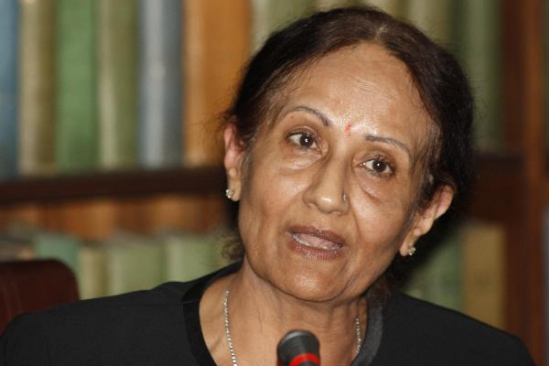 Judicial Service Commission (JSC) yesterday issued a four-month notice of retirement for Deputy Chief Justice Kalpana Rawal and set in motion plans to have her replacement in office by the time she leaves the Supreme Court on January 15, 2015. In a move which analysts say underlies high-voltage succession battle at the Supreme Court, the JSC said the decision was derived from a March 12, 2014 legal opinion by Attorney General Githu Muigai as well as "public concern". LSK's representative at the JSC Tom Ojienda told The Standard on Sunday that the commission acted in good faith. Asked whether Justice Rawal had agreed to retire, Ojienda said it was not a question of agreement but the law. "We have done what we ought to do under the law and the decision was unanimous. If she goes to court that is a different matter. The important thing is that she is not in court and there is no order stopping us from recruiting," said Prof Ojienda.
SEE ALSO: Rasta Lawyer Mathenge: Legalize it!
Last evening, a source close to Justice Rawal said the judge may not have been aware of JSC statement and that it had placed the "straight-forward and simple judge in a difficult position." "She has neither seen the statement nor is she aware of the decision. She may not understand why the JSC issued that statement in the first place," the source said. Justice Rawal is 69 years old and is turning 70 in January. The announcement of her retirement comes against the backdrop of a case in which Justice Philip Tunoi has gone to court to challenge his retirement upon reaching the age of 70. Yesterday, the JSC noted in its statement said Tunoi would no longer discharge his judicial functions until his case is determined. This also applies to Judge David Onyancha who moved to court alongside Justice Tunoi. But it is the Tunoi case which, sources say, informed the early notice on the DCJ job because of its potential to occasion a serious constitutional crisis. Tunoi and Onyancha were issued with the notice of retirement last year when they attained the mandatory retirement age for judges, according to the Constitution. Both judges moved to court and obtained conservatory orders restraining the Commission from removing them. Their argument has been that they were hired under the old constitution, which provided for retirement age of 74. The two matters are still pending in the courts.
SEE ALSO: Judge temporarily halts release of tell-all book by Donald Trump's niece
2017 elections In its justification for stopping Tunoi and Onyancha from active duty, JSC said it had become "a matter of public concern" that the two judges continue to sit and render decisions, "a matter that has caused anxiety to the general public, litigants and JSC." "Out of an abundance of caution and in order to preserve the integrity of the judicial process, and forestall any likely constitutional crisis that may arise as a result of judges serving beyond their mandatory age of 70 years, it was resolved that the respective judges will not hear and participate in any further proceedings until the case that they filed is heard and determined," the JSC statement said. A senior counsel who refused to be quoted discussing the matter told The Standard on Sunday that JSC acted to forestall a crisis ahead of 2017 General Election in case Rawal decides to follow Onyancha and Tunoi's footsteps. He also justified the barring of the two judges from active duty. "You see, the case filed by Onyancha and Tunoi is personal to them. Those are not orders. It is an order in persona. In other words, these are orders that are personal to the individual who has approached the court. These are different from orders that are meant for every person in similar situation," the source said.