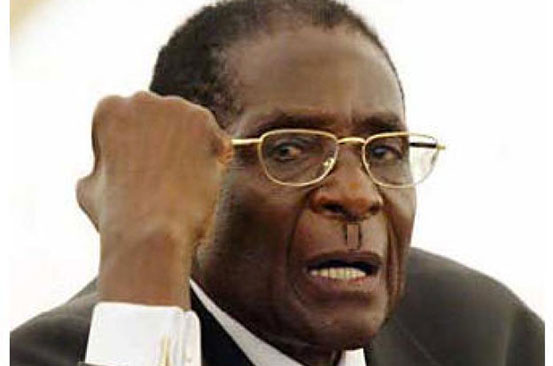 If President Robert Mugabe of Zimbabwe were in the African Union headquarters in Addis Ababa, Ethiopia, on Tuesday, he would probably have had one of the most unnerving moments in his political career.
Mugabe, the current chair of the AU, would have probably fidgeted on his seat, removed his frames, rubbed his eyes and leaned backwards gazing upon the shiny dome of the Chinese built headquarters.
President Barack Obama of United States, almost half his age, was delivering one of the strongest charges against "African strongmen" and doing so live from the seat of the African Union.
A more or less similar situation would have obtained for President's Yoweri Museveni (Uganda), Omar Bashir (Sudan), Teodoro Obiang Nguema (Equitorial Guinea), Jose Eduardo dos Santos (Angola), Isaias Afwerki (Eritrea), Paul Kagame (Rwanda) and Paul Biya (Cameroon).
Other old staggers in the game like Idriss Deby (Chad), Dennis Sassou Nguesso (Congo), (Gambia), Letsie III (Lesotho) and Mswati III (Swaziland) would probably have smiled away at yet another "boring lecture" by a sitting US President.
"I don't understand why people want to stay so long (laughter) especially when they've got a lot of money (more laughter and applause)," Obama jokingly said in his speech.
His choice of words, tone and place of delivery pointed to a super-power already too-weary of dealing with old-faces, strong-men who may not be receptive to new ideas and whose comfort in power easily makes them susceptible to switch allegiances in a fast changing world order.
"Yes, in our world, old thinking can be a stubborn thing. That's one of the reasons why we need term limits - old people think old ways. And you can see my grey hair, I'm getting old (laughter)," Obama said.
At 91 and president since his country's independence, Mugabe still believes he has the energy and zeal to run Zimbabwe. The most redemptive part of Obama's speech for Mugabe would probably be where he expressed his preference for leaders' hearts than minds: "The old ways can be stubborn. But I believe the human heart is stronger. I believe hearts can change. I believe minds can open. That's how change happens.That's how societies move forward."
But Mugabe has another reason why he is hanging on to presidency at such an age. The answer was delivered in a stormy interview with CNN's Christiane Amanpour a few years ago.
He was candid to the bone: "You don't leave power when imperialists dictate that you leave. Haven't you heard of regime change programme by Britain and US, which is aimed at getting not just Robert Mugabe out of power but Robert Mugabe and his party out of power? And that naturally means we dig in, remain in our trenches," he said.
Mugabe is digging in until whatever happens happens. Our inquiries to the Zimbabwean High Commission in Nairobi as to whether there exists any clear succession plan in the immediate future bore no fruit, as the head of mission was said to be in meetings all through.
Others who may be digging on similar grounds include President Bashir of Sudan. Bashir has been in power since 1989 and holds the dubious distinction of being the first sitting president indicted by the International Criminal Court (ICC).
On the run
With an international arrest warrant hanging over him for alleged war crimes, Bashir is literally a man on the run. Every time he visits a country that is signatory to the ICC founding statute, he has either left in a huff or left a court case inquiring into the failure to arrest him.
"As an emergent institution, ICC is instilling fear among Africa's strongmen. They have seen one of their own indicted. Unfortunately or fortunately, they cannot cite it as a factor when extending their rule because what will they be telling us?" Philip Nying'uro, an international relations expert told The Standard on Sunday.
According to Prof Nying'uro, the fear of being held to account internationally or nationally is forcing African regimes to resort to mischievous schemes as removal of term limits. He says the fear is real: "Even here in Kenya, my own estimation is that these guys have all the reasons to remove term limits. If you have followed the ICC cases and the circumstances of the withdrawal of the President's case, you would know it was not a definite withdrawal.
"In Uganda, Museveni did it the moment the ICC case started showing signs of stopping by his doorsteps."
When we reached out to the Ugandan High Commission in Nairobi for response to Obama's remarks on African strongmen, officials told us to write an official inquiry. It had not been responded to by the time of going to press.
Other leaders in Africa are not, however, facing ICC but still have a tight unrelenting grip of power. Ngueso and Santos are both clocking 36 years in power. They have ruled their respective countries since 1979, a year after Kenya's founding President Jomo Kenyatta died.
Ndung'u Wainaina from the International Centre for Policy and Conflict (ICPC) says many African leaders live in perpetual fear of their exit largely because of their manner of ascendancy and illegitimate use of power for personal gain.
"By and large, the state in Africa is predatory and power is used not for public good but for personal gain of those who wield it. This de-legitimisation of the state feeds on itself and its necessary desire is for perpetuity," Wainaina says.
Nying'uro introduces a different perspective on lack of strong democratic values and strong political culture among the African societies.
"Democracy depends much more on a strong value system. In Europe and US, it is strong inbuilt social values rather than the law that makes their leaders act democratically. In our African system, such values are wanting."
"Our people are not capable of holding their leaders to account and neither are our institutions. It is actually very normal for any human being to hold on to power so long as the institutions and political culture allow it."
Obama qualified Nying'uro's theory during his Addis speech. He said as much as he would want to continue being the US president some more, he cannot. "I am in my second term. It has been an extraordinary privilege for me to serve as President of the United States. I cannot imagine a greater honor or a more interesting job. I love my work. But under our Constitution, I cannot run again. I can't run again. I actually think I'm a pretty good President –I think if I ran I could win. But I can't."
Strong institutions
He added: "So there's a lot that I'd like to do to keep America moving, but the law is the law. (applause) and no one person is above the law. Not even the President (applause)."
The failure of leaders in Africa to build strong nation-states with strong institutions during their times in power is another reason being cited in their hold-on-to power.
When Obama first came to Africa as a President, he said Africa needed strong institutions and not strongmen.
More often than not in strongmen cases, the leaders intertwine or merge their own destinies with that of their nations. It was the case in Libya where former leader Muammar Gaddafi swore to fight to death rather than leave power.
It was the same in Egypt under Hosni Mubarak, former Zaire under Mobutu Seseko's and many other post-independent or post-revolution African leadership. Obama succinctly illustrated this in Addis, the seat of African unity. "And sometimes you'll hear leaders say, well, I'm the only person who can hold this nation together (laughter). If that's true, then that leader has failed to truly build their nation (applause)."
Greater heights
Most of Africa's strongmen, like Kagame, Museveni, Afwerki, Dos Santos, Nguesso and now Burundi's Pierre Nkurunzinza, believe or have been made to believe that only they can hold their nations together.
The myth has, however, long been shattered by past precedents set by former president's Nelson Mandela (South Africa), Daniel arap Moi (Kenya), Kenneth Kaunda (Zambia), Joaquim Chissano (Mozambique), Quett Masire (Botswana) and Sam Nujoma (Namibia) among others.
Where these leaders stopped, others, mostly younger ones, took over the country and soared their respective countries to greater heights.
"When a leader tries to change the rules in the middle of the game just to stay in office, it risks instability and strife - as we've seen in Burundi (applause). And this is often just a first step down a perilous path," Obama complained.
But Nying'uro turned the heat on the American's for encouraging the strongmen and nurturing their larger than life ambitions. He says the US is flip-flopping on the subject even today.
"Obama should be told that these strongmen he is so categorical about are products of American policy. The Mobutu's of this world, our neighbour next door in Uganda and even now, it appears, Obama's administration's priority is fighting terrorism and promoting American businesses," he said.
Nying'uro said the fact that Obama visited Ethiopia, a largely authoritarian regime, is a vote of confidence in Hailemarriam Desalegn's regime. Desalegn's regime won 100 per cent in parliamentary elections earlier in the year, a somewhat contradiction of the essence of democracy. In his speech, Obama also painted a rosy picture for those presidents who leave power voluntarily.
"You look at Nelson Mandela - Madiba, like George Washington, forged a lasting legacy not only because of what they did in office, but because they were willing to leave office and transfer power peacefully (applause).
Military coups
"And just as the AU has condemned coups and illegitimate transfers of power, the AU's authority and strong voice can also help the people of Africa ensure their leaders abide by term limits and their constitutions (applause). Nobody should be president for life."
He said he looks forward to life after presidency when he can shake off his big security detail, spend time with family, travel freely and walk around.
Nying'uro points out to a trend whereby democratic growth is slumping in Africa rather than grow. He says democracy assumed an upward fast growth from 1990 but started plummeting in the 2000s. He says the slow-down of African civil society movements has contributed significantly to the drop.
"The impetus for growth of strong civil society movement has tended to come from outside Africa. It's not homegrown or domestically sustained. And this has created the problem of legitimacys- popular acceptance by the people, as well as misuse by their sponsors as they pursue own interests," he says.
Wainaina disagrees: "I think to say that this is where the problem is domiciled is to miss the point. The larger civil society is not organised. It is not the NGO-type. I think civil society, in its wider context, has been credited with most of the democratic gains scored on African soil."
He says the slump has been occasioned by states clawing back on the space claimed by civil societies by resorting to retrogressive practices to emasculate them.