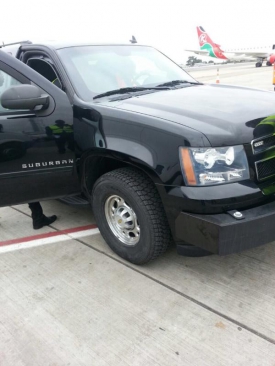 More than 50 of the 60 special cars US President Barack Obama will use while in Kenya have arrived.
Several other equipment and hardware the US President and his team will use for the three days they will be here continue to arrive.
The latest motorcade of seven cars arrived yesterday at the Jomo Kenyatta International Airport (JKIA), and was cleared by customs officials. They were driven away to a safer location to wait for the arrival of the team on July 24.
The cars included a Cadillac known as The Beast and a similar model. But one of them is a bit bigger. The others were Chevrolet Suburburn, all armoured. Two other Cadillac cars had arrived in Nairobi several days earlier.
JKIA was a beehive of activity as the officials offloaded the vehicles from a cargo plane. Curious onlookers who included Kenya Airports Authority officials watched from a distance as the offloading went on.
Officials said the US government had indicated they will use 60 cars when the President will be here.
"More and more cars are arriving and so far we have more than 10 of the 60 that they say the entourage will use in the country. Apart from the cars, there is other serious equipment," said an official who asked not to be named.
The pictures of the vehicles arriving at JKIA went viral online. Given the terror threat in the region, security will be tight and there could be serious disruption of lifestyle among Kenyans.
Obama will fly to Kenya on Air Force One, the presidential jumbo jet, one of the most luxurious airplanes in the world. There will be choppers on standby at the airport as he arrives on the customised Boeing 747-200B, Air Force One.
On arrival, the US President will ride in The Beast, his custom-made limousine that is easily the safest road vehicle on the planet. The Beast cars are usually positioned at various US bases in the world.
President Obama is scheduled to attend the Global Entrepreneurship Summit, a White House initiative that gathers entrepreneurs and investors from around the world. It is aimed at showcasing innovative projects and spurring economic opportunity.
Over 1,500 people are expected at the summit.