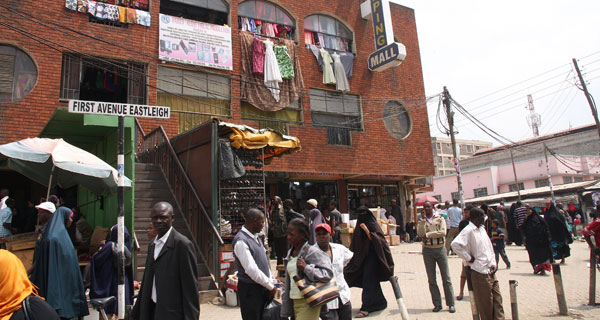 A street in Eastleigh the melting pot of the larger East Africa cultures. [PHOTO: STANDARD/FILE]
Special Reports
Eastleigh, a commercial hub on the outskirts of Nairobi, Kenya, is widely known as small Mogadishu due to the huge number of Somali immigrants inhabiting the town.
NAIROBI, KENYA:
Eastleigh, a commercial hub on the outskirts of Nairobi, Kenya, is widely known as small Mogadishu due to the huge number of Somali immigrants inhabiting the town. The Somalis' vibrant engagement in business makes them stand out in the district. Their huge population, which has eclipsed that of locals, has made them own the town. But Eastleigh is not all about Somalis. Tens of other immigrants from countries neighbouring Kenya, majority of them in conflict, also reside there giving Somalis a run for their money. They include immigrants from Ethiopia, Eritrea, South Sudan, Tanzania and Congo. While their numbers may not be as big as that of Somalis, these nationals have made Eastleigh a melting pot of regional cultures.
SEE ALSO: 151 cases, but Kibra isn't on lockdown
The commercial hub is the only place in Kenya where one encounters and learns about the diversity and complexities of the people and the region. It does not take much for one to appreciate Eastleigh as a melting pot of the larger East Africa cultures. A walk on the streets of the commercial district and a chat with residents brings out this fact. To start with, due to their huge numbers, the Somali culture is conspicuous and dominates Eastleigh. To say that it has even obscured that of Kenyans is not far from the truth. Walking in the streets of the Eastleigh, one picks out the Somali culture from anywhere he glances. Their dressing, business acumen and religious practices stand out. Most Somali men dress in
shukas
(wrappers) and
kanzus
of different colours. While a good number are slowly discarding these clothing and adopting the modern trend of dressing in trousers and jeans, the
kanzus
still reign supreme.
SEE ALSO: End complicity in handling crimes during virus period
In Eastleigh, you will see Somali men dressed in
kanzu
as they go about their businesses on the streets and in their shops. Talking of shops; the Somalis' business acumen stands out in Eastleigh and it has made the district to be what it is – the biggest commercial hub in Nairobi. The Somalis own and operate over 90 percent of businesses both huge and small in the town. The businesses include hotels, hospitals and fashion stores, which are hosted in several shopping malls in the area. From these shops, one gets the best bargains one can ever find in Nairobi, the reason why thousands of people flock to Eastleigh to buy goods.
SEE ALSO: Two suspects shot dead in botched Eastleigh robbery
All one needs is good bargaining skills that will enable them engage with the sellers. Somalis are very good at haggling for prices and never want a customer to leave their shop without buying anything. And as expected, Somali food dominates the menu in most hotels in Eastleigh. The cuisines include
pilau
, which consists of spiced rice and meat,
canjeero
(bread) and pasta. These foods are readily available in hotels in the district for anyone who may want to sample a delicacy from the community. Away from Somalis, Ethiopians and Eritreans are another group of immigrants who are conspicuous in Eastleigh. Their number is significant, effectively allowing their culture to thrive. While they may not be the best of friends back at home due to differences between their countries, in Eastleigh, Ethiopians and Eritreans interact and identify with each other.
SEE ALSO: Virus test is not as bad as long wait for results
"There are a good number of Ethiopian and Eritrean nationals in Eastleigh. Perhaps 1,000 or even 2,000," said Eritrean refugee Mohamed Yonas on Tuesday. "Most of us know each other and interact." Yonas, who escaped war from his country about a decade ago with his parents, is a trader and most of his customers are his countrymen and Ethiopians. One of Ethiopian cultures that stand out in Eastleigh is coffee drinking. Immigrants from the country have popularized the habit making coffee be sold on the streets by people from the nation. The drink is mainly sold in the evening by the women who hawk it and others sell it in kiosks to earn a living. The coffee drinking culture, which Kenyans have also adopted, helps to bring together Ethiopian nationals in the district.
SEE ALSO: Lock us down but give us food, residents tell State
While there may not be much in terms of dressing that stands out among Eritreans and Ethiopians, as they dress like Kenyans, their food has become popular. The food includes
injera
(flatbread), which is much-loved by some Kenyans both in and outside Eastleigh.
Injera
is accompanied with spicy beef, lamb or fish stew.
Injera
is an equivalent of
ugali
(corn meal), a Kenyan food that immigrants in Eastleigh have adopted as they try to learn local culture. Top on the list of immigrants who have adopted the meal are Somalis. You will find them in Eastleigh eating
ugali
and copious amount of
nyama choma
(grilled meat), another Kenyan famous dish. Embracing the dishes has helped the refugees interact and blend well with Kenyans, whom they stay with peacefully. It is not easy to pick out Congolese and Tanzanian nationals in Eastleigh because they are not many. Majority of them stay outside Eastleigh. Majority of the immigrants in the district speak Kiswahili, enabling free interaction with Kenyans. A tour of the district and interaction with residents gives one a glimpse into the cultures of the region.
-Xinhua