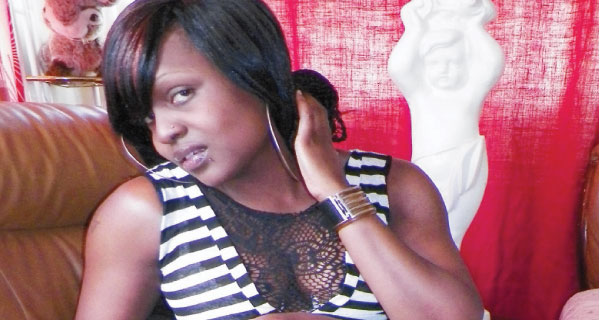 Kemboi's lover PHOTO: Ale
By David Odongo
[email protected]
A woman linked to world steeplechase champion Ezekiel Kemboi has for the first time broken her silence about a scandal that almost cost Kenya an Olympic gold medal in 2012. Njeri Otieno, the woman who accused Kemboi of stabbing her, has finally revealed how the matter was settled out of court.
SEE ALSO: Jepkosgei hopes to excel in marathon despite race cancellations
"Kemboi paid me over Sh4 million to drop the case. He also threw in a two-week trip to Dubai," Njeri said in an exclusive interview with The Nairobian. "We had a thing. We had been friends for a while and eventually became very close until we broke up after the incident. We reconciled but eventually broke it off when it became obvious that we had completely opposite personalities." Njeri, who met Kemboi when she used to run an eatery in Eldoret town, further revealed that the star runner almost became her husband. "I could have married Kemboi but I felt I would not have a special place in his heart because he is so busy. If I became his wife, I doubt he would have had time for me," Njeri says, claiming Kemboi already had two wives. When contacted, the famous athlete refused to comment about Njeri's claims.
SEE ALSO: Kamworor gives update on his injuries after being hit by a motorcyclist
In June 28, 2012, the world woke up to news that Ann Njeri Otieno – a businesswoman in Eldoret – had reported Kemboi to the police for stabbing her in the chest the pervious night. According to The Standard, Njeri said they had been drinking with the athlete until around midnight when, "as he was dropping me home, he made sexual advances at me and I declined. He locked the vehicle and started demanding it. "But as I was hurriedly opening our gate, he ran and caught up with me. A scuffle ensued and he threatened to kill me. He reached for a knife and stabbed me," she reportedly said from her hospital bed. The incident made global news, with UK's Daily Mail reporting that Kemboi had said "the woman was stabbed while taking part in an armed robbery against him." Since, Kemboi was preparing for the London Olympics to start on July 27, he asked the court to defer the assault case till September.