By Stevens Muendo The venue was all set as Mombasa celebs begun arriving in style for the regional award ceremony. Tembo Disco was a hive of activity and soon the awards were underway. Joyous tears run down the cheeks of winners as their names were announced. As the night progressed, more winners were called up to receive awards then hell broke loose. A section of dissatisfied fans started murmuring discontentedly and the murmurs grew into louder shouts of "favouritism". The MC of the night, Bably Omar was forced to use all the skills in the book to contain the fans.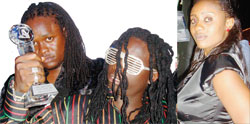 Jonny, Cannibal and Eve.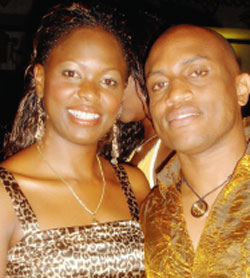 VJ Delph and wife.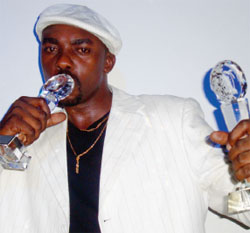 AllyB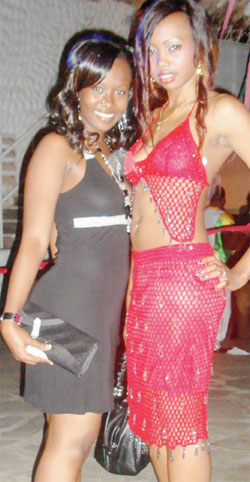 Verah and Meg C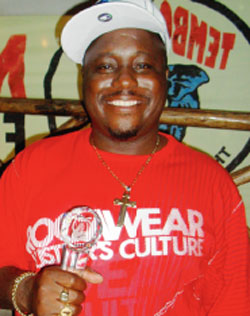 Malcolm P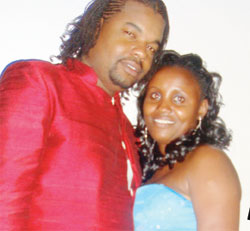 Bably and Better Half

It was clear the annual event would become the talk of town. And come Monday morning, the murmurs were everywhere — from streets to FM radio shows — questioning the awards transparency. For hours, prolific radio presenters Dennis Donga and Esther Ingolo — of Baraka FM Breakfast Show engaged the event organisers and disheartened fans in a face-off. The ranting and raving callers almost went personal on air but a few stood in defense of the awards founder Eve Adhiambo. A caller insisted that the event should not be held again, while another said Nzumari should be given time to grow. Mombasa was at war over Nzumari Awards after the ceremony took place. As pressure mounted, Eve opted to steer off the debate. She remained tight-lipped. After all, it was a self-sponsored event with genuine desire to promote local talent — ironically the same people she was out to assist had turned against her. Bably Omar was also put spot on his 'hidden hand' in the event. And Eve's nemesis Julia Acheing aka Beyonce — the founder of rival Coast Awards — went live on air saying that Mombasa's regional awards was her brainchild. She had given the Nzumari awards a wide berth despite the cream of Mombasa artistes, producers, radio presenters and promoters, friends and foes gracing the glamorous event. Top award nominees including Ally B, Daddy Selle, Malcolm P, Emmy D, DJ Lenium Sudi Boy, Bandu, Kingsting, G Bee and Bunduki were among the first celebrities to arrive. And just as the performances kicked off, dreadlocked rapper Cannibal walked in to great applause. He looked neat in a broken suit matched with a striped shirt and a touch of bling. He was soon followed by DJ Delph and his wife who made heads turn as they strolled in hand-in-hand. Earlier on, Bably Omar and his wife — who has for a long time kept off public glare — had arrived in style. Songstress Nyota Ndogo walked in accompanied by her dancers-cum-back-up singer Zawadi and sat opposite Cannibal and G Bee. Rapper Jonny, formerly of Skani Flani who later scooped most awards strolled down the red carpet with his girlfriend Beryl both looking great in black. Beryl, who looked overwhelmed by attention from the cameras later dropped an exclusive bombshell informing Pulse she is three months pregnant with the singer's baby. Apart from the 'Coastarians' there was some usual suspects. The CEO of Kisima, Victor Mayeya from Nairobi was in attendance to show solidarity with his Mombasa counterparts. Some minutes after midnight, Singer Meg C arrived and walked straight to where Cannibal was seated. She hugged him and for the best part of the night stuck by his side. By 9pm, there were more than a 1,000 people in attendance. And by midnight Tembo was a full house. But the Bongo headliners had not arrived to perform. Only fast-rising star Mwasiti, JI and rapper Chidi Benz (the winner of the Best Male Award, Tanzania) were in the house. Ali Kiba and Marlaw had traveling hitches while Matonya who had been performing at a wedding ceremony earlier in the day arrived late. Constant power black-outs also interfered with the smooth running of the event. However, Bably and MC Frida had good chemistry onstage and kept the crowd engaged with their humorous interludes throughout the night. Daddy Selle and Prince Adio later gave a thrilling performance shortly after midnight. There was a great outcry from the crowd when Jonny Skani was announced the Best Upcoming Artiste of the Year. And the fans had a point. Johnny has been in this industry for awhile and posed unfair competition for newcomers Sudi Boy, Twenty 2, Fat S and Chimpanzil who had been nominated alongside him. There was also uproar when Malcolm P was named the winner of the Collabo of the Year (featuring TMK Wanaume) for his song Tukutane. Daddy Selle's single Ananipenda (featuring Fat S) and Ally B's Nyota Ndogo hit single Niwangu had been expected to carry the day. At that point, Nyota looked distressed. She was concerned that the awards were being given to the organiser's close friends. And her supporters agreed. Suddenly, the mood at the venue was changing for the worst. There was also clear tension between DJ Delph and DJ Bunduki who once worked together at Club Lambada. And as DJ Bunduki scooped the Best DJ Award, Delph's supporters stormed out of the venue. Even though there were no qualms over Emmy B winning Producer of the Year Award, further uproar rose when Digital Pictures was named best Production House as most of the winning and leading songs were from different production houses. And then, there was another twist. When Nyota Ndogo was finally named the Female Artiste of the Year later, there were wild celebrations from her fans. She elegantly walked to the stage, accepted the magnificent glass molding and in her acceptance speech thanked all who had voted for her. It was the same treatment for Ally B who was surprised when he was awarded the Best Male Artiste of the Year beating Cannibal whose song; I Wish won the Video Of The Year Award. The night belonged to Ally B who has had a great year and commands respect as the latest Mombasa showbiz sensation. He had earlier won the Song of The Year Award for his single, Maria. Chidi Benz and Mwasiti were named the Best Male and Female Artistes of the Year from Tanzania, respectively. Other winners included Nana (Dance Group Of The Year), Escoba (Best Music Performer of the Year) and Gospel Family (Best Male Gospel Group) Besides the controversies that bedeviled the night, the awards were far much better than last year's event. Finally, with Nyota Ndogo teaming up with Ally B for a performance, the crowd went crazy and initial differences seemed to have been buried. And with Cannibal and Chidi Benz giving a wonderful closing performance. It would be safe to say the crowd went home a happy. Word is that the hitches of Nzumari and Coast Music awards are the work of Mombasa showbiz insiders who are trying to kill the event. In fact, war has already been declared by a clique of promoters who are said to be coming up with a grand annual music awards event in the coast. It now seems that DJs, radio presenters, promoters, producers and other main industry players have formed cliques in the battle to reign over Mombasa showbiz industry.