Facing death, Jubilee Party has a lot to learn from the Chinese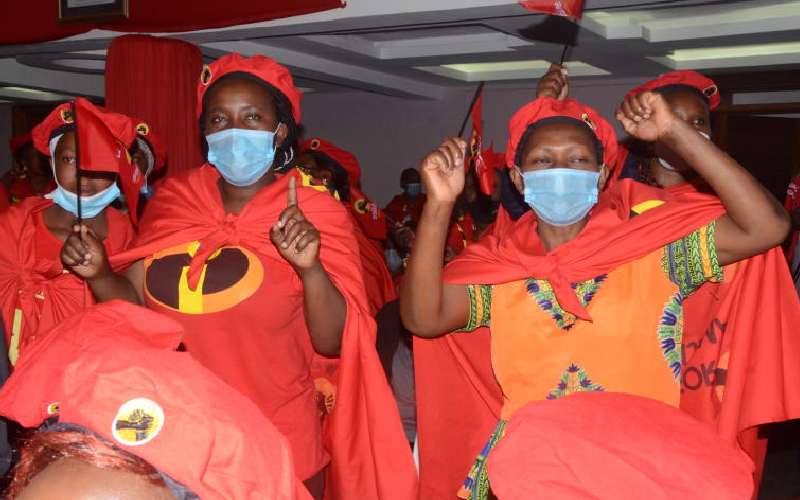 After so many denials of what seemed obvious, a startled Jubilee - or what remains of it - came out to stake its claim to the Kiambaa by-election and by extension, the Central Kenya vote.
Looking forlorn and somewhat uneasy, the Deputy Chairman David Murathe and Secretary General Raphael Tuju put on brave faces while protesting an alleged vote theft and were not, for a minute, dismissive of the shift in the political tectonic plates of Mt Kenya.
Former UK Prime Minister Winston Churchill must have turned in his grave at the pair's inability to explain why what ought to have happened didn't.
"The ability to foretell what is going to happen tomorrow, next week, and next year," said Churchill, "and to have the ability afterwards to explain why it didn't happen," is what separates a wannabe from a true politician. The loss was all the more calamitous because it happened in President Uhuru Kenyatta's (the party leader) backyard. In truth, watching Jubilee in the last 24 months has been compared to watching a slow-motion car crash.
Murathe and Tuju will be hard-pressed to explain away the notion that they have been an unsafe pair of hands and hence the party's dwindling fortunes and sagging support in most of its former strongholds.
Yet Kiambaa was not just mirroring the long and painful break-up of the ruling party. It was also a reflection of the tortured relationship - political, economic and emotional - between the led and the leaders across the country, and how parties have been accessories to these misdeeds.
Looking across to the other political parties - including the newly-minted UDA - one draws little comfort. None is immune to what has befallen Jubilee. All the current parties – save for Kanu - are an election away from death. And that is our democracy's loss. Many question why our democracy has remained stagnant and unfulfilling at best, and at worst retrogressive.
Because they are run like private property, there are no obvious fault lines in policy debates between parties, thereby denying the political field policy disagreement and healthy competition which is forward-looking. Why would anyone wish to offend a future friend?
And because they have remained largely unresponsive and out of touch with the people they represent, the sense of betrayal is deep. With a fractured ruling party and an infective opposition, the country is bound to sink deeper into a miasma of partisanship, opportunism and dead-end politics. Graft, wastage and inefficiency feeds off such.
Essentially, parties are vehicles for liberating societies through sound and rigorous policy making and faithful execution. Instead, they have become vehicles for self-preservation and self-glorification. Politicians and wheeler-dealers keen to sit at the centre of power equation hijack parties.
And so often, policy, patriotism and principles struggle to rise over the filthy froth of our politics.
The Chinese Communist Party celebrated its 100th birthday this month. There are lessons to be gleaned from its chequered history and longevity. There was talk of a partnership between it and Jubilee that died off quietly. The Economist lists three out of which two are palatable, and the first (ruthless) being abhorrent.
First; ideological agility - From Chairman Mao (1949-76) – credited for China's meteoric rise as an economic and cultural giant - to the current President Xi Jinping, the party has been agile enough to adjust its policies to suit the changing times, thereby remaining relevant.
Second; the Communist party ensured the country did not turn into a kleptocracy "in which wealth is sucked up exclusively by the well-connected". Despite corruption becoming "rampant… many people felt their lives were improving too".
Liberal democrats disagree with the Chinese model, which is largely working with less of political conflicts. And that is despite research suggesting that the more democratic a society, the more likely its leaders are to invest in public good services like health and education.
Mr Kipkemboi is Partnerships and Special Projects Editor, Standard Group