US says air strikes cripple Syria chemical weapons program
AMERICA
By Reuters | April 15th 2018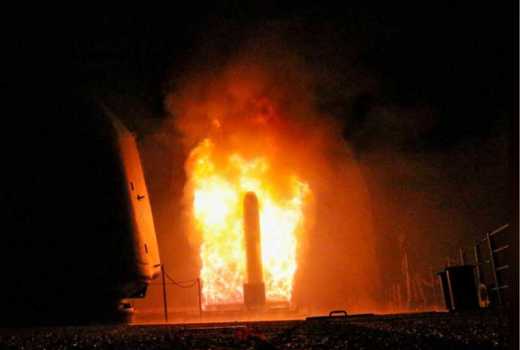 Western powers said on Saturday their missile attacks struck at the heart of Syria's chemical weapons program, but the restrained assault appeared unlikely to halt Syrian President Bashar al-Assad's progress in the 7-year-old civil war.
The United States, France and Britain launched 105 missiles overnight in retaliation for a suspected poison gas attack in Syria a week ago, targeting what the Pentagon said were three chemical weapons facilities, including a research and development center in Damascus' Barzeh district and two installations near Homs.
The bombing was the biggest intervention by Western countries against Assad and his superpower ally Russia, but the three countries said the strikes were limited to Syria's chemical weapons capabilities and not aimed at toppling Assad or intervening in the civil war.
The air attack, denounced by Damascus and its allies as an illegal act of aggression, was unlikely to alter the course of a multisided war that has killed at least half a million people.
U.S. President Donald Trump called the operation a success.
He proclaimed on Twitter: "Mission accomplished," echoing former President George W. Bush, whose use of the same phrase in 2003 to describe the U.S. invasion of Iraq was widely ridiculed as violence there dragged on for years.
"We believe that by hitting Barzeh, in particular, we've attacked the heart of the Syrian chemicals weapon program," U.S. Lieutenant General Kenneth McKenzie said at the Pentagon.
However, McKenzie acknowledged elements of the program remain and he could not guarantee that Syria would be unable to conduct a chemical attack in the future.
The U.S. ambassador to the United Nations, Nikki Haley, said at an emergency meeting of the U.N. Security Council that Trump told her that if Syria uses poisonous gas again, "The United States is locked and loaded."
The Western countries said the strikes were aimed at preventing more Syrian chemical weapons attacks after a suspected poison gas attack in Douma on April 7 killed up to 75 people. They blame Assad's government for the attack.
In Washington, a senior administration official said on Saturday that "while the available information is much greater on the chlorine use, we do have significant information that also points to sarin use" in the attack.
Speaking at a summit in Peru, U.S. Vice President Mike Pence seemed less sure of the use of sarin, saying that Washington may well determine that it was used along with chlorine.