Samia Suluhu pledges she'll enhance ties with Kenya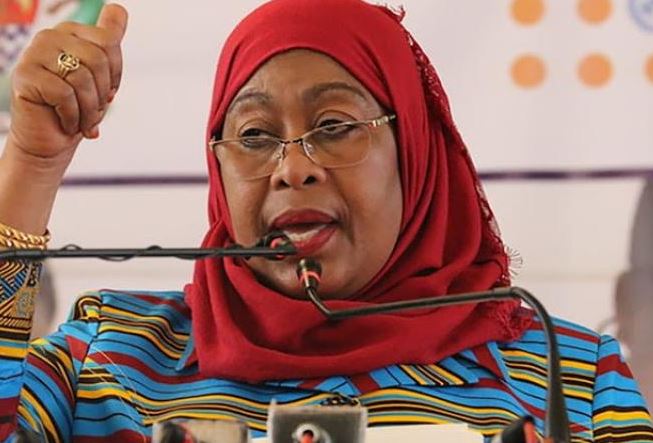 Tanzania president Samia Suluhu Hassan (pictured) has pledged to strengthen bilateral ties with Kenya.
Speaking at State House, Dar es Salaam yesterday, when she received the special message from President Uhuru Kenyatta, the Tanzanian president affirmed her government's commitment to work with her neighbour and enjoy friendly diplomatic ties.
The message was delivered by delivered by Sports Cabinet Secretary Dr Amina Mohamed. Suluhu held talks with Mohamed regarding the commitment of the two nations to enhance relations and cooperation in various fields.
Specifically, President Suluhu assured President Kenyatta that her government is ready to continue all the good work that was being done by her predecessor, the late John Magufuli in solving the challenges between Tanzania and Kenya because East African Community States are historically relatives, neighbours and friends.
"Kenya has assured to strengthen our relationship together… We will engage as East African neighbours diplomatically so that we improve our ties," President Suluhu said.
Suluhu also took the opportunity to call on the ministers and experts from Tanzania and Kenya that formed the Joint Permanent Commission (JPC), and who have not met since 2016 to meet and work on various issues to strengthen relations.
Dr Mohamed was accompanied by Kenya's Ambassador to Tanzania, Dan Kazungu.
At the same time, President Kenyatta invited President Suluhu for a State visit that aims to enhance bilateral relations between the two countries.
He assured President Suluhu (pictured) that Kenya is always ready to cooperate with Tanzania by promoting cooperation.
Kenyatta's message came just a day before President Suluhu's scheduled trip to Uganda to sign an oil pipeline deal with President Yoweri Museveni.
Kenya had been bypassed in the deal owing to the high cost of implementing the project.
Kenya and Tanzania had erratic relations during Magufuli's reign and they two countries had to walk on eggshells most of the time.