Traditional King in Burkina Faso wins Africa peace award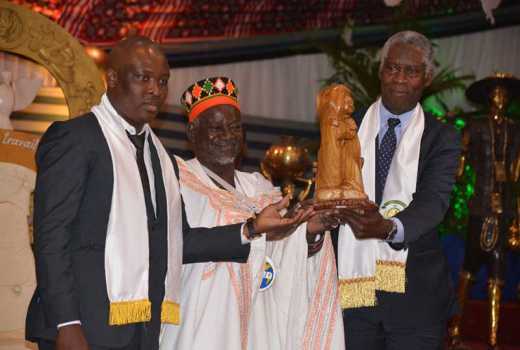 An influential traditional ruler in Burkina Faso who has led peace and dialogue efforts in the West African country has won an award that seeks to promote dialogue and avert conflict in the continent
Mogho Naba Baongo II, the reigning king of the Mossi, the largest community in Burkina Faso, and a symbol of tradition in the country and the region, has won the 2017 Macky Sall Prize for Dialogue in Africa, which is named after the current President of Senegal.
The annual award, comes with Sh6.2 million (50000 Euros) cash prize, was awarded by Geneva-based Centre for Research and Initiatives for Dialogue (CIRID), an international NGO that promotes political and social dialogue to avert conflicts in Africa and enhance sustainable peace and development.
"Mr. Baongo was selected due to his role in resolving serious crises that have rocked Burkina Faso and played a key role in brokering the return of civilian rule to the country after the military coup in 2015," said Joel Hakizimana, CIRID's Permanent Secretary in a press conference in Nairobi as part of activities to publicise the award in the continent.
The award is named after Senegalese President Macky Sall, who is credited with embracing dialogue in resolving political and social differences in the country.
Mr. Hazikimana, said an Honorary selection committee made up of African leaders including former and current Presidents and Kings, settled on Baongo II after a lengthy and rigorous selection process.
The Committee includes Ivory Coast's President Allassane Ouattara, King Mohamed VI of Morocco, Gabon's President Ali Bongo, international artists Youssou Ndour, Angélique Kidjo and Emmanual Jal among others. CIRID is seeking to persuade Kenya's President Uhuru Kenyatta to join the committee.
Mogho Naba is the title of the reigning monarch and means "King of the world" in the Mossi language. The community makes up about 40 per cent of the country's 18 million people.
Baongo II has been reigning since 1982 over a traditional kingdom that dates back to the 12th Century and lies at the heart of Burkina Faso's centre of power and capital Ouagadougou.
The figure, seen as a powerful symbol of tradition, is often sought by the country's power brokers for his symbolic approval.
But the traditional leader is supposed to be politically neutral, to make himself a credible arbiter during times of national crisis where there is a breakdown in dialogue between rival political actors.
The Macky Sall prize was launched in 2016 by former Burundian teacher, journalist and diplomat Deo Hakizimana who heads CIRID and also chairs a Civil Society platform for Truth and Reconciliation in Burundi. CIRID has a special consultative status with the United Nations.
"We are working to see the realisation of an African Day of Dialogue to be marked by all countries in the continent to draw attention for the need for innovative ways of preventing and resolving conflicts through dialogue to avert violence," said Joel Hazikimana.
Email: [email protected]