Besigye's wife says it is not enough for women to just break barriers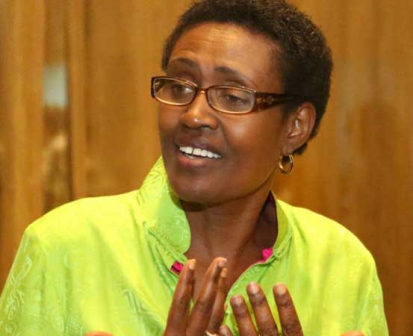 The story is told of a teenage girl fleeing former Uganda President Idi Amin's oppressive regime in the 70s. That journey took her across the border, into Kenya, from where she made her way to the UK, where she arrived, with only $300.
When she tried to change the money, which she had got from the black market, into Sterling Pounds at the airport, she discovered the currency notes were fake. Luckily, the police officer handling the matter sympathised with the frightened teen and let her off the hook.
That kind gesture gave Winnie Byanyima a chance to stay in the UK where she landed a scholarship to study aeronautical engineering at the University of Manchester. Later, she pursued her Masters in Mechanical Engineering at Cranfield University.
More than 30 years later, Byanyima would return to the UK, this time as the executive director of Oxfam International. She is the first African woman to run an international development agency.
Leadership has somehow always come naturally for Byanyima. She served as an elected Member of Parliament for Mbarara Municipality for 10 years, before quitting politics in 2004 to join the African Union where she headed the Directorate of Women Gender and Development. She later headed the Gender and Development team at the UNDP.
Byanyima, Uganda's first female aeronautical engineer, is also credited with co-founding the 60-member Gender and Climate Alliance, and chaired a UN task force on gender aspects of the Millenium Development Goals.
She served in the diplomatic service in the 1980s, representing Uganda in France and at UNESCO in Paris. Upon her return to Uganda in 1994, she created an all-women parliamentary caucus and was founding leader of the Forum For Women in Democracy, a non-State body championing women's equal participation in decision-making.
Byanyima, 57, was in Nairobi, last week, to attend the African Womens Leadership Symposium (AWLS), the inaugural one for the region. In attendance were about 150 participants from across the five sub-regions of Africa.
The meeting was aimed at emphasising transformative leadership, and sought to enable women leaders identify ways to use their positions, existing frameworks and commitments made by policy and decision-makers in politics, business, religious and traditional settings.
The organisers believe transformative leadership is critical in tackling gender inequalities and power imbalances that perpetuate marginalisation of women who make up over half of Africa's population.
On the day of this interview, Byanyima is running late, but apologises. Her simplicity, charming smile and warm demeanour belie a steely resolve to fight social injustices.
It is a conviction that led to her quitting her job as a flight engineer with Uganda Airlines and take to the bush to join the National Resistance Army in its campaign to topple president Milton Obote.
Byanyima has never been a stranger in fighting injustice. As the wife to Uganda's Opposition leader Kizza Besigye, she has experienced the harsh hand of the law for daring to go against the grain.
But there is no denying that she also picked valuable lessons from her parents, while growing up in Mbarara district in western Uganda. Her father, Boniface Byanyima was in Opposition and readily opened his home to those whose rights had been violated, and in the process taught his daughter, from an early age, value of standing up for justice.
Byanyima was hesitant to discuss issues outside the AWLS conference. "That (AWLS meeting) is what I am here to talk about today," she said, when prodded by the writer to give her assessment of the political happenings in Uganda.
Museveni recently won his fifth term as Uganda's president, trouncing Besigye's Forum for Democratic Change by over 60 per cent of the vote. But that victory was shrouded in controversy, with Dr Besigye placed under house arrest and later held in jail for about two months.
Byanyima drifts, momentarily, and talks of her disappointment. "We fought for a revolution in the 80s which brought a big change. We made our politics more inclusive and had more women, youth and persons with disabilities.
"We wanted power to be given to the judiciary, local governments. We were moving well, but with time, the old revolutionaries refused to become accountable. This makes me worry about the direction my country is taking," she says.
Byanyima believes that when politics goes bad, it is ultimately the poor that suffer, and in most cases, it is the woman. "Bad governance hurts the poorest woman the most," she says.
Her passion for championing women's rights and indeed those of any other group that has suffered social injustice shines through her animated conversation.
"It is not enough to be a woman or to break barriers. We must challenge ourselves further by asking what difference we have made in other women's lives," she says.
She appreciates the fact that there has been progress with respect to having women in leadership in sub-Saharan Africa, but cautions that there is more to be done.
"We have almost closed the gap between girls' and boys' access to primary education. But there are some areas where we still lag behind and this makes me angry.
"Of all maternal deaths in the world, nearly half are on this continent. Why? Africa is yet to put her children through the full cycle of education yet we know the global economy is driven by knowledge. This is a disaster for us.
It is such issues, she says, that the meeting sought to address — by challenging women in positions of influence to make a difference.
She speaks philosophically about the challenges encountered by the Women's Movement in pushing for the inclusion of more women in political spaces, as the conversation switches to Kenya's failure to find a mechanism to implement the two-thirds Gender Principle.
"Resistance isn't unusual. It took women 100 years to fight for the right to vote in the US, and they are still fighting to have a voice in political spaces. Kenyan women have fought hard and have always had the support of the East African women in pushing for greater inclusion in political spaces.
"We have quotas for women's participation in Uganda,Tanzania, Rwanda and Burundi. Kenya cannot therefore afford to be an outlier in a region where it is recognised as the economic leader," she says.
Although she is a proponent of women's rights, Byanyima believes that the participation of both men and women in decision-making is critical to achieve qualitative results.
"I am impatient for change. While I may not necessarily want confrontation, it's good that every woman and just-minded man exhibits justified anger at the inequalities that exist between men and women. But I must also say the voice we are seeking is not one of prestige but one that will address inequalities and injustices. If this leads to confrontation, then so be it. Remember you can never make an omelette without breaking an egg," she says.
The conversation moves to kitchen matters and Byanyima confesses to missing her favourite "matoke" and groundnut sauce, a delicacy in Uganda.
"I love cooking but I have a rather busy schedule and often cook in bulk and freeze my food," says the mother of one, who has over the years got used to living away from her family.
She confesses to having a penchant for watching movies during her free time; comedies and dramas, and sheds the occasional tear or two if the story is particularly touching.
Troubled
Byanyima is troubled by what has been going on in the continent and believes women can make a difference.
"I am concerned about what is going on in South Sudan and Burundi. I fear there may be an escalation of violence in the Democratic Republic of Congo, and the emerging threat of violent extremism is causing havoc in Northern Nigeria and the Chad basin.
These are serious threats that call for serious leadership. Men have traditionally hogged all these positions, shutting out women from the peace negotiation tables, but they aren't delivering. Thousands are still caught up in wars, putting a huge stain on our continent. We want to be part of solving these problems," she says.
Byanyima's expertise on women's rights, peace and democracy has seen her broker support for women's participation in peace processes in Rwanda, South Africa, Burundi, Sudan and other countries emerging from conflict.
Any plans to return to Uganda's politics? "Not now, maybe later. If I get the opportunity I will return when the time is right. But I believe right now I am making a much bigger contribution on the global stage through Oxfam. I feel honoured to hold such a powerful platform reaching out to those facing social injustices like poverty."
It is obvious that despite the strength Byanyima has shown in the face of her family's travails, she holds a special place in her heart for the common man.
"My husband has been jailed several times but somehow we always manage to come through it. I think of the youth, that young man who goes out to meet him and has his boda boda (motorbike), which may be his only source of income, trashed.
"I empathise with Opposition leaders who find themselves in these situations but their plight can never be the same as that of that poor person," she says.
Does she think African countries should withdraw from the Rome Statute that establishes the International Criminal Court?
"Absolutely not," she says. But that, she says, is a discussion for another day.