Tanzania elections not credible, says European Union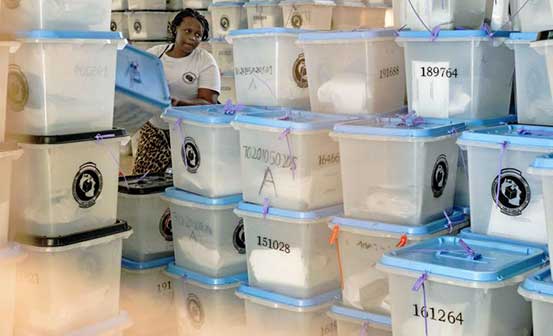 Dar es Salaam: European Union (EU) observers have expressed reservations on the transparency of the Tanzanian elections.
At a press conference, the observers said the National Electoral Commission (NEC) did not provide adequate transparency in its operations during the election process, and that the ruling Chama Cha Mapinduzi (CCM) party had used the power of incumbency to obliterate the opposition.
The observers were also concerned that NEC and the Zanzibar electoral commission (ZEC) had not allowed them unhindered access to its operations.
"In the undertaking of the different stages of the electoral process, the NEC and ZEC did not provide for full transparency regarding their decision making processes and stakeholders access to scrutinize the commission's activities was not always granted," the observers said at a press conference at Serena hotel, Dar es Salaam.
Their observations came as the electoral commission continued announcing the results, which project a win for the ruling party candidate, John Pombe Magufuli, against the opposition Chama cha Demokrasia na Maendeleo (Chadema)'s Edward Lowassa.
The EU accused the ruling party of using the state machinery in its campaigns, arguing that this robbed the elections of a fair playing ground.
Power of incumbency
"The ruling party (CCM) continued to benefit from its historical legacy. The party's use of or benefit from what were formerly state resources and assets, such as public stadia and sports grounds, provided an advantage over other parties and contributed to an imbalance in the electoral playing field.
"The inauguration of a number of major projects in the last weeks of the campaign further blurred the distinction between the state and the ruling party, reinforcing CCM's campaign advantage," said the observer group.
The observers were equally hard hitting in their observations in the semi autonomous island of Zanzibar, saying that although there are reasonable legal frameworks for the conduct of a credible election, limitation of freedoms in the island is a key concern.
Yesterday, the ruling CCM party said that it had seen the observation's preliminary report and noted the concerns. Through its national executive Committee member, January Makamba, the party promised reforms in the future.