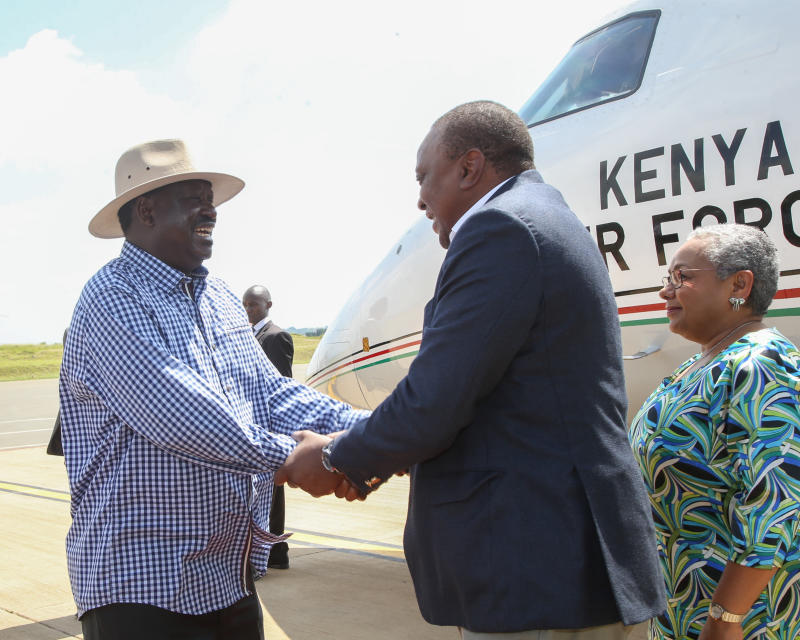 The Kenyan political landscape is so predictable nowadays. It's looking more like a mathematical formula. Even the political and emotional violence that preceded the 'handshake' seems not to have been that random after all, it was part of a greater scheme of things.
It's not just the political contestants who have benefited; lexicologists now have new political terms like 'errand boy', terms that were popular during the Kanu era. Remember "money has been poured to finish me," "eating ugali"? I know a lot about Kanu because I had to become a member to get my national ID.
What has surprised us is the vulnerability of politicians; their life beyond politics is unbearable and they are bold enough to go looking for jobs, indirectly. Those who can't beg use their ability to cause "trouble "as job leverage - the more trouble you can cause the better the job you are likely to get and the sooner you will get it.
The "principled" are left watching from the periphery. Deep inside they could be salivating for the government-sponsored jobs. Acceptance of the jobs seems to suggest that the once derided "wacha wameze mate" was not a random statement.
Things become more interesting when you factor in the 2022 polls, not as far away as it sounds. Those inside the government will have a say on the country's political course, and it seems their jobs will be secure. Those outside might remain there. Expect more politicians to knock on the doors to get into government. It is possible that soon the government will get a critical mass and newcomers will just be cheerleaders.
Read More
The change of heart for politicians to join the government is rational in economic speak. Who has more money than the government? The politicians probably figured that Kenya will never become an oil economy, with Tesla - maker of electric cars - threatening the future of oil consumption. Our oil will remain the government's. It used to be government but after 2010 constitution we have governments, all are oil wells. If you can't get there through votes why not any other means?
Enough digression. The political storms have subsided after the handshake and there is political calm in the country. Everyone is happy and GDP growth has rebounded, rising from 4.7 to 6.3 per cent from the previous year's quarter.
The short-term consequence of the handshake has been calm and "job dividends" which can be construed as inclusion. But what are the long-term economic consequences?
First, the handshake killed competition in politics. It is now about cooperation. Competition drives innovation and new thinking. It creates efficiencies that lead to long-term economic growth. Think of industries that have no competition or are monopolies; they ossify. With the death of opposition, we have shifted to a political monopoly, more like Kanu era.
Some could argue cooperation is good. We have seen European Union prosper, and the cooperative movement paid our school fees. But the political cooperation is different. It is more like mergers between competing firms which creates a monopoly, raising prices and inefficiency.
The political monopoly is more like club membership, you are in or out. Members of any club, whether golf club or even a chama, know how outsiders are treated. They have to be invited by a member. In joining, you need a reference. Are we in for a reference system in politics? To get positions in the new political dispensation, you need a reference or a sponsor. This reference could soon extend to elective posts - just check the list of nominated senators and MPs if the two-thirds gender law is passed.
We now run the risk of a country being run by a club. The consequences are easy to see. Instead of providing alternative ideas, we support the status quo with a prize, which could be a seat in the ward, constituency or even a government job. Check how boards of government agencies are filled.
The new club made of former political contestants will assume its own life, riding on political and economic access to public money through tenders, contracts and jobs. There are no more whistle-blowers. Noted how it has become easy for the elected MPs, senators and other representatives to increase their salaries and other perks? That is the economic cost of political monopoly.
One could argue that the three arms of the government will compete with each other and ensure there is no monopoly. We can debate that till sunset.
Compete to join
The rest of the masses can be cheerleaders in the new political dispensation. But not for long. They know grass is greener on the other side of the fence; they too compete to join the club by supporting the status quo. Instead of providing alternative views, you try and join the mainstream. The fear of being excluded from the dividends such as jobs and contracts will keep everyone in line.
The new political dispensation has a powerful ally; surprisingly, the constitution with its emphasis on face of Kenya and regional and gender balance. These are some of the issues the "expanded" political party will focus on.
One unintended consequence of the new reference system is hardening of class system and death of innovation. Why struggle to start a new business, become innovative, when the government is there with inexhaustible money and risk-free? The rising inequality and exclusion sub-optimises the productive capacity of the economy and can lead to social instability espoused by crime and family disputes.
Since everyone is competing to join the club, chances of widespread violence is low. South American countries are in that class. That is why despite independence from Spain about 200 years ago, these countries are yet to flourish economically.
The greatest threat to this new club would be enlightened voters. Such voters are becoming rare despite all the money we pour into education every year. The mind of the average voter has no time to analyse; it can be easily swayed with emotional debates on the border between truth and lies.
I might be biased by suggesting that the average voter has no time for analysis of issues, but conventional wisdom seems to suggest so. When emotions can't sway him or her, a few shillings or promises will. Just find out what excites us nowadays.
The new political dispensation is made of those who have been in the government and tasted its "oiliness," not the risks they have taken. The other fear is that such a group having never taken risks to get power or wealth will lose a sense of reality. Think of two future leaders, one who grew up in Shamakhokho, walked to school barefoot in the rain, and another who was driven to school and is still driven around.
What of the masses? Should we worry about them? They have never mattered anyway. Even the communists pretended they cared for them. But how many members of the proletariat had datchas (holiday homes) in the subtropical Crimea? Beyond the hunt for votes, the voters and vote seekers part ways in residences, hospitals, holiday destinations, and other ways of life. They converge around the polls time.
This dispensation makes moving up from one socio-economic class to a higher one harder. It becomes even harder when the masses accept their position in the socio-economic system, often reinforced by religion and traditions. We are seeing evidence of that in Kenya.
It seems with time capitalist countries such as Kenya are looking more like monarchies, with a rush to join the royal club before it is overcrowded. The royal clubs are not just at national level, they are in the counties too. Noted how devolution spawned a new elite in the regions? The other risk is that club members often extend their tentacles to the private sector, closing off new entrants too. The club members start by controlling the State institutions up to grassroots, including who becomes the head teacher of the local primary school.
Tip of the iceberg
The truth is that Kenya will keep surprising us. The stealthiness of the handshake means it could just be a tip of the iceberg. There might be more surprises below the water to be revealed by time and tide. The referendum and 2022 polls will reveal what is below.
The handshake might be one of the peculiarities of Kenyans. Can you imagine US Republicans and Democrats in a handshake? While we may think it's a bad thing in the long term, we could get another surprise that will leave us scratching our heads. We hope that surprise will be a 10 per cent GDP grow rate or Kenya becoming corruption-free.
Kenya's current social, economic and political landscape is more like a movie or theatre. Let's keep watching and not necessarily laughing.
And in whispers, are you in the club? Are you on the waiting list? Are you looking for a reference? Was your application rejected? Or you have given up on getting an invite?
- The writer teaches at the University of Nairobi.