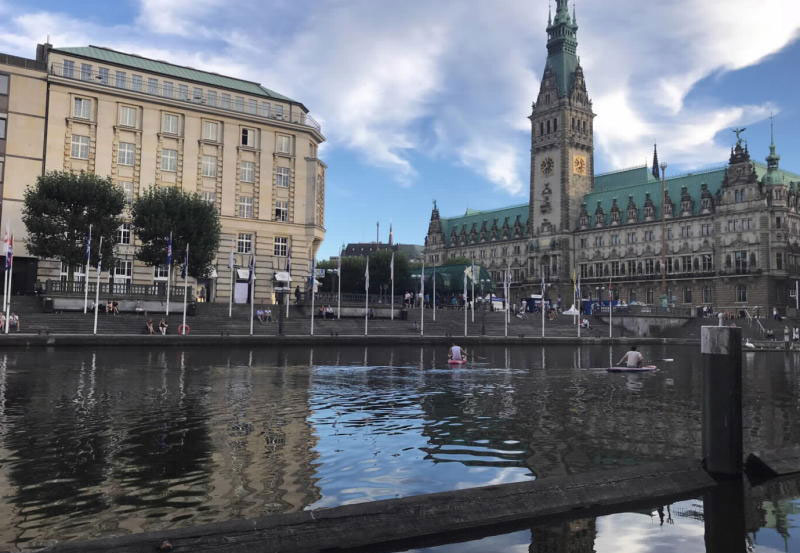 Germany got about 37 million tourists last year, with Hamburg alone attracting 6.8 million visitors.
Culture is cited as one of the biggest attractions for tourists visiting Germany.
France and Spain did better with 89 million and 82 million tourists respectively. This is more than their populations.
Branding is another factor. Marion Kutter highlights the branding of some of the most visited cities in Germany.
Heidelberg is the city of Mark Twain. Does that attract Americans? Why is Nyeri not the city or town of Baden Powell? Freiburg is a sunlit porch in the south of Germany.
Read More
Hamburg is the gateway to the world with ships docking every day along the navigable Elbe River. Potsdam, on the other hand, is the home of palaces and gardens.
Prussian Kings lived there. Why can't we make our former palaces tourist attractions? Where did Nabongo Mumia live? What of Wangu wa Makeri? What of chief Kivoi? What of all the laibons?
Cologne is famous for its imposing beauty. Which is Kenya's most beautiful city or town? Kiel is the capital of sailing. Can Mombasa, Malindi or Lamu take the cue?
Munich is the village of the world; very captivating. How can the home of BMW car brand be a village? Dresden is the treasure chest of Germany. It took more than its fair share of German treasures during WW II as allied forces closed in.
We can learn from Germans and brand our cities - from coast to Lake Victoria and from Ethiopian to the Tanzanian border. Don't we have Brand Kenya Board? Branding is easier than we think. History has already done that for us. Why is Taita Taveta not the cradle of aviation? Did we not get the first flight there in 1915?
Why is Nyahururu not the Boer city or home of Afrikaans before Eldoret? The Boers even had a Dutch reformed church which was sold to AIC and a school called Jan Van Riebeeck (now Ndururumo).
And can you believe there is no signboard on the junction to Machakos town, saying "Welcome to Kenya's first capital?"
We refuse to attract tourists using history. During The Mau Mau freedom war, moats were dug around villages. How comes none was preserved?
Statistical abstracts
The former settlers' homes would be other attractions. After all, we target tourists from where these settlers came from.
Past statistical abstracts show Kenya has over the years attracted immigrants from all over the world, long before globalisation became a byword.
An American Billy Sewell was around Njoro before independence. I am told he brought Chinese servants long before the Standard Gauge Railway.
Alice de Janzé was an American heiress who lived in Happy Valley (Wanjohi).
Do Americans know that? The statistical abstract of 1955 lists an Americans, Austrians, Belgians, Danish, Dutch, French, Germans, Greeks, Italians, Norwegians, Israelis, Swedes and Swiss as having become permanent Kenyan residents. Links to these nationalities today would bring lots of tourists. Aren't Americans attracted to Europe because of genetic links?
The beauty of using culture and history to attract tourists is that they can't be copied like other attractions.
There are unique attractions we take for granted like ports and harbours. The best part of a visit to Hamburg is a boat ride around the harbour to see some of the world's biggest ships at close range.
We shall not get tired of asking why there are no leisure boats along our coast.
Why should I drive to Malindi or Lamu in a country with a coastline? Cemeteries can be great attractions. Don't we visit Egypt to see the Pharaoh's tombs? Or what of pyramids?
Old small churches have historical cemeteries where British settlers and missionaries are buried. One church in Gatanga near Thika has Baptism records since 1917. Churches are a big attraction in Hamburg.
One such structure was built around 1195AD. What of Parliament? The Federal Parliament in Berlin is open to the public.
Why can't Kamiti Maximum Prison be an attraction?
Who was Kenya's first prisoner by the way? What of old schools like Lenana and Kenya High? What of the first university? Why not Ndakaiini or KenGen dams?
The spa was a step in the right direction. We need to go beyond attracting tourists.
How do we make them feel at home so that they want to return and refer others?
One simple way is to set them free to explore the towns and the country and by extension spend their money. We "cage" them in cars and keep windows closed. We even warn them against visiting certain places.
No one warned me against visiting any part of Hamburg even Reeperbahn where prostitution is legal.
Think about this: Why do we keep left when 75 per cent of the world keep right while driving?
Can we change to make it easier for tourists to drive themselves and be free? Tourists love walking around and seeing the real life, the sights and sounds of new places. Do we have security and walkways for them?
We build our towns for cars, not human beings. We have spent a lot of time and money complicating tourism.
We even study it in the universities, yet we have hardly hit two million tourists a year 55 years after uhuru and 123 years since Kenya became a protectorate.
Why not try a more natural approach like in Europe, focus on culture, from old buildings to canals, to history.
After all, nothing makes a tourist happier than a memorable experience that need not be complicated.
With our rich cultures, accumulated since time immemorial, there is no reason we can't package it and get 50 million tourists a year.
If each spends only Sh5,000, just do the maths then add the multiplier effect (Sh250 billion).
-The writer is on an intellectual pilgrimage in Germany