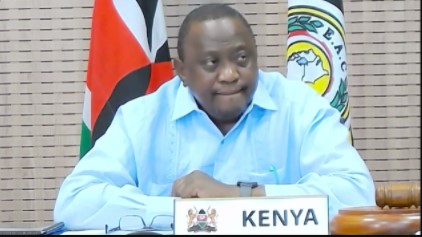 The East African Heads of State summit has directed the Council of Ministers to begin and conclude the process of admitting the Democratic Republic of Congo (DRC) to the East African Community.
The leaders holed in a virtual summit on Wednesday deliberated on the application by DRC and asked the Council to file a report in the next meeting.
"The summit recalled that at its 21st ordinary meeting held on February 27, it considered the application by the DRC to join the EAC and directed the council of ministers to expeditiously commence and conclude negotiations with the DRC for admission to the East African Community," the Heads of State concluded.
In a meeting last month, the ministers in charge of East African affairs recommended to the Heads of State the commencement of the admission of DRC into EAC during the 44th Extra-Ordinary meeting held on November 22.
The report considered among other things, the institutional frameworks in place, legal frameworks, policies, projects and programmes, areas of cooperation with other EAC Partner States and DRC's expectations from her membership to the Community, as some of the areas on why it was a good fit for EAC.
"By DRC joining, the Community will open the corridor from the Indian Ocean to the Atlantic Ocean, as well as North to South, hence expanding the economic potential of the region," EAC Secretary-General Dr Peter Mathuki said.
The DRC applied for admission into East African Community in June 2019. If approved, it would give the EAC its first port on the African west coast.
Wednesday's meeting, led by EAC Chair President Uhuru Kenyatta also observed a moment of silence in honour of former Tanzania President John Magafuli, who died in March 2021.
"The summit paid glowing tribute to the late president for his commitment to the EAC integration process, infrastructure development, and steering economic growth."
Heads of State present at the summit included: Uhuru Kenyatta (Kenya), Samia Suluhu (Tanzania), Yoweri Museveni (Uganda), and Paul Kagame (Rwanda).
Burundi was represented by Vice President Prosper Bazombanza, Deng Kuol (also Minister of EAC Affairs) represented South Sudan.
EAC's capital is in Arusha, Tanzania.