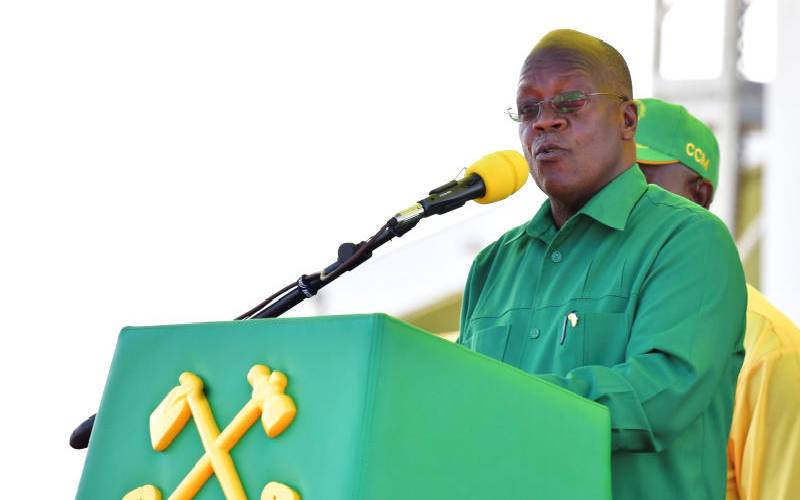 Tanzania Vice President Samia Suluhu has hinted that President John Pombe Magufuli (pictured) might be unwell.
Speaking in Tanga on Monday, Suluhu urged Tanzanians to remain united and ignore rumours on Magufuli's state.
Suluhu said "ni kawaida ya binadamu kukaguliwa...mafua...homa...chochote kile", loosely translated to mean it is "normal for someone to go for routine checkups for flu or cold".
Two officials on Friday said Magufuli is in good health and working normally, after reports that he had flown abroad in critical condition with Covid-19.
Magufuli, 61, is Africa's most prominent coronavirus sceptic. He has not been seen in public since February 27.
Tanzanian opposition leader Tundu Lissu, who left for Belgium after disputing his election defeat to Magufuli last year, has said the president was flown to the private Nairobi Hospital in Kenya and then to India in a coma.
However, Prime Minister Kassim Majaliwa denied that, blaming the narrative on "hateful" Tanzanians living abroad.
Magufuli played down the threat of Covid-19 in Tanzania and scoffed at global panic. He urged Tanzanians to put faith in prayer and homespun remedies such as steam inhalation rather than vaccines, which he said were dangerous and part of a Western conspiracy.
"Vaccines are not good. If they were, then the white man would have brought vaccines for HIV/Aids," he said earlier this year. Last year he dismissed coronavirus testing kits, which he said had returned positive results on a goat and pawpaw fruit.
Tanzania stopped reporting coronavirus data in May last year when it said it had 509 cases and 21 deaths, according to data held at the World Health Organization, which has called on the country to share its information.