China 'lifts mysterious veil' by landing probe on dark side of the moon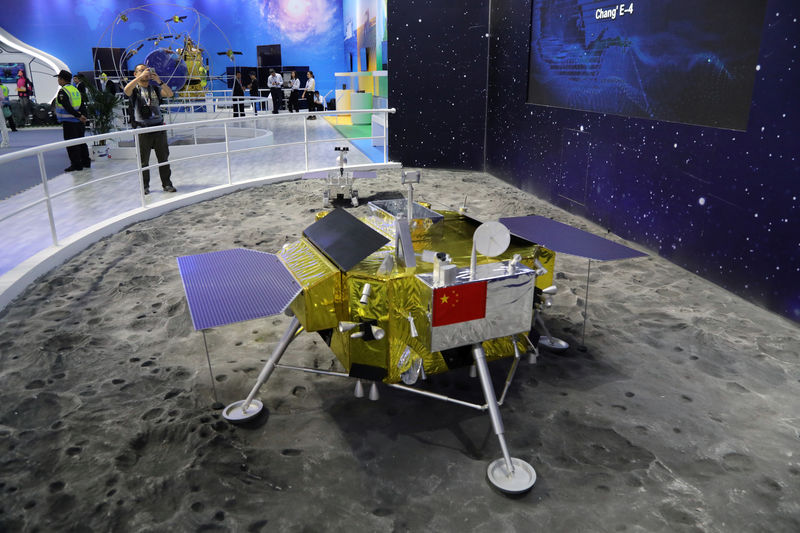 A Chinese space probe successfully touched down on the far side of the moon on Thursday, state media said, hailing it as an historic first landing there on a mission seen as an important step for China's space program.
The tasks of the Chang'e-4 include astronomical observation, surveying the moon's terrain, landform and mineral composition, and measuring the neutron radiation and neutral atoms to study the environment on the far side of the moon, the China National Space Administration has said.
It is the second Chinese probe to land on the moon, following the Yutu (Jade Rabbit) rover mission in 2013.
Unlike the near side of the moon that offers many flat areas to touch down on, the far side is mountainous and rugged.
The moon is "tidally locked" to Earth in its rotation so the same side is always facing Earth.
Chang'e-4 is carrying six experiments from China and four from abroad, including low-frequency radio astronomical studies -- aiming to take advantage of the lack of interference on the far side.
The rover will also conduct mineral and radiation tests, the China National Space Administration has said, according to state news agency Xinhua.
- Extreme challenges -
It was not until 1959 that the Soviet Union captured the first images of the moon's mysterious and heavily cratered "dark side".
No lander or rover has ever previously touched the surface there, and it is no easy technological feat -- China has been preparing for this moment for years.
A major challenge for such a mission was communicating with the robotic lander: as there is no direct "line of sight" for signals to the far side of the moon.
China aims to catch up with Russia and the United States to become a major space power by 2030. It is planning to launch construction of its own manned space station next year.
However, while China has insisted its ambitions are purely peaceful, the U.S. Defense Department has accused it of pursuing activities aimed at preventing other nations from using space-based assets during a crisis.
Apart from its civilian ambitions, Beijing has tested anti-satellite missiles and the U.S. Congress has banned NASA from bilateral cooperation with its Chinese counterpart due to security concerns.
The United States is so far the only country to have landed humans on the moon. U.S. President Donald Trump said in 2017 he wants to return astronauts to the lunar surface and establish a foundation there for an eventual mission to Mars.
China said in 2017 it was making preparations to send a person to the moon.
In 2003, it became the third country to put a man in space with its own rocket after the former Soviet Union and the United States, and in 2013 completed its first lunar "soft landing".
Beijing is planning to send another lunar lander, Chang'e-5, next year to collect samples and bring them back to Earth.
It is among a slew of ambitious Chinese targets, which include a reusable launcher by 2021, a super-powerful rocket capable of delivering payloads heavier than those NASA and private rocket firm SpaceX can handle, a moon base, a permanently crewed space station, and a Mars rover.