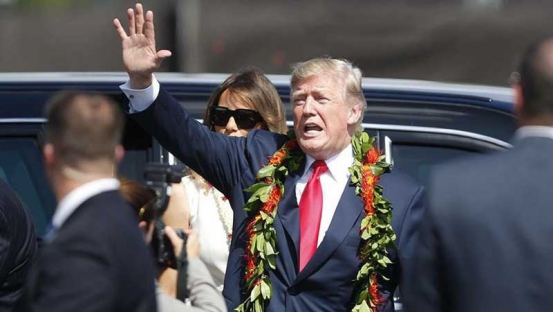 For a second, United States President Donald Trump must have thought he was in Kenya. This is after he landed in Hawaii and protestors greeted him with placards that read "Welcome to Kenya".
Trump on Saturday November 4, visited Pearl Harbor memorial ahead of his 12-day trip to five nations in Asia.
His Hawaii visit was met by protestors who are against his immigration policies.
They took this further by teasing him about the birth place of former US president Barack Obama.
Inscribed in bold letters were the words "Welcome to Kenya" on some of the placards while others were written "Aloha, POTUS! Welcome to Kenya".
Read More
This, in reference to Trump's insistence that Obama was born in Kenya yet he was born in Hawaii.
The group of about 200 people had gathered at the state Capitol on Friday to protest Trumps visit.
They had even demanded that Trump leaves the state calling upon his impeachment.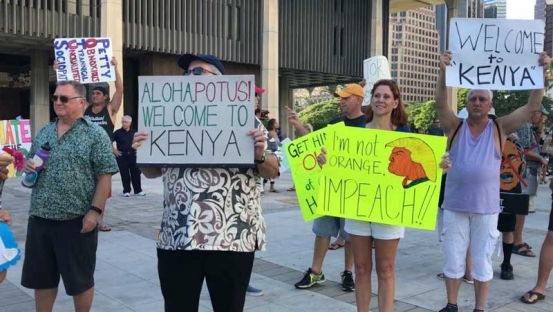 According to Reuters, U.S. President Donald Trump heads to Japan on the first stop of his tour of Asia on Saturday, looking to present a united front with the Japanese against North Korea as tensions run high over Pyongyang's nuclear and missile tests.
Trump is to speak to U.S. and Japanese forces at Yokota air base shortly after arriving in Japan on Sunday and looked to stress the importance of the alliance to regional security.
Ballistic missile tests by North Korea and its sixth and largest nuclear test, in defiance of U.N. Security Council resolutions, have exacerbated the most critical international challenge of Trump's presidency.
Aerial drills conducted over South Korea by two U.S. strategic bombers have raised tensions in recent days.
In a display of golf diplomacy, Trump is to play a round of golf with Japanese Prime Minister Shinzo Abe. The two leaders also played together in Florida earlier this year.
Trump will also have a state call with the Imperial Family at Akasaka Palace during his visit. Abe and Trump will meet families of Japanese citizens abducted by North Korea.
Joined by his wife Melania on part of the trip, Trump's tour of Asia is the longest by an American president since George H.W. Bush in 1992. Besides Japan, he will visit South Korea, China, Vietnam and the Philippines.