Hurricane batters Bahamas before likely heading up U.S. East Coast
WORLD
By Reuters | October 2nd 2015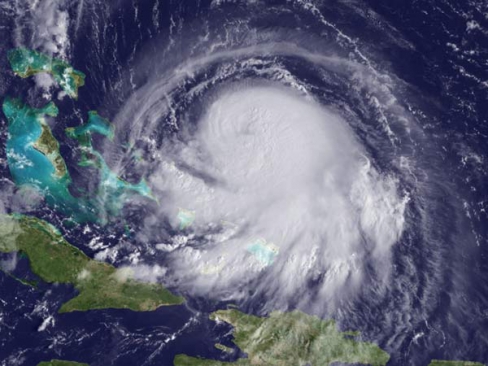 Nassau: Slow-moving Hurricane Joaquin pounded the Bahamas for a second day with powerful winds and waves on Friday, but it was not expected to be a major threat to the U.S. East Coast, the US National Hurricane Center (NHC) said.
A westerly shift in the forecast track of Joaquin spared the Carolinas, New York and New Jersey, where Sandy killed more than 120 people and caused some $70 billion of property damage in October 2012.
"A strong majority of forecast models is now in agreement on a track farther away from the United States East Coast," the NHC said.
Despite the more favorable outlook, the NHC said Joaquin could still cause flooding from South Carolina to New England.
The Miami-based NHC said the hurricane, a potentially catastrophic Category 4 storm on a scale of 1 to 5, was poised to make a sharp northerly turn on Friday.
The third hurricane of the 2015 Atlantic season, Joaquin was about 20 miles (32 km) east of Long Island, with maximum sustained winds of 130 miles per hour (210 kph), the NHC said.
The governors of New Jersey, Virginia, North Carolina, South Carolina and Maryland all declared states of emergency and announced various measures, including the mobilization of National Guard troops, in preparation for the storm.
"I cannot stress enough that we are talking about the real possibility of deadly flooding in many areas around our state," North Carolina Governor Pat McCrory told a news conference on Thursday.
There were no immediate reports of deaths or injuries from the Bahamas but photos posted on social media on Aklins and Long Island showed major flooding with roads under water and waves washing against the walls of houses.
Schools and business were closed on several islands as residents prepared for the storm. "People are all getting ready, shuttering up their houses, going to the store for plywood," said Chris Gosling who runs a voluntary ambulance service in Eleuthera, population 8,000.
At 11 p.m. EDT, the NHC said the storm was moving west at only three miles (5 km) per hour.
Joaquin's hurricane-force winds, which extended 50 miles (80 km) from its center, were forecast to miss the larger Bahamas islands and the main cities and cruise ship ports of Freeport and Nassau.
Storm surges will push water as high as 5 to 10 feet (1.5 to 3 meters) above normal tide levels in the central Bahamas, the NHC said, with up to 20 inches (51 cm) of rain possible in some areas.