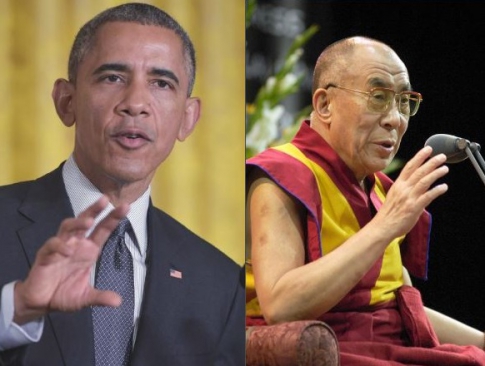 Washington: US President Barack Obama will appear in public at an event attended by the Dalai Lama next week in Washington, the White House said, in a move sure to anger Beijing.
"The president will deliver remarks at the National Prayer Breakfast," National Security Council spokeswoman Bernadette Meehan said. "This year, the organizers also invited His Holiness the Dalai Lama."
The White House tried to play down the simultaneous appearance, stressing the two men have met three times before. Officials said there was no "specific meeting" between them to announce.
Previous meetings have been held behind closed doors and outside the Oval Office, in a move designed to limit the diplomatic fallout with China.
The 14th Dalai Lama fled Tibet in 1959 after a failed uprising against Chinese rule and has lived in exile in India ever since.
China accuses the Dalai Lama of seeking to split Tibet from the rest of China and of fomenting unrest in the region, calling him "a wolf in sheep's clothing."
Previous meetings between Obama and the Nobel prize winner have been met with formal Chinese diplomatic protests that have soured relations between the world's two largest economies.
Obama is expected to use the Thursday prayer breakfast with clergy from several faiths -- an annual Washington political tradition -- to talk about the importance of upholding religious freedom.
"The President is a strong supporter of the Dalai Lama's teachings and preserving Tibet's unique religious, cultural and linguistic traditions," said Meehan.
"As he has done in the past, the President will see many religious leaders at the event, but we don't have any specific meeting with the Dalai Lama to announce."
More than 120 Tibetans have committed suicide by setting themselves on fire in recent years to protest against what they see as oppression by China's government and controls on their right to exercise their religion.
Obama came under domestic criticism in 2009 when he did not meet with the Dalai Lama during a visit to Washington, as the new president looked to get off on the right foot with China.
In February last year, Obama met the Dalai Lama in the Map Room of the White House -- within the residence rather than the West Wing where most presidential business is conducted.
Thanks to Chinese pressure, a string of leaders have dodged meetings with the 79-year-old monk, most recently Pope Francis who did not meet the Dalai Lama when he visited Rome.