USIU-Africa partners with Devki Steel Mills to launch Entrepreneurship and Social Innovation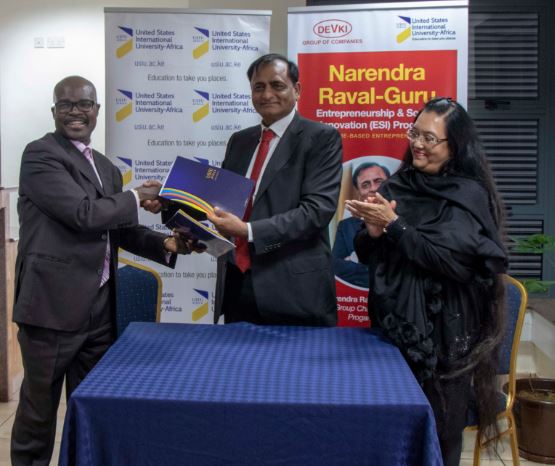 The United States International University-Africa (USIU-Africa) has partnered with Devki Steel Mills Limited to launch the Narendra Raval-Guru Entrepreneurship and Social Innovation (ESI) Program at the USIU-Africa Incubation and Innovation Center in Nairobi.
This is set to be the first of its kind. Outcome-Driven Entrepreneurship (ODE) program to be offered in an institution of higher learning, which seeks to equip participants with the 21st century mindset, skills, frameworks, tools and processes that will help them transition from entrepreneurial intentions/aspirations to reality through a more predictable Evidence-Based Innovation Process and Strategy (EBIPS).
"USIU-Africa is committed to changing the narrative of the increasing unemployment rate of Kenyan youth, which stood at 22.2% according to the United Nations Human Development Report of 2017. This commitment is necessary to ensure that Kenya continues being the economic powerhouse in the region and Africa as Kenya has extensive human skills, ideas and capacity to generate relevant solutions," says Professor Paul T. Zeleza, Vice Chancellor of USIU-Africa. "The ESI program will be administered through the School of Graduate Studies, Research and Extension."
The program targets fresh graduates from both public and private universities in Kenya and will take them through a six month course at USIU-Africa. It is designed to take the emerging entrepreneurs through a human-centered interactive systematic process to create their own businesses. It offers a practical, hands- on insight and battle-tested solutions to the massive startups failures by freeing the imagination, shifting the perspective and providing a roadmap to create new frontiers of opportunity, growth and jobs. The program is a product of a decade of rigorous research and experiences.
According to UNDP, in developing countries, the middle class now makes up more than 34% of total employment – a number that has almost tripled between 1991 and 2015. However, it has been seen that as the global economy continues to recover, slower growth, widening inequalities, and not enough jobs to keep up with a growing labour force is rampant. According to the International Labour Organization, more than 204 million people were unemployed in 2015.
"Through our vast experience in the industry we have seen the continuous disruption in marketplace and we knew we need to change the direction it was heading. Our partnership with USIU-Africa is based on the fact that we what to socially invest our funds and expertise with an institution that is widely recognized as a center of academic excellence with state of the art teaching facilities. Devki will donate a considerableamount to go towards the tuition fees for first batch of 50 students," says Narendra Raval, EBS, (Guru) – Chairman, Devki Group.
"The ESI program is based on methodology that is outcome-driven which helps participants avoid the frustration of hit-and-miss innovation endeavors, because it makes innovation more predictable, leading to high-growth enterprises, geared towards generating more jobs through market creation rather than market disruption which causes displacement. We aim to provide an environment that will lead to innovative ideas and solutions that will solve our own problems and those of the continent," says Professor Amos Njuguna, Dean of Graduate Studies, Research and Extension.
To fight drought, involve communities
According to the latest information from the Meteorological Department, rainfall will be poorly distributed in April, May and June, and this will have a serious impact on agriculture