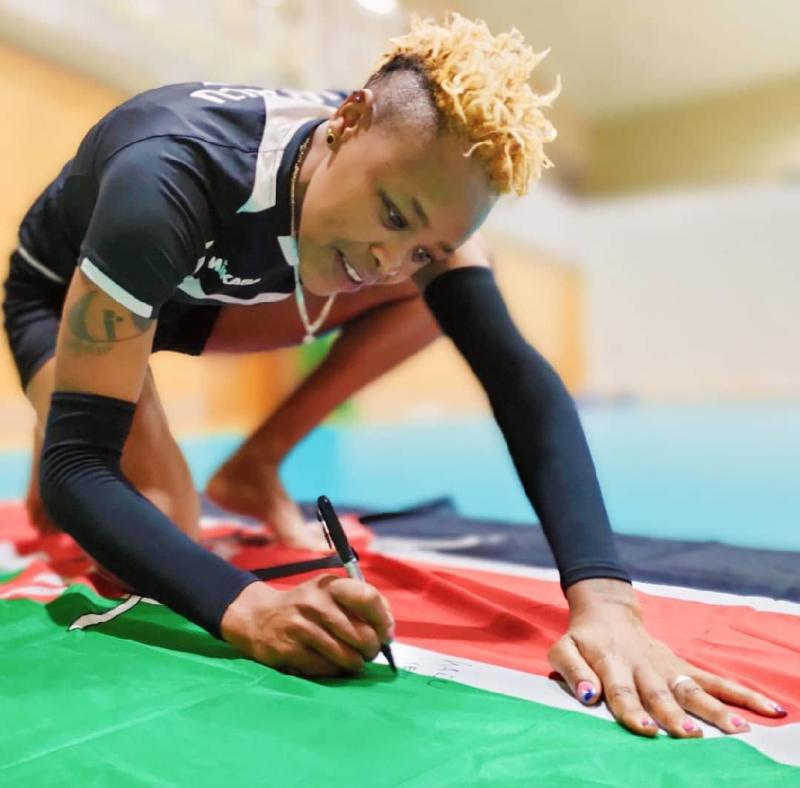 Jane Wacu Wairimu is a legend.
Be it on the volleyball courts or off the pitch. She left men gaga whenever her lithe frame came on the screen or graced the daily newspapers.
Her beauty, deadly skills, agility and infectious enthusiasm made her stand out. Wacu is drop-dead gorgeous, no doubt. Built like a model but no mistake: She an assassin on the court.
However, after more than 16 years, Wacu has left the stage like the queen she's become, locally and internationally.
"The journey has been good for me because volleyball is my life. I thank God for everything that I've achieved in those 16 years I played for the national team," said Wacu during an interview with the Standard Sports.
Whenever she sauntered onto the pitch, she hardly disappointed. Wacu always left her challengers wondering which direction she would toss the ball.
No doubt, she will be missed by her fans who followed her every move for the last 16 years.
Wacu had been donning jersey number one at the national team, where she was a central pillar.
From the day she leapt onto the stage as an understudy to the imperious, deadly and equally beautiful setter, Janet Wanja, Wacu rarely missed on the rooster whenever the national team was named for continental or international assignments.
That's just how good she was — always in top form. It was only in 2011 when she was missing in action as she was serving a suspension slapped on her by the Kenya Volleyball Federation for misconduct at the All African Games in Maputo, Mozambique.
She also only missed to make the cut either due to sickness or a minor injury. When she was out, it was due to her own volition, like the 2021 Africa Nations Championship in Rwanda, where she turned down the call-up.
Wacu has played in virtually all major volleyball events — the FIVB World Cup, World Championship, World Grand Prix – which she won in 2015, Inter-Continental champions and lately the Olympics Games.
In Africa, she has won four African titles with Malkia Strikers and one All African Games gold medal. At club level, she lifted four Africa Club Championship titles, with Prisons.
When she finally graced the Olympic stage, in Tokyo last summer, Wacu, born in Majengo slums in Nyeri, has finally decided to leave the stage.
"I believe I met all my targets because I have reached all heights of playing volleyball including Club Championships, World Championship, World Cup, Olympics, All African Games and World Club Cup," she said.
"Only a few have reached these heights in Kenya and I am glad to be up there. I am leaving a proud woman because volleyball has taken me to greater heights. I am happy with my decisions because I want to give a chance for new talents and upcoming future stars."
"It's not good to be selfish especially when God has opened other doors for you. This is a chance for the young ones because I also believe you cannot play forever," she said.
Currently, Wacu is based in Seychelles where she is assigned to Young Ones Football Coach but still training and actively playing. She says her next goal is to go for Level 2 volleyball coaching courses.
"Pride comes before fall. Players need to have self-discipline. There are things you have to do personally, because it's not only for the coach to guide you. Be humble, respectful and always adapt for the future," Wacu advised players wishing to match her achievements.