By Gardy Chacha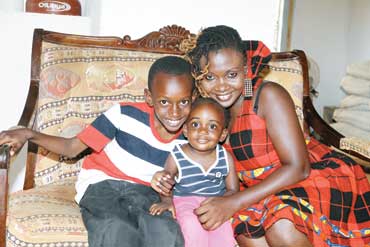 Nyota Ndogo with her children
She was born into a cruel world of destitution. Raised by a devoted mother and singing father in a shantytown, amidst abject poverty and complexities of a world where suffering was a ritual. Food was also hard to come by and life starkly stood as a semi-permeable membrane with an unpleasant tendency to sieve faces that make societies.
Oceanic accent
Even so, she has transcended all that. She had to, if she was to go past the membrane. Her only tool — a purring voice that found its way to the ears of many; in a sound wave that played around physics principles of periodic wavelength and harmonic overtones.
"I am Mwanaisha Abdala," she says. "I believe you know me as Nyota Ndogo, but those two are one and the same: They behave and live by the same principles. They only differ in the places they are found."
Read More
With that, I'm taken aback and for a flick moment I lose my trajectory into the interview. Like many from the Kenyan coast, she speaks in bombastic and mellifluous Swahili; perfectly scented with aromatic oceanic accent that brings my faculties to a stymie. Her words are hard to augur. Once in a while — I guess because of her human nature — she comes to my rescue when Swahili words become too thick to chew.
"Sorry," she apologises, "I have to speak in Swahili because, just like you (with Swahili), English doesn't play around often on my lips.
Many in the music industry know her story; a poor girl, who dropped out of school, worked as a nanny and got stung by musical good luck. She has never been afraid of talking about her less grandiose upbringing. Well, as it turns out, Nyota Ndogo going into music was a matter of 'when' rather than 'if'.
She says, "My father, the late Abdala Atib, was a musician, mum at times tells us she used to sing too, and my brother Juma Tutu has been performing with his band."
But before music, she had found herself in a cul-de-sac most poor girls find themselves in. Actually, she completed primary school, but didn't progress to secondary school. She tells me it was because there just wasn't any money to take her through school. In a nostalgic twist of fate, she had also fallen out of touch with science jargon and just about all the other subjects. Learning ceased being her morning cup of tea.
Break out
Nevertheless, her loins nudged her to break the prism of squalor and free herself to the many exploits of a comfortable life. So, she embarked on a journey; one that began with a simple thought; a thought that chose prosperity rather than getting wasted through, "Teenage pregnancies that happened too often in the slum we lived in." The slum was called Mathare, part of Makande enclave in the outskirts of Mombasa, where breakfast was an unknown vocabulary, lunch was a pastime for a few gentries, and supper — despite being recognised — nobody had a claimed right to it.
Nyota took off on foot to the leafy suburbs of Nyali to scavenge for 'any' available jobs, but there weren't many openings. For more than a week, she searched without much success, but finally came across a couple that needed a nanny for their infant child. They enquired if she had taken care of a child (her own) before. She answered to the negative, but followed it up with her gaining enough experience taking care of her younger siblings. They were adamant at hiring her and told her to keep searching elsewhere, to which she knelt down and pleaded with the couple to allow her one month probation, then relieve her of her duties if she wasn't performing as expected.
Turning point
She resolved to work with diligence — albeit earning a meager Sh1,500 a month from performing both house chores, and looking after the baby. But the opulence provided her with TV and radio experience, spending her free time glued to the screen to catch a glimpse of successful musicians performing, and listening to their cocktail of instruments, words and beats. "That was my way of learning how to mould a product out of myself. I wrote 15 songs and kept them in a blue file, but I wasn't sure if I would sing to an audience's satisfaction," she says.
Through a friend — who once laughed at her vocals — she was able to reach the precincts of a studio, where the producer listened to her and instantly nodded to her voice on the microphone. In 1999, her songs began levitating on radio and her big break came in 2000 when she collaborated with an established group of musicians, recording her first successful single Nataka toa, which propelled her into showbiz limelight. Since then, she has produced hit after hit, performed within the country and offshore, won numerous awards, and shared podiums with those she could only watch on TV at her employer's home.
Nyota got married to her ex-husband (whom she met at the studio) in 2001. She is currently a single mother of two: Her son Mbarak ten, from her first marriage and her daughter Barka, two, from her current relationship with somebody she calls a 'friend'. Balancing between performing at shows and being a mother has been challenging, but she has thus far met all demands.
She says: "With Mbarak, it's much easier because he finds ways of being busy when I'm not around. My daughter though, clings to me and so, when I go for shows, whether abroad or within, I take her and the nanny along so that when she cries for her mother, I'm there to hold her. I love them both so much and they form the fulcrum onto which my life balances."
Nyota cherishes every moment she is with her children. She also thinks that she probably wouldn't be having her current proclivity if it weren't for them. She allows her son's father to visit and spend time with him — she let the embers of divorce dry out and focused on getting her children a comfortable life she only dreamt of when she was their age.
"When they are grown, I want them to learn one thing from me: Resilience," she says. Her parting shot to parents: "Samaki mkunje angali mbichi!" With that, I cap my pen and let Nyota return to her shining ways.