Poverty made me ace marketer
By Martin Mwangi
In a little village called Ngamwa in Mukurweini, Nyeri, where every homestead grew bananas of its own, 10-year-old Lucy hawked the bananas every Saturday just to afford paraffin for the lamp she used when doing her homework.
"I remember approaching adults and insisting that they buy my bananas," she says.
Since her mother could not afford paraffin, Lucy was given the go-ahead to sell bananas to buy the fuel, a job she did until she was 14 and in class eight.
Lucy's children: Neema and Lulu (twins) and Jimmy and Makini, 3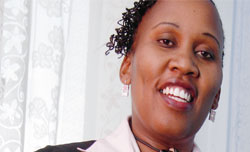 Lucy, a marketer by profession, is founder and managing director of a Door Drop Ltd. Photos: Courtesy

The silver lining in the cloud of poverty is that, perhaps buoyed by the success of her childhood enterprise, Lucy became a marketer later in life. She is founder and managing director of Door Drop Ltd.

Her company is involved in field marketing, brand activation and retail sales management and is based in Westlands in Nairobi.

She sat her Kenya Certificate of Primary Education(KCPE) examination in 1986, and was admitted to Alliance Girls' High school.

"To be honest," she says, "I was a very sharp girl." Despite the obvious challenge of poverty, she was among the top-100 list of candidates in the country.

"President Kibaki, then the Vice-President, invited all best performers in Nyeri District and gave us each a dictionary. I treasured it so much that I kept it so I could show it to my children," she reveals.

Bachelor of commerce

Says she: "I took my studies seriously at Alliance and was lucky to have a no-nonsense headmistress, Mrs Karanja, who became my role model. She instilled in us holistic discipline, which involved not only studying but also at work and in life in general."

Lucy then went to the University of Nairobi in 1992 where she enrolled for a Bachelor of Commerce degree.

It was while here that the idea of her current business — as well as her two daughters —was born.

"I did not expect to have twins, and especially not my second year at the university. I thought this would shatter my dreams completely," she recalls.

But she refused to let the stress of motherhood knock her out of the race to a bright future.

She explains: "My motivation in life was to be better than my mum; to achieve more than she had so I could give to my children and society more than I had received. It was the best way I could repay mother's efforts."

While in university, Lucy would get attachments and jobs on contract in different companies. While on a stint at Unilever, she became a sales representative and travelled around the country.

"That was when I appreciated the impact of face-to-face sales. It was after the contract that I made up my mind that I would start a business to sell and promote products on behalf of companies," she reminisces.

Door Drop is about reaching the people where they are. "We are in direct marketing — we bring the products to the customer.

In merchandising, our representatives stand next to the client's product and explain it to the buyer," she says.

To get here she had to undergo training.

She explains: "While in campus I also did promotions for Coca Cola and Procter & Gamble and joined the Marketing Students Association. I continued to take small contracts after graduation until a furniture company hired me as a marketing executive for one and half years.

Says Lucy: "While working at the Credit Reference Bureau as a debt collector, I learnt an important lesson: A sale is never complete until you get the money. I stayed there for two years before trying my hand in self-employment."

No success without sweat

Her last and the most important job was as general manager of Parents magazine from 2005.

"I had to put all I had learned from all other fields to action. I found myself involved in training, problem solving, recruiting, debt collection and growing the business. My boss gave me space to work and the experience brought out the stewardess in me. I also interacted with business owners during meetings and realised I had what it takes," she says.

Lucy hopes to pass the message to the youth that there is a process — you just don't wake up one day and become a successful man or woman without working hard and discipline.

"It is wrong that we and the media are feeding the young with images of celebrities and the high life without telling them how those celebrities got there," she warns.

Door Drop opened her doors to clients while Lucy was still an employee in 2007.

"I figured out it was easier for me to lay down the structures before I quit employment," she says.

At the time, her business was ran by her two co-directors. She is especially indebted to her co-director Ruth Kinya, whose experience in direct marketing has helped the company grow to 40 permanent staff and 100 casual workers (field representatives).

Regional market

Some of her clients include Kenpoly Manufacturers, Melvin Marsh International, which makes Melvins teas, Apha Dairy Products, Alpha Fine Foods and Sara Lee-Kenya.

Door Drop is opening its doors to the regional market.

Says lucy: "We are in discussions with our clients because we want to capture the wider Eastern African market — Rwanda, Burundi, Uganda and Tanzania. The company has been able to penetrate every region in Kenya in such a short while."

Lucy, who is married with four children, says her family inspires her to keep going.

"Family is everything to me. I may not find time for other things but I never miss a chance to be with my husband Sam and the children," she says.

As leadership goes, she learns most from Jesus Christ.

She says: "Think of how He washed his disciples' feet. That's what I want to be — a servant leader."

When not at work or at home, you will find Lucy giving talks in her local church in Limuru or in neighbourhood schools.

 
Time for a man-o-pause
The other day, I saw a well-groomed, sharply-dressed man on Mama Ngina Street escort a beautiful woman down the street with his gawky eyes. He even tripped on a manhole cover and almost bumped into a fellow pedestrian, but that did not distract him from his past time — ogling her curvy behind and long legs.