Female Professors
Do professors and female ones at that have a life amidst all that they do? SHIRLEY GENGA spent a day with three of them.
Prof Patricia Kameri – Mbote (Associate Professor), School of Law, University of Nairobi
1. When did you decide you wanted to be a professor?
Prof Patricia Kameri – Mbote (Associate Professor), School of Law, University of Nairobi

I never imagined I would be a professor; all I wanted out of my life was to be a lawyer. After finishing my degree in law and qualifying as an advocate of the High Court of Kenya, I realised that I needed to learn so much more, so I went back to school to do my masters. Upon completion of my masters I was invited to lecture at the University of Nairobi and was surprised to learn that I loved to teach. That was when my journey towards being a professor began and I have never looked back.

2. What does it take to be a professor?

You have to first get a PHD, have taught for about 12 years, published many articles both nationally and internationally. It is a lot of hard work for many, many years. For example, my journey to becoming a professor began in 1990 and I became an associate professor in 2005.

3. A day in your life?

I get up at 4am every morning to read my Bible and do a devotional until around 5am. I do some reading and writing until 6am. At around 6.30am I take my daughter to school, after which I walk on the treadmill or in the field for between 30 minutes and one hour. I then go back home prepare for the day and then get down to writing and reading, that is unless I have a meeting in the morning. I then go to work until 5.30pm. I usually don't like night classes because I get up very early and thus by 5pm I'm tired. I sleep by 9.30pm.

4. How do you balance your role as wife, mother and academician?

Contrary to what people believe, my job is very flexible. I can write at home and have the option of choosing my working engagements around my children. Basically, I make my own timetable and with discipline I easily balance my life.

5. Advice to anyone who wants to be a professor?

Join us because it is a worthwhile and enlightening profession. You have to work very hard when you want it and be prepared for disappointments along the long journey but don't give up because it is worthwhile.

6. What don't you like about your job?

It can be a very lonely journey, in the sense that being a professor is not something people see as valuable so you really must have a strong sense of what you are and who you are to survive the lonely periods.

7. What do you love about job?

I love to mentor and nurture young people. Disseminating knowledge is a profound and special experience.

Another advantage of my title is that, you can easily relate to peers from all over the world without a lot of effort. It is a very seamless profession.

8. Further prospects?

I want to be a full professor in the near future and to also contribute in the development of a world-class law school in Kenya like, Stanford Law School where I went.

9. Other accomplishments?

I served as a Chair of Department of Private Law at the University of Nairobi between November 2002 and May 2008. I have served as a Policy scholar at the Woodrow Wilson International Centre for Scholars and continue to engage with scholars at the Centre on issues of environment and security. With Philippe Cullet, a fellow student at Stanford, I helped found the International Environmental Law Research Centre in 1998, a virtual organisation with presence in Kenya, India, Britain and Switzerland. I have also served on various local and international boards, I'm the chair to the Seeds and Plant Varieties Tribunal in Kenya, a trustee in the Kenya Land Conservation Trust and an avid writer. I have authored many articles and books on environmental law, land and intellectual property rights, biotechnology and women's rights.

Prof Peninah Aloo Obudho (Associate Professor), Zoology, Kenyatta University

a) When did you decide you wanted to be a professor?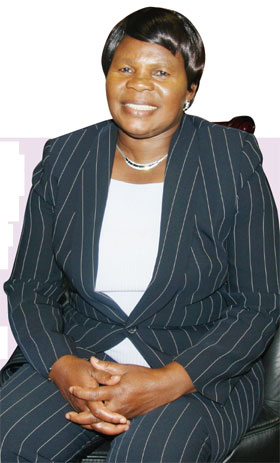 Prof Collete Akoth Suda (Full Professor), Sociology, University of Nairobi

You simply cannot succeed as a professor without family support. So I make sure that my children and husband understand my work and if by chance I'm busy attending official duty they understand why. Thus I do not feel guilty, something a lot of career women suffer from when they cannot always be around.

e) What don't you like about your job?

The fact that there are very few women. It is not because women don't like academics but because of the fact that women face unique challenges as compared to their male counterparts. It is so much harder for a woman who is married with children to go through the process of becoming a professor. The university needs to create an environment to allow for the promotion of women to senior positions.

f) Prospectus

I would like to continue serving women, men and the young in my current capacity as secretary for Gender and Social Services, Minister of Gender, Sports, Culture and Social services. A position I have held since last year.

g) Other compliments

In 1999 I was appointed director of institute of Africa Studies till 2002. Last year I was appointed director of the Board of Common Undergraduate Courses (BCUC).
Understand the fitness lingo
The tools of the fitness artist are subtle, but potent. Each small flick of the wrist, turn of the dumbbell and shaving of seconds can have a profound effect on your masterpiece. Here are some of the most basic tools you will need to familiarise yourself with in order to become the Pamela Jelimo of fitness.