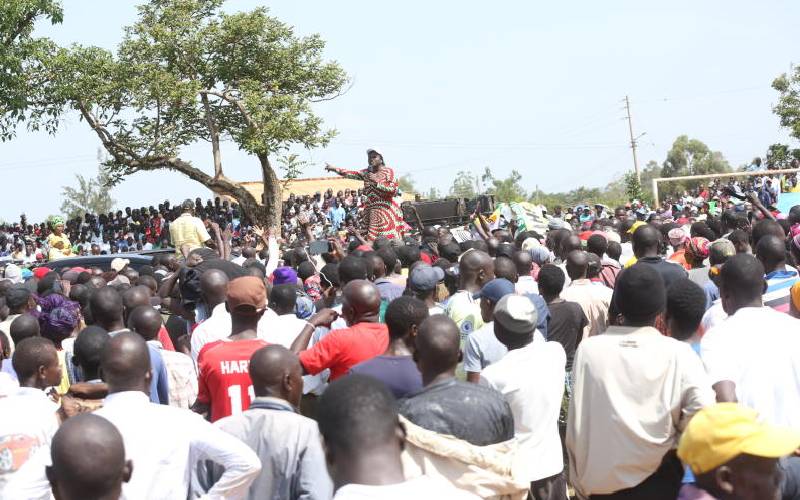 As the August elections draw closer, the least of political formations' worries should be sibling rivalry.
Yet for the Kenya Kwanza Alliance, internal jostling seems to present a new headache that its presidential candidate William Ruto must deal with pronto, failure to which the consequences may be dire.
At a political rally in Mumias on Saturday, Jackline Okanya, who is vying for the Mumias West Parliamentary seat on an ANC party ticket, refused to be browbeaten into giving up her quest in favour of UDA's Rashid Echesa.
While responding to entreaties from ANC leader Musalia Mudavadi, Moses Wetang'ula of Ford Kenya and UDA's Kakamega governor candidate Cleophas Malala to step down in favour of former Sports Cabinet Secretary, Jacky, as she is popularly known, said it was her right to vie and she will not be moved.
Rights of women
She went ahead to ask the crowd in Kiswahili; "Nyinyi watu wa Mumias West munakubali kupangwa na principals wetu? Mimi natetea haki ya wamama. I will vie to defend the rights of women. None of the three main Kenya Kwanza parties in western has nominated a woman to vie for MP seats, I will not be cowed."
Political analyst Kennedy Echesa says for ANC members to openly defy Ruto, "It means there is tension within Kenya Kwanza. In fact, most affiliate parties have not been attending Ruto rallies of late as a sign of protest. Most of them feel they are being undermined by UDA. This sibling rivalry will cost Kenya Kwanza many seats".
The approach that boomeranged in Mumias West had earlier worked in Vihiga where Jackline Mwenesi, who had shown interest in the Woman Rep seat on a UDA ticket, was prevailed upon to step down in favour of incumbent, Beatrice Adagala. But this was not before she was promised nomination.
Adagala believes she is the best candidate and is capable of retaining her seat. "I am the most popular candidate, and indeed, the strongest in Kenya Kwanza to fly its flag in Vihiga," she said.
UDA has fielded Clement Siloya to vie for Sabatia parliamentary seat where he will be up against ANC's Ayodi Lusigi.
Vihiga governor aspirant Alfred Agoi of ANC feels threatened by former Vihiga Governor Moses Akaranga, who is running on a Progressive Party of Kenya, an affiliate of Kenya Kwanza.
His supporters are now calling on Ruto to prevail upon Akaranga to step down.
Together with UDA, ANC and Ford-K are major stakeholders in the Kenya Kwanza Alliance. One would then expect that prior to the formation of Kenya Kwanza, there were clear agreements on the share of the national cake and the fielding of candidates to guard against weakening chances of winning by splitting their votes.
In Central Kenya, for instance, Farmers Party and The Service Party leaders have called out Ruto for not being open enough to disclose to them the contents of the agreement they signed and later lodged with the Registrar of Political Parties. The parties have expressed fear they could be shortchanged in the event Kenya Kwanza wins the August presidential election.
Formidable candidates
In Rift Valley where UDA is predominant, ANC and Ford-K might have fielded candidates, at the MCA level, who might not pose much of a challenge for Ruto, yet UDA has formidable candidates in Bungoma and Vihiga, the home turfs of Wetang'ula and Mudavadi respectively.
UDA seems determined to exert influence over the other parties despite the public claim to being equal partners.
With Vihiga as the centre of rivalry, Mudavadi's failure to demand that UDA keeps off his home turf appears to speak of a man not ready to upset the cart, or, more precisely, unwilling to antagonise Ruto, the de facto Kenya Kwanza leader.
On many occasions, Mudavadi has urged Vihiga residents to back ANC candidates saying; "Do not embarrass me by voting for other candidates. Make sure you elect only ANC candidates."
Shortly before Jacky expressed her defiance in Mumias, Mudavadi had said; "I urge Okanya to listen to me. We are at war and we want to defeat Azimio. I will find time to speak to Jacky so we have one candidate to enable us to win the seat".
Cross purposes
The prospects of losses in places where there is sibling rivalry within Kenya Kwanza are not lost to the principals.
"Malala and Khalwale should not work at cross purposes. Let us work together so that we do not lose this seat," Wetang'ula said in Mumias.
"Jacky is my mother, I will talk to her to abandon her quest and support Echesa. However, Mudavadi and Ruto should not leave her empty-handed," Malala, a step-son of Jacky, said. But the implied did not seem to appease her.
By the time aspirants sought clearance from IEBC, it means they had been given the nod by their own parties. This, therefore, means there is mistrust among coalition partners.
Already, there are open differences between Kakamega Senate aspirant Boni Khalwale and Malala that could compromise their chances of winning.
Only Bungoma seems to be less raffled, to the advantage of Kenya Kwanza. Wetang'ula, despite facing a formidable challenge from Democratic Action Party, an Azimio affiliate, is determined to ensure Kenya Kwanza carries the day.