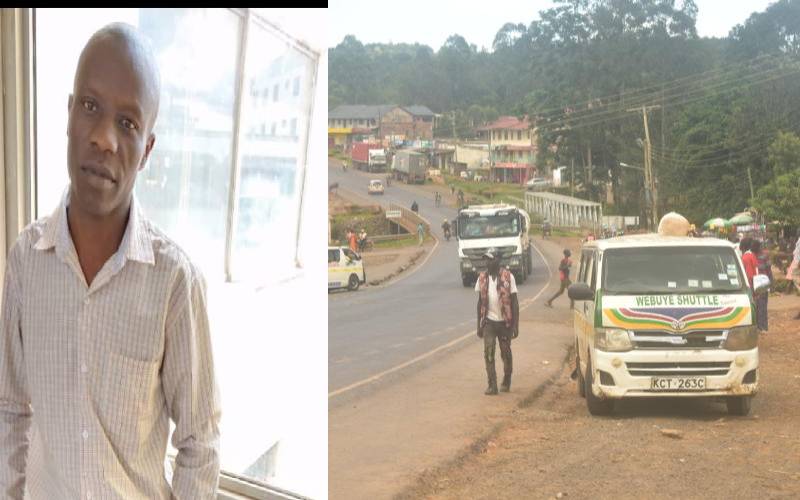 In a span of nine months, Wycliffe Nyota has cheated death three times.
On August 8, 2021, he was seated next to his wife in their shop at Mukhonje, Lugari Constituency when a horrendous road accident occurred at their shop's veranda.
"A fuel tanker rammed into another, pushing it to an electricity transformer at the entrance to my shop. The collision caused instant fire and before we could make sense of what was happening, one of the trailer's fuel tank exploded in a ball of fire and hit my shop's counter. We made a quick dash through the back door, narrowly escaping death," Nyota recalls.
At the time, he was a dealer in gas cylinders, ran a soda depot, a retail shop and an M-Pesa business. He says the tanker hit gas cylinders on display and they started exploding one by one, adding to the confusion and fierce fire raging outside as thousands of litres of petrol went up in fire. Seven people died in that accident.
The destruction to his shop was massive. When he got over the shock a few months later, he relocated to a new premises a few meters away to start afresh.
On March 12 this year, he was again in his shop when two fuel tankers and a lorry collided right in front on his new premises and exploded. One person died in the ensuing inferno. By then, he had renovated the old building and he decided to move back to it.
On May 7, a driver of a cargo trailer lost control and landed on its side at his doorstep. At the time of this interview, mechanics had put it back on its wheels and were trying to bring its engine back to life.
"I lost Sh500,000 in the August 2021 fire incident. Nothing could be salvaged due to the intensity of the fire and the panic caused. In the confusion that followed the second fire, my new shop was looted clean. Mercifully, the third accident did not start a fire. I am trying to rebuild my business after losing all I had worked for since 2011 when I set up my business here. I was forced to sell my plot of land to start this new business," Nyota said.
Another businessman Kennedy Makokha says he also suffered major losses during the August 2021 fire and it is only now that he is trying to re-establish his business.
"Governor Wycliffe Oparanya promises to help us when he visited the accident scene to sympathise with the victims. In line with his promises, affected shop owners were each given Sh20,000 as compensation. Accident victims received Sh30,000 while bereaved families were given Sh100,000."
Further, Oparanya, Lugari Member of Parliament Ayub Savula and a host of county government officials addressed residents' concerns, specifically, relocation of the Kenya Power transformer that had been the cause of serious fires since 2018. They also asked the county government to relocate the bus stages, set up an emergency unit at Lumakanda Hospital and station a fire engine at Lumakanda to help deal with emergency cases.
"The governor has lived up to his promise regarding the transformer. It was moved to a safer location off the main road. He also promised to expand the Maturu dispensary and make it serve the people on a 24-hour basis, but that is yet to be actualised, as grisly accidents continue to happen almost every week," Makokha said.
According the residents, the accidents at Mukhonje started after a speed bump was erected at the market.
"Before this bump was put here, there were minimal accidents. This market is in a depression, as you can see. Properly placed bumps should have been placed higher up the road so that by the time vehicles get here, their speeds have been reduced. As it is now, most vehicles, especially lorries, come down the incline at high speeds such that whenever the vehicle in front slows down at the bump, the one behind rams into them. This bump should be removed for safety".
At Kipkaren River on the Eldoret–Webuye road, a few kilometres from Mukhonje lies yet another notorious accident black spot. Residents decry the frequency of accidents here. They demand that both the Uasin Gishu and Kakamega County governments should do something to end the road carnage. Kipkaren is a unique market at the centre of which runs the ribbon of road that separates the two counties.
"Accidents happen here almost daily. There is no single explanation besides what we all can see. This road is narrow, the Kipkaren river bridge is even narrower and what makes it worse is that the road is curved, which reduces visibility," businessman Kennedy Meso said.
Justus Opulu blames careless drivers, the road design and the positioning of bus stages for the accidents at Kipkaren river. "The stage towards Eldoret is at the bridge which is dangerous on this narrow road. People walk across the road without looking and that puts their lives in danger. These bus stages should be removed."