Four officers, bar owner to stand trial for 'beating man to death'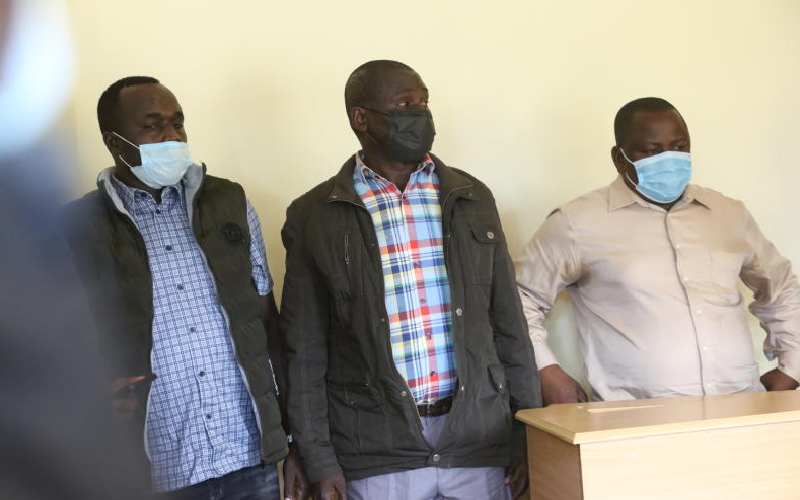 An inquest by a Kakamega court has recommended murder charges against four police officers and a bar owner suspected to have beaten a reveller to death.
Principal Magistrate Eric Malesi presided over the inquest to determine the cause of Raymond Mulanda's death.
The magistrate regretted that the incident that happened on December 16, 2019, could be "another sad statistic on rampant police brutality in the country".
"Police officers are humans just like the rest of us. How they turn brutal after attending Kiganjo training and wearing a uniform is a question that needs to be discussed. I rule that the four officers and the bar owner who called them to arrest Mulanda should be charged with murder," he said.
He went on: "Indeed, the pathologist who looked at the cause of Mulanda's death concluded that the multiple internal injuries he suffered on the head were not consistent with motion trauma as the officers in question testified."
The four officers – Musa Juma, Francis Kaimeti, Duncan Wafula and Michael Chergut – had testified that Mulanda jumped from a moving police pick-up while being taken to Kakamega Central Police Station.
Wafula testified that after the fall, the officers rushed him to hospital. "On the material day, I was on routine patrol together with my colleague Kaimeti when we were alerted of a man causing a disturbance. We went to arrest him but he refused to board a motorbike to the station," Wafula said.
He went on: "He protested that we were in civilian clothes and that the bike had civilian registration so he couldn't be arrested by civilians. We called for reinforcement from Kakamega Police Station and he agreed to enter a police vehicle, but he nonetheless jumped off on the way."
The court doubted claims by Wafula and his colleagues saying it was unlikely for a man in handcuffs sandwiched between two police officers to jump out of a moving car.
"Besides, the pathologist indicated there are little chances that the multiple internal head injuries and a burst testicle were caused by jumping from the police vehicle," said Malesi.
Dr Dickson Mchana, the pathologist who examined the body, said in his report tabled in the course of the two-year inquest that the head injuries were because of "blunt force trauma following a fall from a height."
Another witness Ian Otieno said: "I saw Mulanda kneeling outside Balozi Bar. The four officers told him leo tutakuonyesha (We will teach you a lesson today)."
Mercy Ondeng, a bartender, said Mulanda, 40, became chaotic after his phone got lost in the bar, prompting her boss Dennis Rosana to alert the police.
The court ordered the four officers and Rosana to be remanded at Kakamega Central Police Station.