Where drinking water is as precious as gold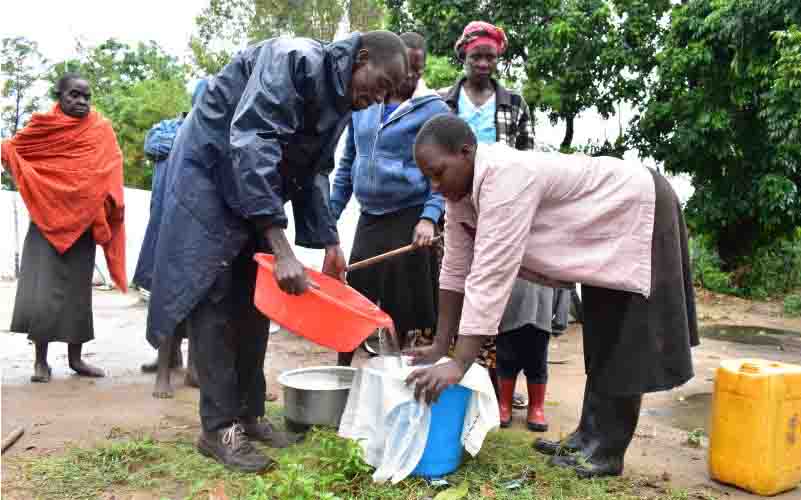 Sandwiched between River Yala to the south, River Nzoia to the north and Lake Victoria to the west, Budala village in Budalang'i constituency has never lacked water... but there is hardly any to drink. Climate change has conspired with other forces of nature to poison the water in this area.
"Water safety has been affected by the recent backflow from Lake Victoria, which affected the larger parts of Bunyala South Ward," says Joan Anyango, who has lived in the area since she was born in the 1980s.
Now, she has become a slave of water purifiers.
"I have to treat the water I fetch from the rivers, lake even boreholes," she says. If she fails to treat the water, she has to deal with the medical consequences caused by contamination.
Joan is not alone. Nearly all the people in the region have to use water purifiers, but since they are expensive and many families cannot afford them, Red Cross staff distribute the sachets for free. For them, preventing water borne diseases is better than seeking treatment for them.
Two years ago, Lake Victoria waters rose to historic levels, leading to flooding. The floods hit Bunyala South Ward and other nearby settlements, sweeping away latrines and dumpsites and affecting the water pipeline and drainage system.
Lake Victoria Basin Commission has attributed the floods to "extraordinarily heavy rains" recorded in Budalang'i from April 2019 to early 2020.
According to the commission, the rains raised Lake Victoria's water level up to a record 44 feet high, breaking a previous record set in 1964.
Josephine Juma also from Budala, said the flooding has made the situation so bad that parents and guardians have to treat water for bathing children or they get skin infections.
"We have equally suffered from other waterborne diseases like cholera, diarrhoea and typhoid because of drinking untreated water," she said. "Virtually every water body around us is contaminated."
Statistics from the county indicate that there 72,800 cases of diarrhoea between January 2019 to April 2020 and another 16,847 cases of typhoid over the same period.
In August, the county built a water pumping station at a cost Sh20 million to boost access to clean, piped water to its 893,681 residents. The station can pump up to 80,000 litres per hour.
The county government also bought a water rig machine to drill boreholes.
"Our vision by 2026 is to upgrade all pumping water schemes to hybrid pumping systems and increase water storage from the current 2,485 cubic metres to 3,500 cubic metres," reads the Busia water directorate website.
James Imwene, the county's director for water acknowledges that there are challenges in getting clean, drinking water to the people of Bunyala South, especially due to the flooding.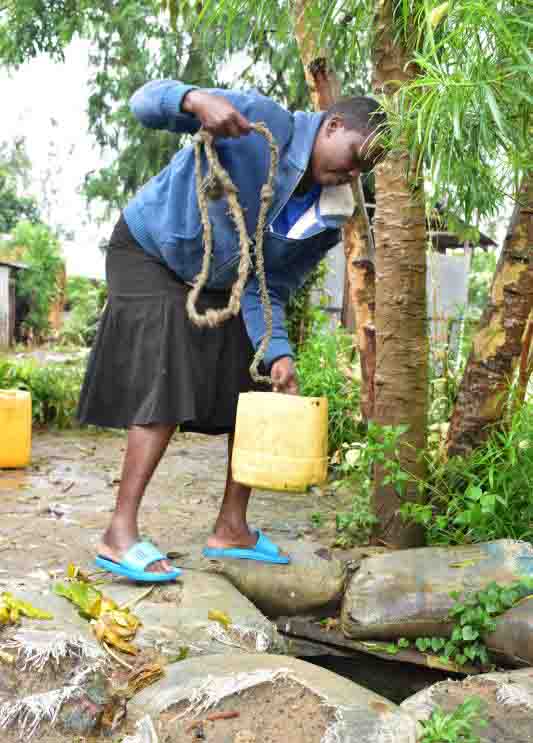 "We try our best to have the water pumped to public institutions like hospitals, schools and churches. We have also built water kiosks in every ward to ensure those who are not connected to the metre get treated water," he says.
To reduce cases of water contamination, the county government has also outlawed the digging of shallow wells. Its officers inspect all locations for sinking boreholes to ensure no one draws water from contaminated sources.
Dr Moses Osia, the executive in charge of water, says that the continuing flooding in Budalang'i has also affected the supply of power in the area, a scenario that also interfered with the pumping of water to homes.
All these challenges conspire to deny the families in Budalang'i guaranteed access to clean water.
But this is a problem that goes beyond Budalang'i.
Data from the United Nations International Children's Emergency Fund (Unicef) reveals that 9.9 million Kenyans drink directly from contaminated surface water sources. Whereas this is bad enough for their health, it is made worse by the fact that an estimated five million people practice open defecation.
The saving grace is that significantly more Kenyans have access to safe drinking water (59 per cent). However, only 29 per cent have access to basic sanitation.
"Since 2000, access to safe drinking water has increased by 12 per cent, while access to basic sanitation has fallen by five per cent," says Unicef in its latest report on the situation of water, sanitation and hygiene.
The report says safe drinking water, basic sanitation and good hygiene practices are essential for the survival of children. Evidence indicates that globally, better water, sanitation and hygiene can prevent the deaths of 297,000 children under the age of five every year.
But the report warns that achieving universal access to drinking water and sanitation by 2030 will be challenging given the current levels of investment, projected population growth and climate change.
"The growing population around water bodies and increased demand for water is complicating the situation of getting clean water for the people of Budalang'i," says Musyola Pitalyse, a volunteer with an NGO working to ensure all the families in Budalang'i access clean drinking water.