Kiminini residents living in fear of rolling stones but won't stop quarrying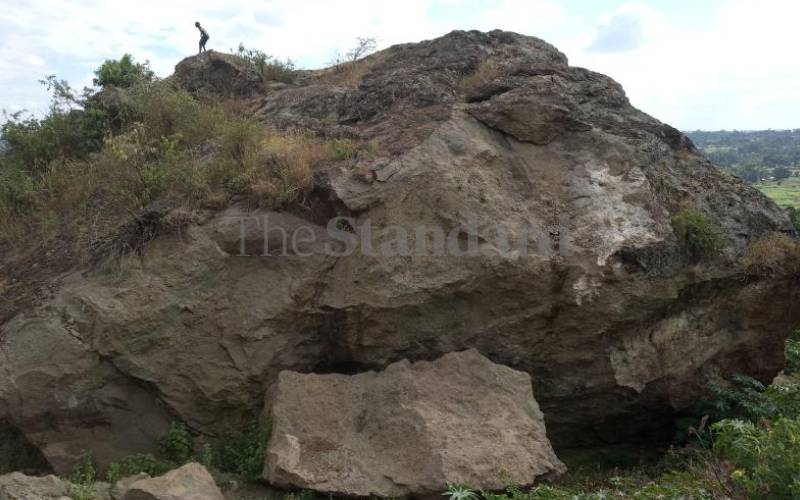 Residents of Kiminini Sub-county in Trans Nzoia County are living in fear due to unchecked quarrying activities.
At the boundary of Saboti and Kiminini sub-counties, residents say a huge stone broke off in Amani village before rolling down the slope, causing panic, on Thursday last week.
The residents who spoke to The Standard said the huge rock landed in a small gulley, which stopped it from getting to their homes, but it still hangs dangerously.
Shadrack Nyongesa, 71, was at the time in the house with his wife, who was preparing supper, when he heard a loud bang.
"When I heard a bang, I rushed outside and saw the huge stone rolling down from the slopes. I shouted to my wife to come out, and we fled for our safety," Nyongesa said.
He said the huge rock fortunately landed in a shallow depression. Many residents are now scared that such scenes may become common and endanger their lives.
"We are lucky to be alive. It could have been a disaster that could have floored several homesteads," said Emmanuel Wanyonyi, Nyongesa's neighbour.
Wanyonyi said the disintegration of the stone, popularly known as beacon rock, caught many residents unaware.
"It was raining and many families were in their houses when the stone come rolling towards the homesteads. It could have destroyed many homes and killed people," said Samuel Kundu, another resident.
Residents say the ongoing excavation of construction stones could have weakened the beacon stone before it broke off.
The families living in the area are former workers of a white settler, Henry Milford Barberton, who was a coffee and maize farmer.
When he left Kenya, Barberton donated the 460 acres from his large portion to the families in the early 1970s.
"Barberton allocated seven acres each to 49 families who used to work on his farm and were squatters. Since then, many of the families have relied on mining of building stones to put food on the table," said Nyongesa, the village elder.
He said after the exit of Barberton, many families were rendered jobless.
He said despite the National Environment Management Authority (Nema) stopping quarrying in the area, families have defied the order.
Miners interviewed said they were aware of the dangers they were in, but lack of an alternative source of livelihood had forced them to stick to quarrying.
Nyongesa said he depends on quarrying to support the education of his children in secondary school and university.
"I have three children in the university and the mining is my only source of living. I don't care much about the dangers associated to it," he said.
In a good month, he earns between Sh10,000 and Sh15,000 from quarrying. He is not directly involved in the activity, but is paid for the stones mined from his land.
Emmanuel Simotwo, 23, said he has been in the mining business for almost a decade, and he is not worried about the dangers involved.
"I know the dangers, but how am I going to feed my family? God knows our fate while we work here," Simotwo said.
On a good day, Simotwo says he takes home Sh500 depending on the number of stones he has cut and shaped.
Trans Nzoia County Commissioner Sam Ojwang said he had dispatched a team, led by the area deputy county commissioner, to assess the situation and take necessary action.