Anti-poaching activist winds up 33-day walk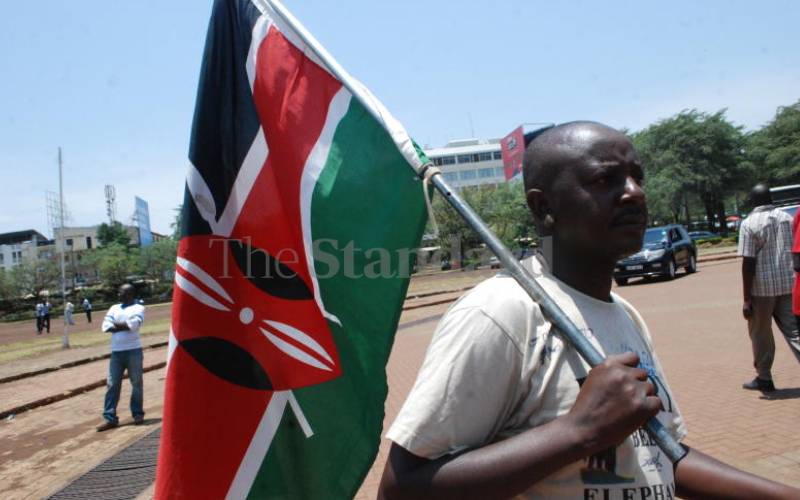 Jim Justus Nyamu, an activist against poaching and ivory trade, has completed his 631-kilometre walk in Kitale – traversing 11 counties to promote wildlife conservation.
Nyamu, who began his journey in Nairobi on November 6, has taken 33 days to complete the walk themed 'Ivory belongs to elephant'.
At hand to welcome him was Trans Nzoia County Commissioner Sammy Ojwang and local environmentalists led by Kefa Were.
Nyamu handed the Kenyan flag to Ojwang to mark the end of the elephant campaign walk that took him through 11 counties in the North and South Rift regions.
Alarming
The activist said he is alarmed by elephant poaching in some African countries and the little efforts being made to tame the vice.
"It is worrying that elephants are wiped out day after day, and our parks have become battlegrounds for illegal poachers and security agencies," said Nyamu.
He noted that as at 1979, Kenya had 167,000 elephants, but the number has dropped to 35,000 following high demand for ivory in some Asian countries.
He singled out Shimba Hills which had 200 elephants but now has less than 50 due to rampant poaching.
"Some of our parks have no elephants. For example in Mt Elgon National Park, the number of jumbos is not known; this means that it is difficult to know how many have been killed by poachers," he said.
Africa, he said, has less than 400,000 elephants, with poaching continuing unabated.
Awareness
"Countries like Somalia, Eritrea, and Gabon are counting a big number of elephant loss and as anti-poaching activists, we are concerned over the emerging challenges," said Nyamu.
During his walk, Nyamu visited 34 schools to create awareness on environment and wildlife conservation, adding that his team had helped to establish wildlife clubs in four schools.
He raised concern over the increase in human activity along river banks, which he said was polluting the environment while posing a threat to water sources.
"Washing cars inside the rivers is causing serious environmental pollution. Wild animals depend on water from rivers and something has to be done to stop the problem," he said.
He urged counties to embrace conservation and initiate conservancies to help generate income. During the walk, he said he lead the planting of 18,000 seedlings in the 11 counties.