From Ebuchinga (stupidity) to Mwangaza (light): School where bad name equals bad results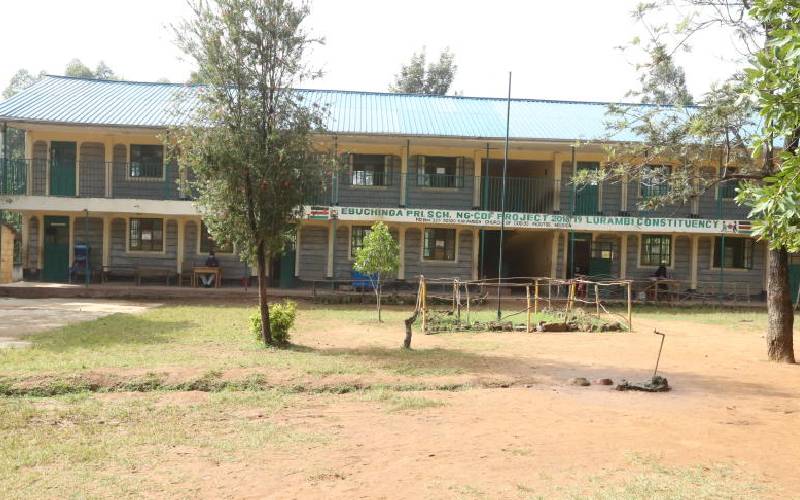 King Nimrod of Mesopotamia must have been a swell guy. His very bright yet dumb idea to build a tower that could reach God's abode in heaven resulted in an absolute fiasco at the Tower of Babel.
People who spoke one language suddenly found they could not communicate after God caused the tower to collapse.
Millennia later, this marvel still affects communities and creates misconceptions in the naming of learning institutions.
Ebuchinga Primary and Secondary schools, among many others across the country, capture this conundrum succinctly. Names are powerful things that describe and/or allow people to make judgments and assumptions about us.
"When I was posted to head this school in 2018, my first concern was the name. I sought to find out why the school was given that name," headteacher Kenneth Barasa recalls with a smile.
To him and many others, the name conveyed the wrong message. Outside the Batsotso sub-tribe, ebuchinga means stupidity.
Barasa explains that Ebuchinga carries two meanings. "The first one, as some people not conversant with the local dialect tend to think, is the inability to excel academically. The second one, which gave the school its name, is the dexterity in wrestling matches."
"This school was built in 1952. Before then, the ground on which the school stands today served as a stadium where wrestling matches were held. In the local dialect, wrestling is known as Amabwi," says Benedict Ambundo Asakhulo, a board member of the school and former Councilor of Central Batsotso ward.
"Our men were strong and easily defeated opponents in organised matches. We were then nicknamed Abachinga busiro (heavyweight carriers) because of our prowess and skill in defeating opponents in Amabwi. It was from those wrestling contests that the school got its name when it was built," says Asakhulo.
According to him, people have failed to understand the significance of the name and mistakenly associate it with poor academic performance.
"This negative perception has had psychological effects on students in the secondary section. Following appeals, the school's board decided to change of name to Mwangaza Secondary school," he said.
Mwangaza is a Kiswahili term that means light.
"A name is not necessarily a reflection of the reality or what to expect. Look at our neighbouring school called Eshisiru. In our local dialect, this means deaf and dumb, but it does not reflect the truth about the school," Asakhulo argues.
Asakhulo noted that the school name had also made the students feel inferior, prompting the board to change the name to Mwangaza Secondary School in 2020.
"It was tough going for students from this secondary school, especially during game outings. There were instances where their colleagues in neighbouring schools thought of them as not being too bright based on the misconception around their school name," Asakhulo explains.
Sometimes, names seem to hold. In 2011, Nyakemincha Primary school in Nyamira, Kisii County, made headlines for the simple reason that it emerged at the tail end in the year's Kenya Certificate of Primary Education (KCPE).
The same had happened the previous year. In the Ekegusi language, Nyakemincha means tail.
"As it stands, school performances are determined by performance in the KCPE exams, which is misleading. There is a wide range of things that must be factored in when gauging the performance of a school," Barasa said.
"My school has been on an upward trend since I came here. In 2018, we had a mean score of 231. We improved to 241 in 2019 before registering 250 in 2020," he added.
These sentiments are shared by Ebuchinga primary school senior teacher Odrin Baraza.
"Our two schools can do better, but there is a major problem that we must tackle first. Most parents are not supportive. They rarely make time to visit the school to find out how their children are performing. Some do not help their kids with homework and do not support the school materially or financially," Asakhulo says.
He noted that whenever they call for parents' meetings, only a handful of mothers turn up. "It is hard to see men come for school meetings."
Rudolf Nyikuli, another Mwangaza Secondary School board member, said the community must support the school to make it excel and compete favourably with others that get support from parents keen on the performance of their children.
"There must be a mind shift in our parents for us to progress," he said.