Where's my son's body? Masten Wanjala's father asks Government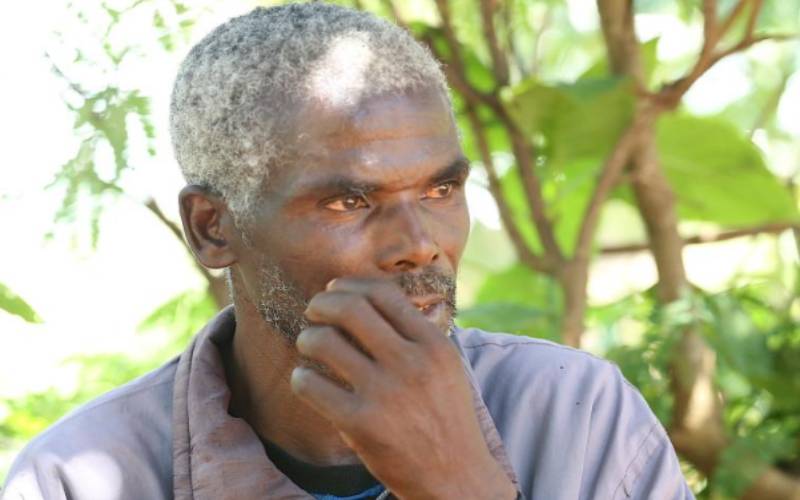 The father of self-confessed serial killer Masten Wanjala, who was lynched days after escaping from police custody under unclear circumstances, has pleaded with the government to hand him his body for burial.
Wanjala was accosted by a mob at Mukhweya in Bungoma County and beaten to death a month ago after escaping from Jogoo Road Police Station in Nairobi.
Robert Watila told The Standard on Wednesday that the police have not told him where his son's body is.
"My son was killed by a mob. He was only 20. My worry is that no one is talking about his body. I would like to have his body so I can bury it as per our traditions, but the police appear noncommital," said the 55-year-old Watila.
He added: "Two days after he was killed, the police drove into my compound and forced me to sign some forms. By signing the forms, the officers said, I was confirming Masten was murdered and that I was in the mortuary and witnessed doctors carry out a postmortem."
"Even if it were you, how would you have confirmed what you have not seen? I was never at the morgue and so I don't know what happened or what they did with my son's body. But the officers gave me no chance. They wanted me to sign the forms and had no time for any discussion."
But the police insist Watila attended the postmortem and that no one has stopped him from collecting the body.
Wanjala was killed a few kilometres from his father's home. The body was later moved to Bungoma County Referral Hospital morgue.
Based on Masten's history of crime, Watila now fears something bad may befall his family and clan if he is not allowed to bury the body "properly".
"I appeal to the police to hand his body to me, even if on humanitarian grounds," said Watila who spoke from his home in Bungoma.
Watila is not sure about where he will bury him. In the past, people who died under similar circumstances would be buried away from home, along the rivers, and in forests.
"In the Bukusu tradition, we used to bury people who had an irreparable reputation along the river banks. However, this is not possible today as the government will accuse me of encroaching on riparian land."
Watila said by the time he separated from wife Edna Nabalayo in 2001, she was three months pregnant with Masten. The woman remarried. Nabalayo also left with their three daughters.
"Nabalayo has not reached out to me since Masten was killed. We have not talked. I have not even spoken or seen Masten's sisters. That pains me."
"All I am asking for is for the government to release my son's body to me. I want to bury it to have closure."
Psychiatrist Lukoye Atwoli said the development of behaviour is a complex concept that cannot be influenced by one person.
"It all boils down to one's personality, what goes on in his mind and the activities they are involved in. It would be wrong to say one parent influences a child to behave in a particular manner. Society also plays a major role in the upbringing of children," Prof Atwoli said.
He said Masten should never have been lynched. "He may have been suffering psychologically but now he will go to the grave without anyone knowing what was really happening to him."
Bungoma county police commander Mutungi Musyoki said they have no plans to detain the body.
He said they agreed the body would be released to the family for burial after postmortem.
"Watila should go to the hospital and ask for the body. If he or his family experiences any challenges with the management of the morgue, we are willing to help. After the postmortem, which I am informed he attended, we declared the body free for burial," said Musyoki.