Mulembe cuisine: White ants a delicacy to the Luhya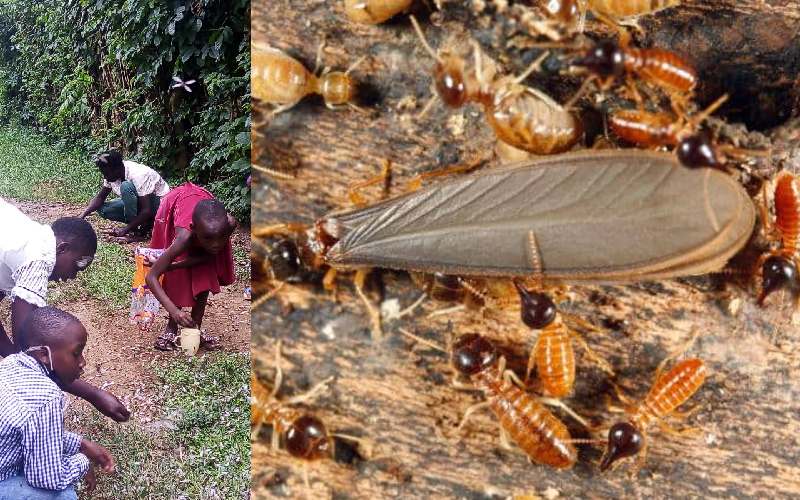 The kettle of hawks looked agitated. As they circled impatiently, one or two would suddenly swoop then fly off high into the cloudy sky.
Below them, on a narrow footpath, children and adults stooped over holes in the ground from which white ants crawled and attempted to fly away.
Most did not make it. They were quickly picked and swallowed or thrown into containers. Those that managed to fly ended up being eaten by the hawks overhead.
White ants, known locally as tsiswa, are a delicacy among the Luhya people. They are eaten fresh out of the ground – flapping wings and all – or after being fried. Outside the Kakamega market along the Kakamega-Webuye road, Florence M'mbone sells the white ants.
"I have done this business for a very long time. Those who trap the white ants sell them to us at Sh50 per small cup. After frying them, the same cup goes for between Sh70 and Sh100. The gorogoro (two-kilogramem tin) goes for between Sh1,000 and Sh1,500," she says.
Notwithstanding the high cost, M'mbone says the demand for white ants is very high. Indeed, buyers constantly interrupt her narration as if to vindicate her claim. Most of her clients are men.
However, she says it is increasingly becoming difficult to get white ants since their habitats are being destroyed. "White ants come from termites. Unfortunately, termites are notorious for eating through wooden posts used in building houses, which causes them to collapse.
"To save their houses, most people have resorted to using chemicals to kill them. That diminishes the chances of getting white ants," she said.
M'mbone says there is a general belief that white ants have medicinal value.
"They are good in controlling blood pressure and stabilising sugar levels in the human body. They are also good in increasing libido in men," she says.
Her claim resonates with scientific studies that show white ants are a rich source of fats, proteins and vitamins A and C. These play a critical role in building a healthy body.
"Not all Luhyas eat white ants. To some, eating live insects is repulsive. Christians who belong to the Roho churches, those that believe in miracles, do not eat white ants. They believe termites and white ants come from the dead," says David Amuyunzu.
White ants are seasonal insects that come out during the rainy season. While in most cases they come out on their own volition, there were traditional ways of drawing them out of the earth.
For instance, among the Maragoli, the youth had a unique way of luring them out of the ground. First, they collected long flexible sticks, sharpened both ends and drove them into the earth over an area where white ants were detected. The sticks formed a dome over the ant holes in the ground.
The interlaced sticks were then covered with banana leaves to make the interior dark. On one end of the structure known as Ridele, a mature banana leaf, known as Ruvumba, would be placed. This type of leaf allows light that lures the ants to it once they leave the ground.
Inside the dark Ridele structure, the youth water the ground at intervals and repeatedly hit the ground using special sticks called Umwanzu. The rhythmic hitting causes vibrations that lure the ants to come out.
The moment they do so, they head unerringly to where they detect light but cannot get out.
"Many people prefer to eat them with ugali. They are delicious and nutritious," says Frankline Makari.