Akamba secondhand tyre dealers making a living from their value addition skills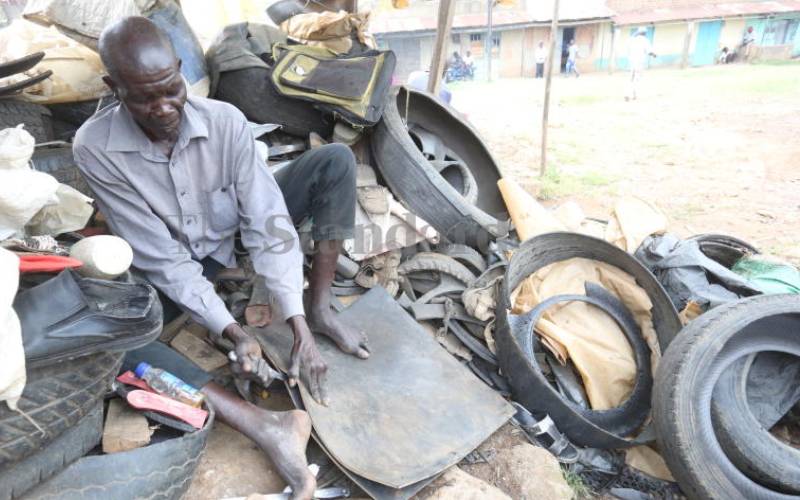 Value addition is a concept that creative and gifted secondhand tyre dealers, mostly of Akamba origin, have taken to a new level.
They are masters of innovation, crafting products that require worn-out car tyres as raw materials.
From knife to machete handles, akala (sandals fashioned out of old tyres), re-grooving bad tyres, durable car bushes, steering couplings, bicycle and motorcycle carrier straps to decorative tyre tables, the gifted artisans have it all figured out.
They are so passionate and have such affinity with tyres, that they hog the businesses in every town in Kenya.
"It all started in the 1960s when our grandfathers used to fix tube punctures in the big towns. The Akamba started the tyre business at Tawa shopping centre in present-day Makueni County and the adjoining Muthetheni and Chevivo business centres in Machakos County," Benjamin Nzomo, a long time tyre dealer, explains.
He adds: "There is no doubt that necessity is the mother of all inventions. A few years ago, poverty levels were extremely high, which meant that most of the people could not afford shoes to protect their feet from searing heat in the sun ravaged region. Thus, the need to protect their feet gave rise to akala. The akala are sturdy and pocket friendly to the poor," Nzomo adds.
Indeed, akala sandals have become popular, especially among tourists in Kenya. "In their trademark red chequered shukas (wrappers) and decorated akala, the Maasai have helped in popularising the sandals " he added.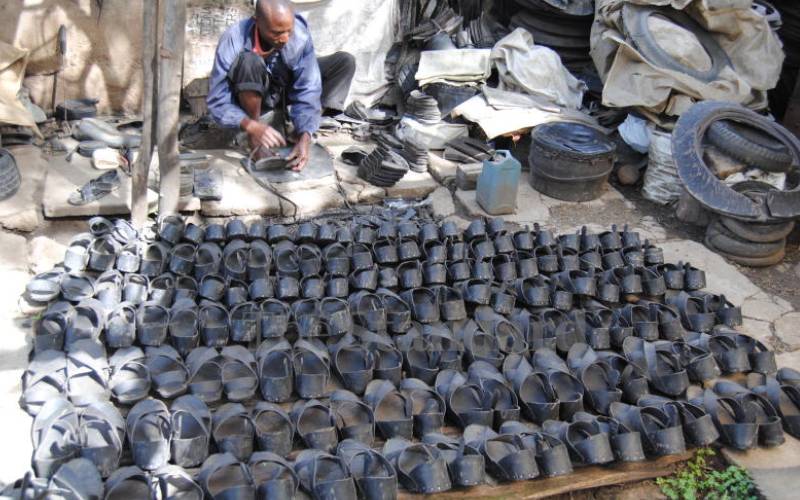 The Akamba tyre dealers also sell second-hand tyres to clients who cannot afford new ones. "Tyres and car bushes get worn out at some point and require replacement. Unfortunately, they do not come cheap.
Worse, the market is flooded with counterfeits that do not give value for money. When it comes to that, the Akamba tyre dealers have the solution," Nzomo added.
Paddy Amwayi once had his tyres re-grooved by an artisan.
"A policeman once arrested me because of my car's worn-out tyres. I actually spent a night in a police cell. I was taken to court and fined Sh3000. The tyres were not completely bald. I confided in a friend that I was not in a position to buy new ones at the time and he introduced me to an Akamba guy who assured me he would re-groove the tyres and improve their appearance. I was sceptical at first, but seeing him at work on the tyres, I was impressed," Amwayi says.
He smiles, then says that; "After re-grooving and getting a black spray paint job, the tyres looked as good as new, and I used them for another year, which saved me money."
James Kamadi says he was a novice when he bought his first car.
"A year down the line, I started noticing I did not have complete control of the steering at high speed. The vehicle would suddenly sway slightly. A physical check by my mechanic revealed that the arm bushes were worn out and needed replacement. Replacing them took care of the problem for a while. A few months later, it recurred. The second replacement did not last long either."
After that unsatisfactory experience, Kamadi says he later discovered that secondhand tyre dealers could fashion better and more durable car bushes from the humps on old tractor tyres.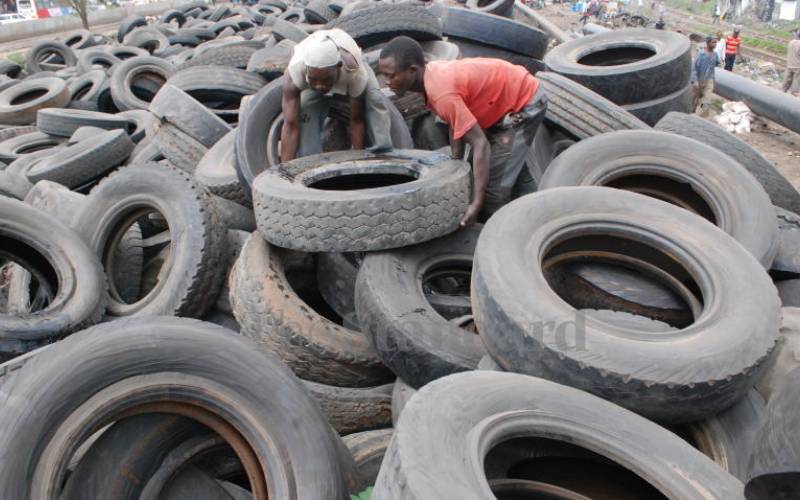 Most car bushes have a circular outer metal casing encompassing rubber at the centre of which is a hollow metal tube through which a bolt is passed and secured between two brackets. The bushes absorb shocks on bumpy roads and give a relatively smooth ride.
Curving out a car bush requires dexterity and maximum concentration.
We watch as Joseph Odera uses a razor-sharp knife to cut a bush to the required size and shape. Any slight mistake and he would inflict a grievous knife cut on himself.
His gnarled fingers bear scars from the nascent days of the trade. After shaping the rubber, he immerses it in water, before forcefully fitting it in the outer metal casing. That done, he uses a pointed sharp knife to drill a hole in the middle of the rubber through which the hollow metal tube will be fitted.
The hole must be half the circumference of the metal tube. To insert the tube, he uses grease and a hammer to drive it home. That forces the rubber to expand against the outer metal casing to give it a tight fit.
Emmanuel Mutua specialises in making akala and rubber straps that bodaboda operators Martin Wafula and Bakari, say are part of their business.
"We use these straps to secure luggage to the carriers. Sometimes, we get tears on the tyres while they are still new and the Kamba guys come in handy, stitching and giving them a new lease of life."
Long-lasting shoe soles are also made from old tyres.