Unbowed: Family dogged with blindness says NO to begging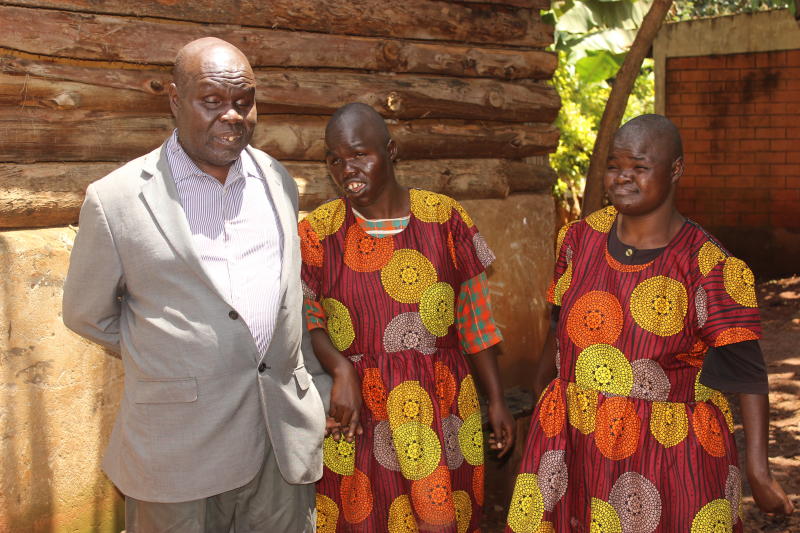 Moses Wanyonyi has been to hell and back. First, the 66-year-old is blind and so are his daughters, Lydia Nekesa, 30, and Mary Mukwana, 27.
And Nekesa and Mukwana are not just visually impaired, they are also mentally challenged.
Wanyonyi and his daughters' lives have been more complicated since 2011, when his wife and a son died. The deaths occurred just months apart. The family lives in Makutano village, Waitaluk Ward in Trans-Nzoia County, where Wanyonyi serves as a pastor with the Africa Inland Church (AIC).
Wanyonyi told The Standard how he struggled to fend for his family without employment.
He believes the blindness that has raided his family is hereditary, because his father had the same problem. His wife, too, is believed to have had some mental challenges.
Wanyonyi says they have been to various hospitals but to no avail.
His other son, Timona Wanyonyi, has no health problem, but nothing much is happening in his life. He dropped out of school for lack of school fees.
Nekesa and Mukwana cannot express themselves. Wanyonyi says providing for his children has been his biggest challenge.
He trained as a telephone operator in 1970, and even then, he was not able to secure a job. Also, Wanyonyi had a short training on tannery at Kibos School for the Blind Kisumu.
In 1980, he won a scholarship from the AIC to pursue a four-year diploma course in Theology at the Machakos Bible College.
"I later found a calling, spiritual calling to serve God through preaching. I stopped looking for a job," says Wanyonyi. Despite the challenges, he says he has never begged. He ensures his children do not do it either.
"God has been good to me and my family. We have been through a lot, but God has been with us. We have kept our faith in Him to provide, and that is why begging has never been an option for us, even though that is what many people thought we would ordinarily resort to," says Wanyonyi.
And members of his church have offered him invaluable support.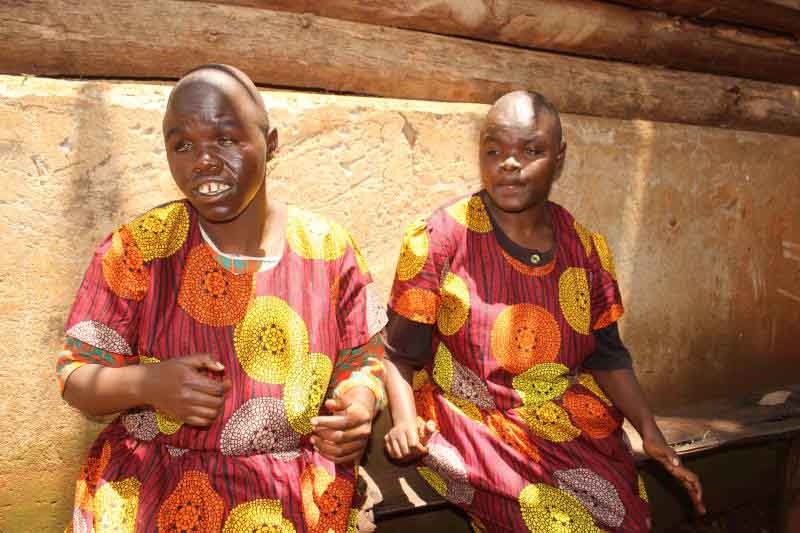 "Since I started serving God, I am happier. We are happier as a family, despite the challenges we face. Knowing that God has a plan for my life has given me hope for a better future," says Wanyonyi.
He says by the time he discovered his wife had mental challenges, they had already lived together for many years. "But this did not deter her from performing her duties. We were happy."
He says they have learnt to live with their eye problems after their search for treatment yielded no result.
"In 1997, my children and I got sponsorship for treatment at Sabatia Eye Hospital in Vihiga County. However, the opticians said they could not operate on us. They said our condition was hereditary," says Wanyonyi, who was born in Chwele, Bungoma County, but later settled in Trans Nzoia.
He adds: "I believe each one of us, blind or not, has something to offer their societies. We were all created with a service we can offer. Therefore, instead of taking to the streets to beg, find out what God created you to offer humanity. I discovered I am a preacher and that is what I am doing."
"And even when you are asking for support, let it be for something, say a project, that can be sustained for some time. For instance, people can support you to start a business; but don't go around asking for money today and tomorrow you are at it again. I want to thank my congregants; they have been of help to me and my family," he says.
Wanyonyi has mastered his way around such that there are times he does not use the white cane.
The preacher, who is also a motivational speaker and counselor, likens himself to Paul, Peter and Job, who faced many challenges, but overcame them.
His sister, Ruth Nanjala, has been of great help to the family. She started living with the family following the death of Wanyonyi's wife, helping him around, including taking care of visually and mentally challenged daughters.
"They can hardly do anything for themselves. After their mother died, I felt the need to come in and help my brother," says Nanjala.
Jane Kibwalei, a member of Metkei AIC in Waitaluk, where Wanyonyi has been serving for the last five years, says: "We love Pastor Wanyonyi. He has been instrumental in the work of God since he joined this church. He has been committed to giving us spiritual nourishment".
"We have been supporting his family from time to time. We also facilitate his movement because he severs three of our churches that are three kilometres apart," says Loice Kimwalei, another member.
Some members of the church contributed money and bought him the land where he is currently living with his family.
Rebecca Rugut, a neighbour, has urged well-wishers to help Wanyonyi's son Timono to go back to school. The World Health Organisation records that at the moment, some 2.2 billion people globally have a near or distance vision impairment. In close to half of the cases, the impairment could have been prevented, according to the global health organisation.