Truck drivers and their crew drive bustling day-and-night service economy in Kanduyi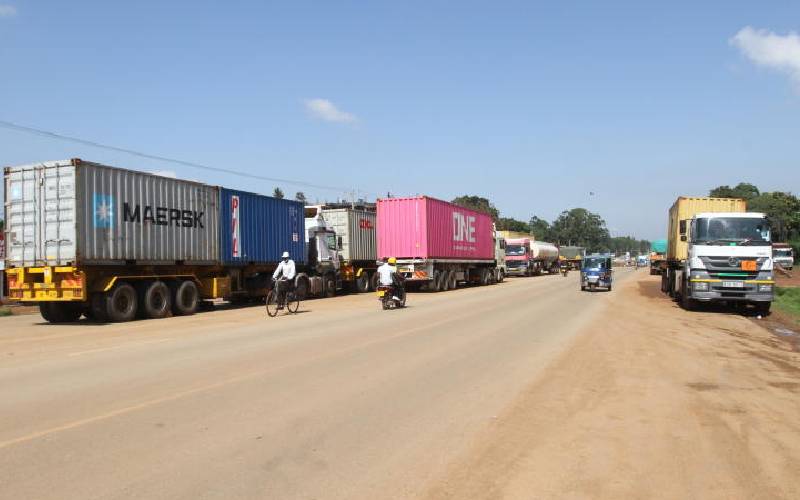 Kanduyi shopping centre is always abuzz with activities.
It is situated on the outskirts of Bungoma town, and lies between road junctions that break off the Webuye-Malaba highway and lead to Chwele, Malakisi, Mumias and Kakamega.
From vegetable sellers, cobblers, miraa sellers, kiosk operators, bars and hotels to hospitals, there is no shortage of people taking advantage of the thriving business environment.
Long-distance trucks are parked on either side of the road as their drivers either take meals, enjoy a drink, relieve cramped muscles or take a breather as their vehicles are repaired.
"These trucks are a major source of revenue for Kanduyi and should be credited with the thriving businesses around here," says Charlton Onyango, who wears many hats: a comedian with Streetmedebosses 254 group, a musician, miraa seller and pool table operator.
Mr Onyango says the stationary trailers are a source of employment for local guards who watch over them and their cargo. "The youth get income from washing the trailers. We sell miraa to the truck crew while mechanics get their daily bread," he adds.
Emily Nafula Khaemba sits alone at the counter of a wines and spirits shop, waiting for patrons.
"The Covid-19 pandemic has impacted many businesses because of the uncertainty and fear it evoked. Suddenly, people became suspicious of each other's health status. This resulted in less socialising. The government directive on keeping social distance and curfews do not help matters.
"Truck drivers and their crew were our major customers before the pandemic hit. Even now, they are still promoting our businesses despite the difficulties they also go through," says Ms Nafula.
By the roadside, Rose Kamila sits in her makeshift eatery. At the back where she makes buns and chapatis, and sells tea, she has arranged plastic chairs for the truck drivers and their crew to sit, eat and chat.
"My business is doingd very well, I have no complaints. I have many customers, and a big percentage of them are truckers," she says.
A group of skimpily dressed women walk by, laughing uproariously. One of them winks at a driver, and he winks back.
"Drivers and their assistants have contributed to increased prostitution. That increases the risk of spreading sexually transmitted diseases," says Ms Kamila.
When we ask her whether underage girls fall victim to the wiles of randy truckers, she answers in the negative. "We have not had such cases. Any amorous escapades are between consenting adults."
The Bungoma County HIV/Aids strategic plans for 2014/15 and 2018/2019 list truck drivers among the major drivers of HIV/Aids infections in the county.
Further, the Kenya Aids Response Progress Report 2016 listed Bungoma among the three leading counties with the highest HIV infections. They shot up from 83 cases in 2013 to 1,145 in 2015, representing a whopping 1,280 per cent jump.
Truck driver Waldergad Akaranga is wary as we approach him for an interview. We find him beside his truck, patiently waiting for a mechanic to come and fix the brake system that had caused one wheel to seize up.
"A lot of negative things are said about us, but it is unwise to lump all of us together. Some drivers and their assistants have lovers in different places, but then, it is not every driver who does that," Mr Akaranga says.
He notes that the pandemic has adversely affected business.
"Many drivers and their conductors are going through lean times because of Covid-19. We no longer have the large sums of money that we used to get. That is the reason you find some of us cooking besides the lorries, sleeping on mats beneath the trailer bodies and even taking baths in the open behind the lorries."
He continues: "When truck drivers park at Kanduyi, it is not because they want to indulge in prostitution. A place like Kanduyi offers safety to both drivers and their cargo. In some lonely places, drivers get attacked and robbed when they stop to rest or do repairs. Besides, the road here is wide enough for us to park without dangerously constricting the road."
Akaranga says that by dint of their sheer numbers and frequency of visits, truck drivers and conductors greatly contribute to the growth of centres like Kanduyi. "You can never miss a truck here."